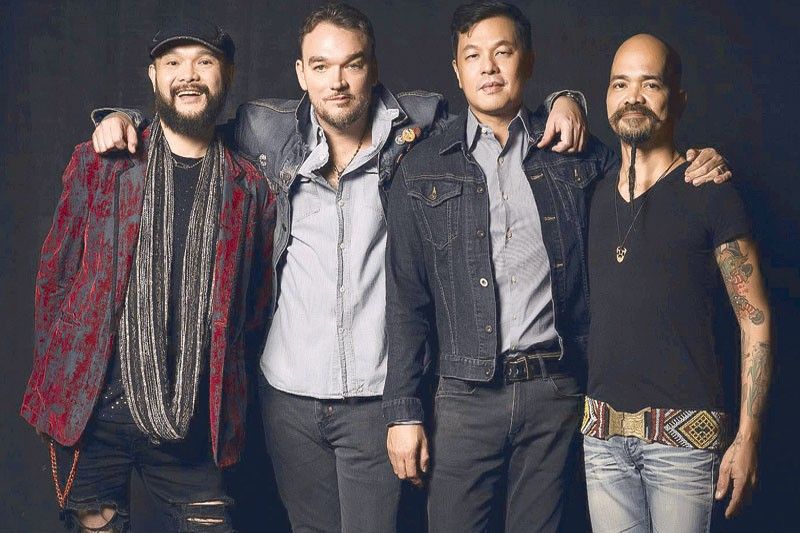 Featured in '90s Frontmen Acousticized concert Jan. 31 and Feb. 1 at the Music Museum: Reviving the sound of a great era and a great time for music; great to look back at the artists who made it happen.
FUNFARE
-
Ricky Lo
(The Philippine Star) - January 24, 2020 - 12:00am
In movie parlance, it is touted as a casting coup.
At random now (no billing issue here): Jett Pangan of The Dawn, Dong Abay (former lead singer of the alternative rock band Yano), Wency Cornejo (former vocalist of After Image) and Basti Artadi (formerly of Wolfgang) are featured in '90s Frontmen Acousticized set for Jan. 31 (Friday) and Feb. 1 (Saturday) at the Music Museum.
The four iconic frontmen had a free-wheeling exchange with select members of the movie media at Romulos Café. It was fun. In the show, they will do acoustic interpretations not only of their songs (The Dawn's Iisang Bangka Tayo, Enveloped Ideas, Salamat and Love Will Set Us Free; Yano's Banal na Aso, Santong Kabayo, Tsinelas and Esem; Wency's Habang May Buhay, Mangarap Ka, Next in Line, Magpakailanman, Tag-ulan and Hanggang; and Wolfgang's Darkness Fell, Center of the Sun and Halik ni Hudas) but also those of other singers.
"My turn to play acoustics, so I am excited," said Basti, known for his "snarl and sneer," who was diagnosed in 2009 with a tumor in his head, on the nerves that control the right side of his face. "I haven't seen Dong do acoustics and it's the first time I'll be seeing him during our show."
His face is somewhat twisted ("Medyo tagilid," as he put it) but Basti assured everybody that he is okay.
"In the beginning," he revealed, "I was afraid that I was losing my voice. Part of my mouth was already here (pointing to the upper right side of his face). The doctors have reconstructed the muscles but the tumor is still there. They cannot remove it so I just have to live with it. I'm thankful that I can sing again."
A holder of Philippine Studies and Creative Writing degrees from UP ("I earned them for 18 years," he said), Dong is into multiple activities — environmentalist, online humorist ("Na maraming bashers"), gardener and visual artist (with a forthcoming exhibit).
"I'm not just into music," quite obviously. "I am using all of my senses in my life as an artist, my eyes for art and my ears for music. I have a life in the arts, my core is music. Incidentally, I am putting up a bar and I want to invite foreign bands and independent bands. I am friends with the art community of the Philippines, pareho kami ng trip ni John Lloyd Cruz."
Wency said he'd rather that his music lives on, to be sung and remembered, "kaysa maiwan ang pangalan ko; that's my mission." Initially, according to Wency who is the producer, "There was no concept. I talked to Cooky (Chua) but she begged off because she would be vacationing in Japan on those dates. So why not an all-male concert…with band frontmen of the '90s? That's how the whole idea started, that's how we got the title of the show."
Basti had a funny story to tell.
"Back then, Jett produced a show called Back to Bacharach, good for two nights at the Music Museum. It was not my forte but I enjoyed it, it was great fun. I did a duet with Cooky and I hit a wrong note. You know what she did? She conked my head with the microphone. I've been teasing her about it. I call her Ang babaing nag-u-untog ng mike."
Wency: Cooky is a big help. She knows all the connections. You need a musical director? Call Cooky. You need this? Call Cooky. You need that? Call Cooky. She's all-around.
Basti (joking): Must be all the alcohol in her system.
Asked why he didn't invite band frontmen like Bamboo, Rico Blanco and Ely Buendia to join the show, Wency said, "It's impossible. I did invite them but ayaw nila, ganoon ka-straightforward. As simple as that. It's disappointing, considering na kasamahan sila sa industriya since way back. Okey lang. There are other avenues for us to explore."
"Maybe they don't want to be dated, to be framed into a certain time…that they are just a nostalgic act," explained Jett. "The '90s is a great era, a great time for music. Great to look back at the artists who made it happen. Speaking for myself, I just want to have fun."
Fresh from the success of Sweeney Todd which was staged not only here but also in Singapore, Jett said that he's taking a break from doing musicals and concentrating on After Life, a series he's doing with Eula Valdez for Cignal Entertainment.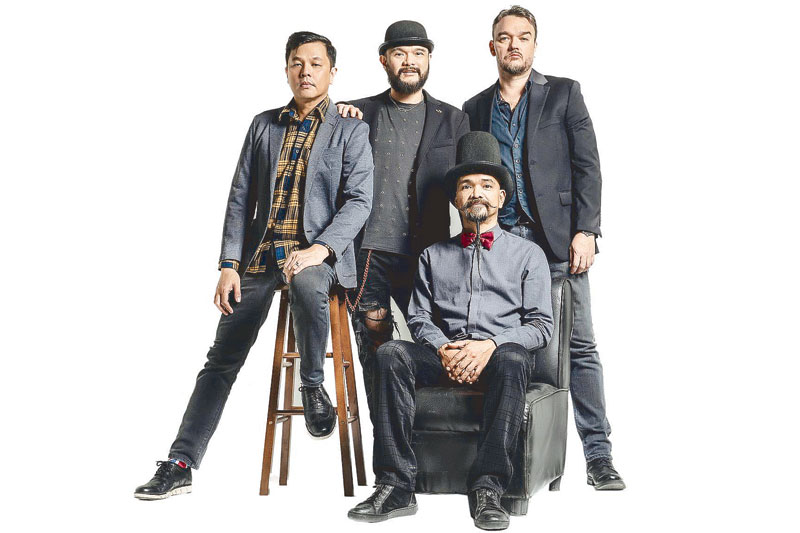 The Singapore experience was a first to Jett.
"The audience was very appreciative. Nakukuha nila ang British humor. Nasasakyan nila ang humor ni Stephen Sondheim. Customarily, they don't do standing ovation. They just clap, except when there are Pinoys in the audience at napapasunod sila."
Jett has done several musicals (The Rocky Horror Picture Show, Jekyll and Hyde, Nine, etc.) but he considers Sweeney Todd the most difficult.
"Kakaiba ang music ni Sondheim. It's physically challenging to do the various elements of the musical. They say that once you have done Sondheim, you have done everything na."
It helped that Lea Salonga was his co-star.
"Lea is very supportive of everyone," added Jett. "Singing becomes so easy with her."
Like in foreign shores, songs by Filipino artists have inspired musicals such as those of APO, Hotdog and Aegis. With his body of work, Wency should be, to quote the title of his song, next in line. Why not?
Jett: Wency can compose an entirely new libretto.
"He's my friend," said Wency of Jett, widely smiling even if he was running a fever (that's why he initially sat away from the group lest he infected them, joining them only during the post-presscon pictorial).
('90s Frontmen Acousticized is produced by Advantage International Marketing. Available at Music Museum, ticket prices are P3,500 [orchestra center], P2,000 [orchestra side], and P1,000 [balcony]. Or call Ticketworld at 8891-9999; or the A.I.M. office at 8726-5466/873-66740/0927-2682656/0917-7771213.)
(E-mail reactions at rickylophilstar@gmail.com. For more updates, photos and videos, visit www.philstar.com/funfare or follow me on Instagram @therealrickylo.)