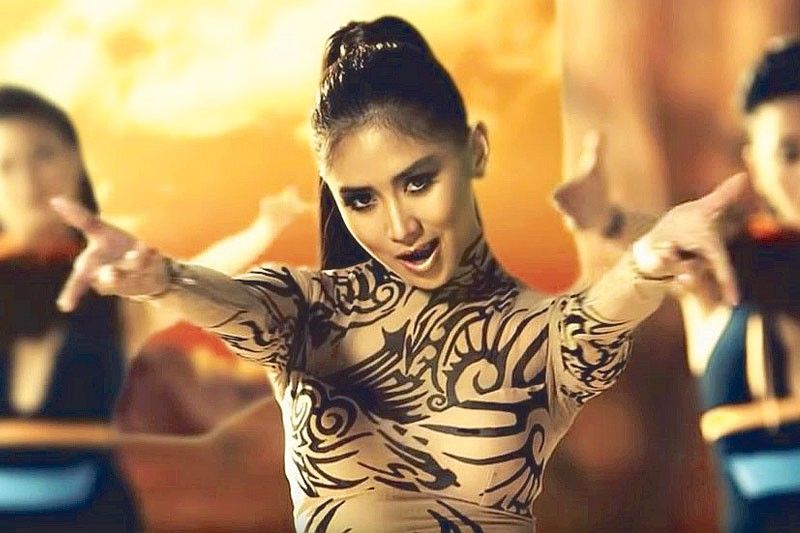 D3The music video of Sarah Geronimo's Tala has generated over 34 million YouTube views. The viral hit song was part of her album The Great Unknown released in December 2015.
Tala: The nation's current dance anthem that almost didn't happen
Sarah Geronimo's Tala is lighting up the music charts, getting the whole country dancing and just shining brightly more than it ever did four years ago, when it was originally released as part of the Pop Star's 2015 album The Great Unknown.
And its awesome story doesn't stop there.
Did you know that the nation's current dance anthem almost didn't happen?
According to Tala composer/lyricist Nica del Rosario, Tala was the last track added to The Great Unknown. The 30-year-old singer-composer works as the head writer for FlipMusic Productions, which has been supplying music to Viva Records. She shared that none of the songs they initially submitted made it to Sarah's album.
"After a while, tumawag po yung Viva sa amin, kulang pa kami ng one song, baka gusto niyo mag-pitch ulit?" Nica recalled to The STAR.
"At that time, we were quite a small team, there were only three of us in the production. Sabi ko sa original producer, gagawa tayo, gagawa ka ng beat, susulatan ko (ng melody and lyrics). Yung peg kasi po ni Sarah at that time was indie-pop," she added.
Thus, in the original demo recording, which Nica shared on her Twitter, Tala was a slower number. Then Sarah asked for a final revision because "nagbago yung vision ni Sarah, gusto niya maging dance song."
According to Nica, it was FlipMusic head producer Jumbo "Bojam" de Belen that transformed the song's beat, picking up its pace, to become the tune that sparked the dance craze today.
"During the recording, kinukwento nga ni Sarah, gusto niya at ini-envision niya na maging dance craze, na gagawa po sila ng choreography."
The resurgence of the song in the later part of 2019 came as a shock to Sarah, as she has said in interviews, and moreso to Nica.
"It's a four-year-old song so it's somehow surreal na bigla siyang sumikat ulit and more than ever before. When it was first released, it became popular among the Popsters (fans of Sarah G) and then after a year or so, it became popular within the LGBT community, so it's a bit gradual," Nica said.
"But I really thought, personally, that was it. OK, naging anthem siya ng LGBT community at sumikat sa mga Popsters, yun na yun. I didn't expect it to reach this level, nationwide, and that everywhere I go, I would hear it."
As of writing, Tala is the first Sarah G song that has secured a spot on Spotify's Global Viral 50, which is a playlist of the "most shared and most trending tracks across the entire world." Its music video, on the other hand, has generated over 34 million YouTube views. With its infectious choreography, courtesy of G-Force, Tala has spawned viral dance covers from celebrities, animated characters to the "common tao."
"I'm grateful because OPM ang naging dance craze because recently mga foreign yung mga dance craze, like K-Pop. So, masaya po ang feeling na we penetrated the dance craze (charts)," Nica said.
The lyrics have also taken on different interpretations for its listeners. Nica enjoys reading and reposting them on her soc-med pages. "Ang di ko lang kinaya ay yung song daw ay tungkol sa komunista," she laughed.
Nevertheless, when asked about the real inspiration behind the song, she said, "I really like to play around imagery. Image ng gabi, outer space, that's really my go-to imagery, as in favorite ko siya na topic. Mahilig din ako sa metaphors. Basically, the main metaphor of the song is yung may napi-feel ka for someone, alam mong may something na talaga, but you're not sure if the other person wants things to get serious or hanggang dito lang ang gusto niya. Yung persona, sinasabi lang niya kung hanggang dito lang yung (expectations) ng relationship natin, then it's OK, no regrets. But if we both feel the same way at gusto mo maging mas serious, yung metaphor ko pong aabutin natin ang mga tala, feeling ko together we can be amazing."
Nica is not only a songwriter, she's a singer herself with her indie-pop/acoustic music available on Spotify. The Communication Arts graduate from Ateneo de Manila University has always been into writing poetry and short stories, and studied guitar-playing in high school and joined the school choir. When she was in college, she still wasn't sure what to do with her life, except that she wanted to combine these interests in music and writing. After an internship for a small music studio, she decided to venture into the music business and started to work at FlipMusic in 2013.
"From there, dun nag-start yung career ko as a songwriter. I also joined Himig Handog and became a finalist for two years, writing Hindi Wala by Juris, and then a year after, Ambon, which was interpreted by Barbie Almalbis. Di po ako nanalo, but Ambon became the theme song of the movie (How To Be Yours) of Gerald Anderson and Bea Alonzo."
A daughter of an architect father and an interior designer mother, Nica also shared how happy her parents are with the Tala success. "They're very proud. And I'm very grateful to them because Chinese po kasi kami. Hindi po conventional ang career path ko. Sinasabihan sila dati na bakit daw ako pinapayagan mag-music, wala daw mangyayari sa akin. But they didn't listen and just supported me all the way. Grateful ako na at least na-prove nila sa ibang tao na may mangyayari naman pala."
Nica said she isn't really aiming to become a popular singer because as it is, she's found fulfillment in writing songs for other artists such as Daniel Padilla (Reyna ng Puso Ko) and Kim Chiu (Okay Na Ako). Other songs she wrote for Sarah include Minamahal, Sandata, Ganito, Tagu-Taguan and Hingang Malalim.
"We're planning a follow-up, like paano kaya susundan ang Tala," shared Nica who's very grateful to Sarah for never failing to acknowledge her as the songwriter. "Nothing set, but hopefully it pushes through."
And this is what Nica has learned so far as a young songwriter, which other aspiring artists can apply: "Siguro po, 'wag sila ever mag-stop matuto. Always listen to different kinds of music and talk to other songwriters. The world is so huge and music is so complex. For me, I don't think I can say, I've learned enough already, there's always room for improvement. So, never stop learning and be open always to discover new things."