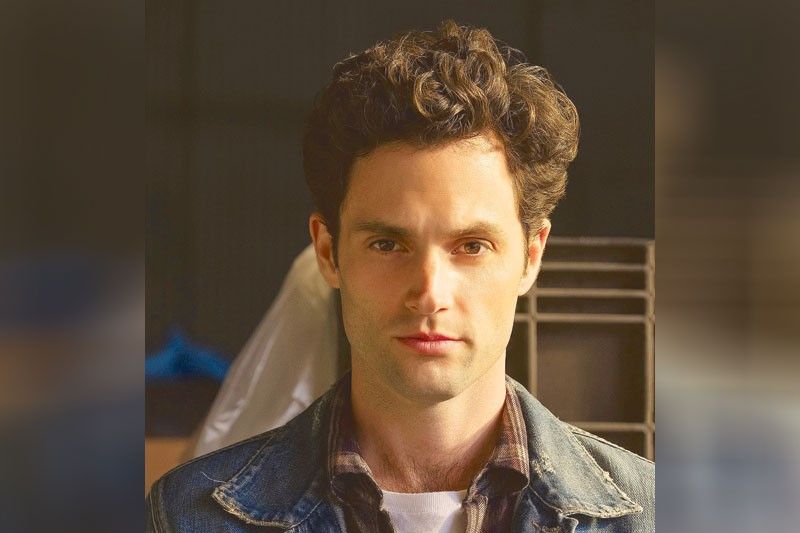 Penn Badgley is back as Joe Goldberg in the second season of You, which starts streaming on Netflix on Dec. 26.
Penn Badgley refuses to romanticize his You character
MANILA, Philippines — Penn Badgley refuses to romanticize and make any attempt to defend his lead character Joe Goldberg in the hit Netflix series You.
Instead, the 33-year-old star calls Joe — the smooth-talking stalker turned kidnapper/serial killer — for what he is, a predator. Period.
But Penn enjoys the conversation triggered by Season 1, especially on the depictions of love and relationships in the media. This is expected to intensify with Season 2, which begins streaming on Dec. 26.
The end of Season 1 saw Joe heartbroken from a relationship that ended in murder and his past creeping up on him in the form of his long-lost ex girlfriend Candace (Ambyr Childers). Season 2 finds him on the run, relocating to Los Angeles from New York, restarting his life and falling in love (again) with Love (Victoria Pedretti).
Ahead of the second season's premiere, the Philippine press had a videocall with Penn, who was asked what it was like reprising a "difficult" character like Joe. "It's like, you know, the more you live with any kind of pain, the more you're able to endure it, right?" he said with a laugh.
"That's not necessarily a positive thing. And I think in the case of Joe, you know, it's not so grave. He's a fictional character and he encourages a lot of thoughtful conversation and reflection for viewers because of the social commentary he seems to provide about many things, like our portrayals of love and relationships in media.
"The inherent biases of, you know, the stories that have been told for nearly a century now that we've seen a lot. The story of the man winning over The One, you know. So as much as much as I'm conflicted in my experience of portraying him, it's also great when we're able to talk about it like this."
If you follow Penn's interviews, even when he was in the country early this year with Fil-Canadian co-star Shay Mitchell to promote Season 1 of You, he hasn't been remiss in calling out fans who have "fallen in love" with a character like Joe. When asked by The STAR how does he make sense of this kind of reception from audiences, he offered a lengthy answer.
"To be fair, I play him in a really charming way, you know, hahaha," Penn mused.
He went on, "Well, I feel like as though there's no secret sauce to it, there's nothing special. I just play him like everything he's saying is true, that he doesn't think he's bad. Is that the way a real serial killer would think and behave? I'm frankly, like, that's not the kind of story we're going for. We're not trying to understand the mind of serial killers better.
"I think we're trying to understand the mind of the collective and why we like stories like this so much. I don't think this is a clinical portrayal of a real human; this is more like a mirror for us. To me, the show's a social experiment and a conversation.
"I just make him mean everything he says. That's all I do. So, when he says, I love you, he means that. When he is trying to be a good man, he is trying to be a good man. When he's just doing what needs to be done in order to get to the good thing, that's what he's doing, you know?
"In a way, it's not that hard. It's just hard to actually believe it because knowing what he's doing, right? So like, for me, it's just this exercise and ahm, I don't know almost like schizophrenia or something.
"There are times we're in the middle of the season and I mean, I've been not… you know the way that you look back on a good lesson you learn and you're like, man, I'm glad I learned that lesson. But you know, in the middle of it, you don't always enjoy a lesson. That's my experience with Joe."
Asked about fresh challenges on the set of Season 2, Penn joked, "How sticky fake blood gets," then turning serious, "finding new dimensions of a character who I felt like had pretty much exhausted me by the end of the first season. I hope that we're able to see new parts of him, you know? And so for that reason, I'm really interested to see how people respond."
Adding to the new experience on Season 2 is the introduction of Love the character, which Penn noted will help viewers see a different side of Joe. This is because, unlike Beck (played by Elizabeth Lail), the object of his "obsession" in Season 1, Love wants to be in a relationship with Joe. "Beck didn't actually want to be in a relationship with him. Joe had to chase Beck in a way that made a lot of sense to Joe because he's a predator. Love doesn't make as much sense to Joe if any, because she's not prey. She's really trying to be in a meaningful relationship with him. And actually that continues to really destabilize Joe in new ways."
Meanwhile, Penn is looking forward to reactions to the upcoming season, which for him is as unsettling as the previous one. "People are going to get all the fun stuff and then, I think, the end will really F them up (laughs). And then hopefully, you know, there'll be some elevated conversation around…"
One thing is for sure, unlike Joe who's off the social media grid (unless he's... no spoilers here!), Penn will be on Twitter to watch out for the feedback, including from Filipino viewers.
Penn is thankful that everything he has ever gotten from the Philippines since his show came out "has been really positive and supportive."
"You know, why Filipinos and why anybody who's loved the show so far, I think, they should watch it because it's the progression of this — you can think of it as a conversation about things that we wish were different.
"Something about this show is better with a lot of people watching it. It's not always the case that you want to interact with the viewership so much because it's not always the role of the actor. I actually don't think it's always the right thing to do. But something about this show really lends itself to hearing back, hearing feedback from people."
Penn jokingly cautioned You is not exactly a Christmas movie. "Of course, knowing what happens, I'm kinda like what?" but "I hope you like the second season."