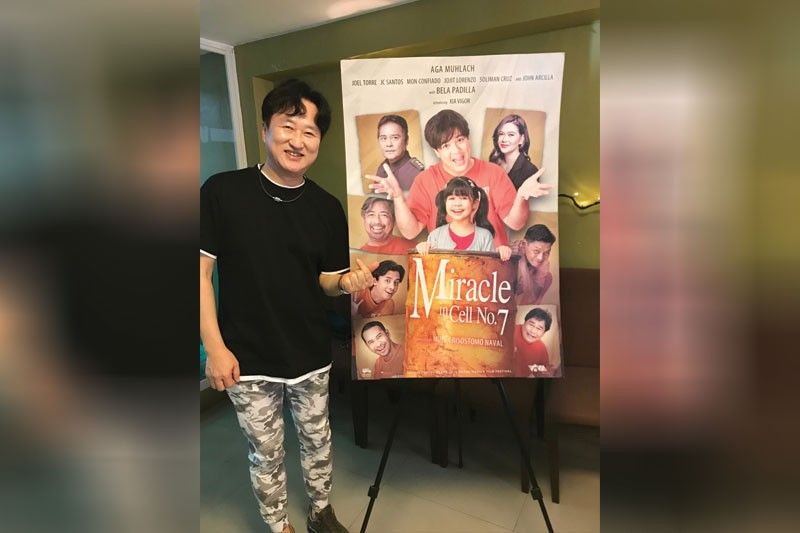 Lee Hwan-kyung, director of the original Korean movie, beside the poster of the Viva remake showing as official entry in the MMFF
Korean director has cried 1,000 times over Miracle
CONVERSATIONS
-
Ricky Lo
(The Philippine Star) - December 22, 2019 - 12:00am
Did you know that Lee Hwan-kyung has watched Miracle in Cell No. 7, the sixth movie he directed, 1,000 times and cried 1,000 times?
"You better believe me," he told The STAR in an interview facilitated by a lady interpreter (who spoke fluent Korean and Filipino). "Every time I watched it, I would consume a boxful of tissue. In fact, in the theaters where it was shown, boxes of tissue were put at the entrance for moviegoers as they entered."
Together with his producer, Kim Min-ki, Lee flew to Manila to grace the premiere of the Aga Muhlach starrer-Filipino remake of the Korean movie that stars Ryu Seung-ryong who couldn't make and instead posted his best wishes on the Viva Facebook: I will be cheering for it from afar, from Korea. We hope this movie will bring much comfort and laughter to the Philippine viewers.
Produced by Viva Films, Miracle in Cell No. 7 will be released nationwide on Dec. 25 as official entry in the Metro Manila Film Festival (MMFF).
Lee Hwan-kyung, also a screenwriter, is a graduate of Seoul Institute of the Arts, one of the premiere art schools in South Korea. Just two years after his directorial debut (He Was Cool), he was named Best New Director for the film Lump Sugar at the 2006 Chunsa Film Art Awards. In 2013, he won Best Screenplay at the Grand Bell Awards for Miracle in Cell No. 7. He also got a nomination for Best Director for the heartrending family drama.
It was said that Lee worked around a tiny budget while filming Miracle in Cell No. 7, but it became one of the industry's most profitable films, with over 12.32 million viewers in South Korea alone. Lee is reported to be working on his next film, Next Door Neighbor.
According to Kim (who holds a Masters Degree in Film Planning in France), several other countries were interested in remaking Miracle but he said yes to the Philippines for a sentimental reason.
"I have heard stories about Filipino veterans who fought with our soldiers during the war," recalled Kim. "Filipinos and Koreans are similar, so my heart is close to Filipinos."
Miracle has inspired textbooks and Lee said that he gets invited to lecture in different schools around the country. He has two children, the older taking up a course where Lee graduated and the younger one who is her sister's junior by 11 years. The two have seen the movie which has been re-released several times.
"My older daughter is inspired by the movie," shared Lee. "My younger daughter was very young when the movie was first shown. When she watched it, she cried and cried. I know that the movie will touch not only older people but also the young ones."
Lee is a film buff who grew up on "all kinds of films," especially those by French director Jean Luc Godard (Breathless, Contempt, Pierrot le Fou, Alphaville, A Woman is a Woman, Band of Outsiders and My Life to Live).
Lee and Kim regretted that they couldn't stay for the opening of the MMFF, although Lee said that he would love to do a movie with Filipino actors.
Asked who among Aga's seven co-stars impressed him the most, Lee simply smiled. Playing Aga's co-prisoners are Joel Torre, Soliman Cruz, JC Santos, Mon Confiado and Jojit Lorenzo, and John Arcilla as the prison chief and Tirso Cruz III as the high-ranking officer whose daughter is found sexually-assaulted and murdered, with Aga (playing a mentally-challenged character) wrongly accused of the crime.
Lee was mum but he was looking at the upper left side of the movie's poster.