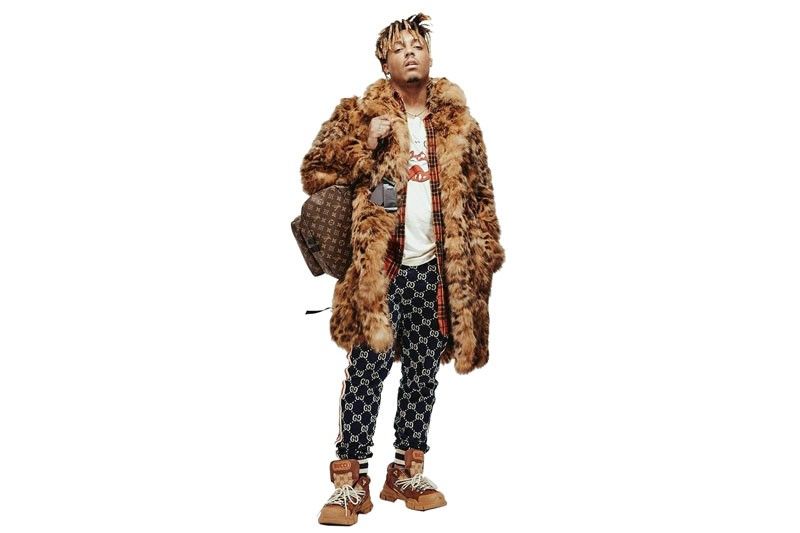 Juice WRLD was named Billboard Magazine's New Artist of the Year and one of the Top 20 artists of the year
He turned 21 years old only last Dec. 2. Billboard Magazine named him New Artist of the Year and one of the Top 20 artists of the year 2019, while his Goodbye Good Riddance was picked as one of the Top 20 albums of the year a few days later. And in exactly a week since, while on his way to a belated birthday celebration, the talented Juice WRLD was dead.
The fast-rising Juice WRLD had just landed in Chicago, his hometown, after a flight from California on his private jet. He was walking through the Midway Airport when he suddenly convulsed and collapsed with blood coming out of his mouth. He was taken by paramedics to a nearby hospital where he was pronounced dead.
Juice WRLD was born Jarad Anthony Higgins but later adopted the name Juice in honor of his idol Shakur who starred in a movie titled Juice. He began piano lessons when he was only three years old and grew up playing various musical instruments. He took up rapping while he was in middle high, which was also the time he began his drug habit with cough syrup.
Like most kids nowadays, Juice WRLD often uploaded home recordings on SoundCloud. Two of these, All Girls Are The Same and Lucid Dreams became big hits in 2017. He released his first album, the critically acclaimed big seller Goodbye & Good Riddance early last year and reaped more hit singles with Armed and Dangerous, Lean Wit Me and Wasted. He next collaborated with Future on WRLD on Drugs. His latest was Death Race For Love.
Sad news this. It is another tragic addition to the annals of hip-hop music, which has this strange propensity for claiming the lives of its young by gunfire or by, as in Juice WRLD's case, strange sudden deaths.
This belief is said to have stemmed from the death of rapper LA Rock Sterling from gunshot wounds in 1987. It later acquired legend status during the war between East Coast and West Coast rappers in the '90s. This claimed the lives of several important figures in the field of hip-hop music including Tupac Shakur, who died at the age of 25 from gunshot wounds on Sept. 16, 1996 and of his known enemy, Notorious B.I.G. who was 24 when he was shot dead a year later on March 8, 1997.
2019 has indeed turned out to be a bumper year of departed hip-hop stars and I came up with quite a list when I checked on the web. Even the Philippines was not spared from having to mourn a deceased rapper.
Lil John, a rising rapper, whose real name was John Ross Delos Santos, died last Oct. 20 in Cavite. He was seated on his motorcycle when two men walked up to him and fired two shots into his head. He died on the spot. He was 35 years old.
Take a look now at the others who perished this year. All of the following names were from gunshot wounds: Veeno Gunna, 35, last Jan. 6; Kevin Fred, 24, last Jan. 10; Nina Ross Da Boss, 31, last Jan. 10; Boss Goon, 25, last Jan. 16; T Kizer tha Dummy, 20, last Jan. 22; Jayo Sama, 22, last Jan. 27; Willie Bo, 20, last Feb. 9; Lil Mister, 24, last March 25; Nipsey Hussle, 33, last March 32; Succeed Phlyguy, Oct. 12; Bad Azz, 43, last Nov. 18; Slim Tristan, 22, Nov. 18; Bank Boy Wayne, 22, last Nov. 22.
There were also Jimmy Spicer, 61 who died of brain and lung cancer last Sept. 27; Hella Sketchy, 18, who died of drug overdose last June 27; Akhiyon Tech 9 Mickens, 32, last March 25 of unknown causes; Cadet, 28, last Feb. 9 in a car crash; Trap House, 35, last Jan. 19 of cancer; Bushwick Bill last Jan. 9 also of cancer.
And maybe there are others whose names I did not come across. How tragic indeed that what is truly the poetry of the streets in our times continues to sacrifice the lives of its young poets.
As Juice WRLD himself rapped in Legends, "What's the 27 Club? We aint making it pass 21." Well, he made it to 21 but only by a few days.
Incidentally, the 27 Club refers to musicians who died at the age of 27 like Amy Winehouse, Kurt Cobain, Jimi Hendrix, Jim Morrison and others.