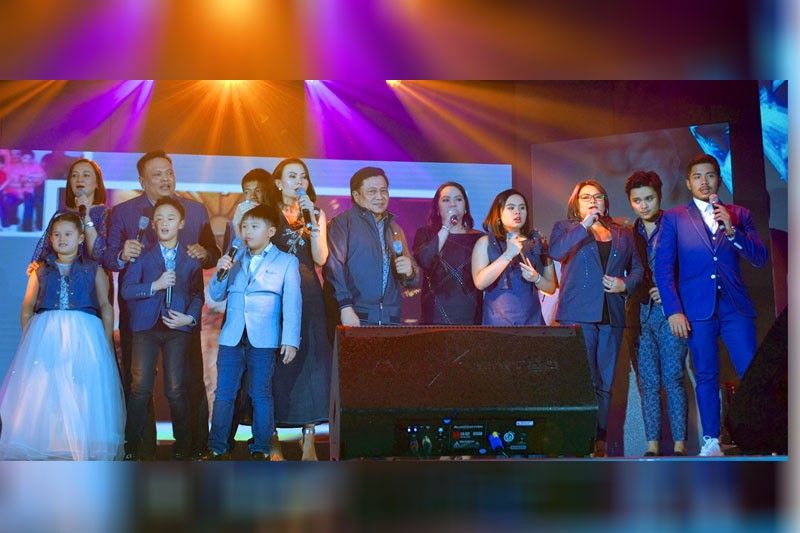 To cap the 60th wedding anniversary celebration of former Pres./Mayor Joseph Estrada and wife former Sen. Loi Ejercito, their children and grandchildren (led by siblings Jude, Jinggoy and Jackie) mounted the stage and dedicated the song Times of Your Life to the 'newly re-wed'
Ver Paulino
Erap & Loi's romance retold in love songs
Ricky Lo
(The Philippine Star) - December 13, 2019 - 12:00am
It's the most oft-told love story and yet it becomes even more beautiful in the retelling.
Friday night (Dec. 6), at the Pandanggo-Polkabal hall of the Manila Hotel, former Pres./Mayor Joseph "Erap" Estrada and wife former Sen. Loi Ejercito celebrated their 60th wedding anniversary with old love songs as soundtrack, played by a band that relived a bygone time before social media obliterated the magic of romance.
As the well-heeled guests (including Erap's cabinet members, loyal friends from business and showbiz, and members of Loi's MARE Foundation) feasted on Oven-Roasted Seabass on Zucchini Risotto and U.S. Beef Tenderloin with Foie Gras, Robert Seña and wife Isay Alvarez opened the musical program with soulful renditions of Ikaw at Ako and Habang May Buhay, followed by Dahil Sa Isang Bulaklak that referred to how college dropout Erap courted Dr. Loi at the National Mental Hospital where he worked as an ambulance driver and she as the resident psychiatrist.
Like in his movies in which he sweeps his leading ladies off their feet by sheer doggedness, Erap sold newspapers on the side, saved the money and bought a Titus watch as a gift to Loi, aside from whole fried chicken that he regularly served her. He beat other suitors who failed to impress Loi with flashy cars.
We all know how the open-book romance led to happily-ever-after.
The cute sons of siblings Jude and Jackie (who prepared the old-love-songs soundtrack) did a duet on Can't Help Falling In Love, then Jackie's son sang Love is a Many-Splendored Thing with his brother (on video) before Jinggoy's sons Jolo and Julian sang I'll Be Loving You Always, followed by their sisters Julienne and Janella with Ikaw.
The next number was Ang Daigdig Ko'y Ikaw (theme song of the movie starring Erap's buddy FPJ and wife Susan Roces) by Jude and wife Ma. Rowena Ocampo. Solo numbers came from Jinggoy's wife Precy Vitug (who recently celebrated her 50th birthday) with Dakilang Bayan, Jackie with Tanging Ikaw and Jinggoy with a reworded version of the Rico J. Puno hit Kapalaran (a "tribute" to Erap's winning ways with women, that elicited smiles among the guests).
The affair was capped by the couple's children and grandchildren dedicating the song Times of Your Life to the "newly re-wed."
By the way, it was Fr. Larry Faraon who presided over Erap and Loi's marriage renewal.
Fr. Larry: Do you promise to continue to love and hold (each other), for better or for worse, for richer or poorer, in sickness and in health until do you part?
Of course, the bride and the groom said, "Yes, I do."
(E-mail reactions at rickylophilstar@gmail.com. For more updates, photos and videos, visit www.philstar.com/funfare or follow me on Instagram @therealrickylo.)