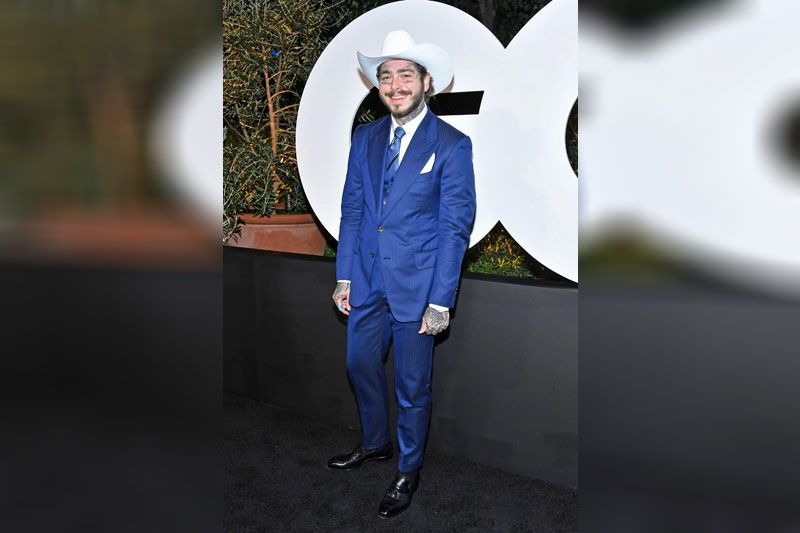 Post Malone is Artist of the Year
It is almost the end of the year and the lists have started coming. These are assessments, records of accomplishments done these past twelve months, a way for historians to someday look back to 2019 to find out what transpired. In the international music industry, no list or I should say lists, are more looked forward to than that which come from Billboard Magazine.
The 125-year-old publication, which is also known as the bible of the music business is considered the most credible chronicler. An artist is considered made if he or she makes it to the Billboard lists. Filipinos still have to make the grade but I am sure it will also happen one day. Hopefully soon.
Now out is the Billboard year ender issue which contains an abundance of lists. Top hits, top artists, top concerts, etc. Tops among these, of course, is the Artists of the Year. These are the stars, who sold the most songs, packed the most concerts are set new trends in the field of music. Topping the list is Post Malone.
Born Austin Richard Post, Malone got into music thanks to his disc jockey father and playing the game Guitar Hero. He later branched out into a lazy kind of rap and is now known as a pop, hip hop and rock artist. He broke through with the song White Iversion in 2015. He has since followed up with bigger sellers like Congratulations ft. Quavo, Rockstar with 21 Savage, Psycho with Ty Dolla Sign, Goodbye ft. Young Thug, Wow, Circles, Sunflower and two No. 1 selling albums, beerbongs & bentleys and Hollywood's Bleeding. He is also known as the rapper with the tattooed face.
Aside from Post Malone, the other names in the Top Artists list are: Ariana Grande, Billie Eilish, Khalid, Drake, Travis Scott, Ed Sheeran, Taylor Swift, Lil Nas X, Halsey, Jonas Brothers, Juice WRLD, Cardi B, Da Baby, BTS, Panic! At The Disco, Luke Combs, Lil Baby, Shawn Mendes and Lizzo.
Post Malone is just 24 years old. Billie Eilish,who only turned 18 years old this week, on Dec. 6, is the singer and songwriter of the album of the year. Lil Nas X, all of 20 years old is the artist behind the song of the year, Old Town Road, the all-time record holder with 20 weeks on top of the Hot 100 which features country music star Billy Ray Cyrus. I guess it can be said that pop music turned very young and very hip and I must add, lots of fun in 2019. And it was all because, these artists broke existing rules to assert what they believe in.
The Top 20 Songs of the Year from the Hot 100 list are: Old Town Road by Lil Nas X ft. Billy Ray Cyrus; Sunflower (Spider-Man into the Spider-Verse) by Post Malone and Swae Lee; Without Me by Halsey; Bad Guy by Billie Eilish; Wow by Post Malone, Happier by Marshmello & Bastille; 7 Rings by Ariana Grande; Talk by Khalid; Sicko Mode by Travis Scott; Sucker by the Jonas Brothers.
High Hopes by Panic! At The Disco; Thank U, Next by Ariana Grande; Truth Hurts by Lizzo; Dancing With A Stranger by Sam Smith & Normani; Señorita by Shawn Mendes & Camila Cabello; I Don't Care by Ed Sheeran & Justin Bieber; Eastside by benny blanco & Halsey; Going Bad by Meek Mill ft. Drake; Shallow by Lady Gaga & Bradley Cooper; and Better by Khalid.
The Top 20 of the Billboard 200 Albums chart are: When We All Fall Asleep, Where Do We Go? by Billie Eilish; Thank U, Next by Ariana Grande; A Star Is Born the motion picture soundtrack by Lady Gaga & Bradley Cooper; Lover by Taylor Swift; beerbongs & Bentleys by Post Malone; Scorpion by Drake; Championships by Meek Mill; ASTROWORLD by Travis Scott; Hollywood's Bleeding by Post Malone again; Hoodie SZN by A Boogie Wit da Hoodie.
This One's For You by Luke Combs; Bohemian Rhapsody the motion picture soundtrack by Queen; Free Spirit by Khalid; The Greatest Showman, another movie soundtrack starring Hugh Jackman and Zach Efron; Spider-Man Into The Spider-Verse, one more soundtrack by Various Artists led by Post Malone and Swae Lee; Don't Smile At Me by Billie Eilish; Goodbye & Good Riddance by Juice WRLD; I Am>I Was by 21 Savage; Invasion Of Privacy by Cardi B; and Cuz I Love You by Lizzo.