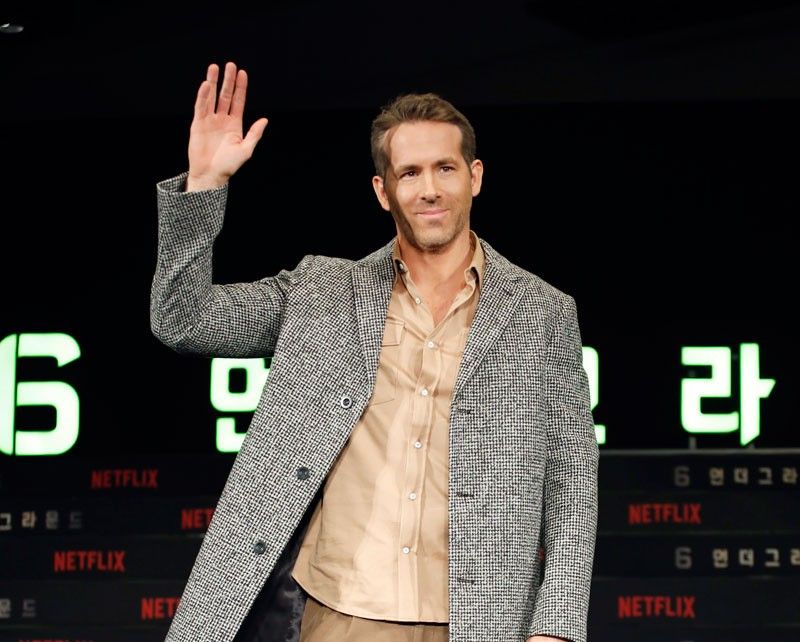 As always, Reynolds is fun to be interviewed, very giving and very accommodating, always a delight such as when he listens to how a Korean lady translates his English answers to Korean. Below, he waves at fans and media guys as he arrives at the 6 Underground Fun Event at the Dongdaemun History & Culture Park in Seoul
Netflix
Ryan Reynolds Aboveground
CONVERSATIONS
-
Ricky Lo
(The Philippine Star) - December 8, 2019 - 12:00am
SEOUL — As he was during a junket in Taipei back in 2016 for Deadpool, Ryan Reynolds was as fun and engaging in this city last Monday for the promo of 6 Underground which starts streaming on Netflix on Friday the 13th.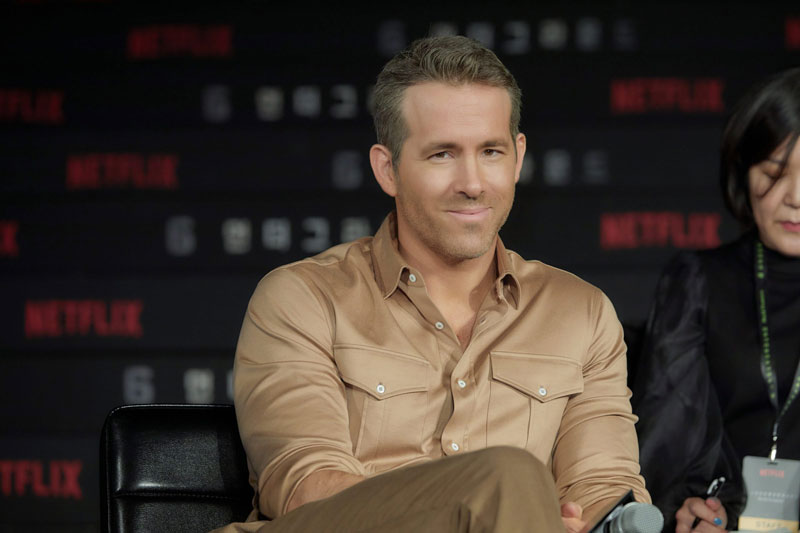 During the general presscon at the ballroom of Four Seasons Hotel, the questions from the mostly Korean media were translated into English by five English-speaking ladies for Reynolds, co-stars Melanie Laurent and Adria Arjona, producer Ian Bryce and director Michael Bay. Every time his translator would rephrase in long sentences his brief answers, Reynolds would listen curiously and quip, "Did I miss anything?"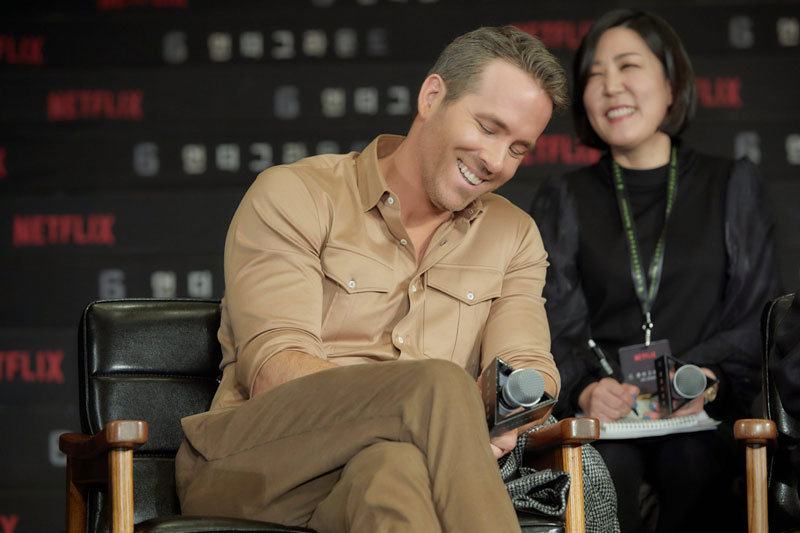 At the Fun Event at the Dongdaemun History & Culture Park, Reynolds gladly autographed pictures and the movie's flyers, and even did "groufies" with the fans and the media from around Asia as he and company obliged with five-minute quickie interviews with each group of journalists while walking on the green carpet around the huge venue.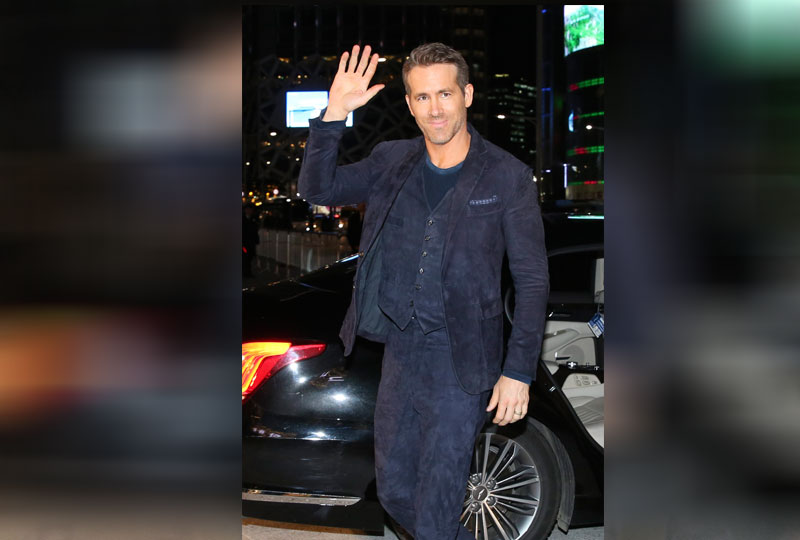 Produced by Bryce and directed by Bay, 6 Underground introduces a new kind of action hero. Reynolds, Laurent and Arjona, together with Corey Hawkins, Manuel Garcia-Rulfo and Dave Franco (who were not at the Seoul junket), play six individuals from around the world, each the very best at what he/she does, have been chosen not only for their skill but for a unique desire to delete their past to change the future. The team is brought together by an enigmatic leader (Reynolds) whose sole mission in life is to ensure that, while he and his fellow operatives will never be remembered, their actions sure will. Enough said. As usual, I invite you to watch the movie on Netflix and find out for yourselves what happens next.
Here's Reynolds "above ground" (incorporating Q&A from the Production Notes, the presscon and relevant items from the Taipei Deadpool interview in italics):
Can you describe 6 Underground in six seconds?
"Absolutely not. You can't describe anything Michael Bay does in six seconds. Except, of course, make love. Next question."
You worked with writers Rhett Reese and Paul Wernick on the Deadpool movies, is that how this started?
"Yes. I've worked with Rhett Reese and Paul Wernick for... Sheesh, 10 years now. They've been probably my closest collaborators in terms of writing, and I love working with them. Everything they do has this kind of weird, subversive, refreshing angle on something that is may be familiar. I love not only spending time with them but also working with them in any capacity."
Which was harder to do, the action scenes or the bed scenes?
"(Laughs and laughs) "Well, you know, the bedroom scenes in movies often look very sexy and very beautiful. But it's not like that when you are on the set…with so many people watching. That's very uncomfortable."
What is your 6 Underground character One like?
"One is a billionaire, which is a nice work if you can get it. And he basically forms his own kind of vigilante-slash-militia. I think that's interesting because, you know, it feels like in life we're kind of on this endless loop and cycle of history repeating itself. I thought it was kind of neat to see somebody who sort of hits 'F--k it' at a certain stage and then just goes after this one problem. I thought that was fun.
"And Rhett and Paul really, I think, delivered ­ not just in the dialogue, but in great action set-pieces. If I read 6 Underground and it wasn't attached to Michael Bay, I don't know that I would have wanted to do it, because you filter that through the prism of Michael Bay, where he's doing huge spectacle that's in-camera, not necessarily CGI. You're kind of reaching back and getting a little old-school Bay with a movie like this. Which I think is so refreshing and weirdly unique in terms of an opportunity.
"I just love that Michael's returning to that form of Bad Boys and The Rock, to those kinds of films that I grew up loving so much. In this, you get to see his practical spectacles as opposed to what we're used to (with movies these days), which is everything made in the computer."
For you, is that something to feel excited or nervous about? When you know you're going to be in that car, flying down those streets?
"Yeah. It's weird how you shoot. I remember we were shooting in Florence, Italy my first week was this giant car chase. You think you've seen it all in a car chase until Michael gets his hands on it. It was just the wildest, craziest ride I think I'd ever experienced. And it's strange because you spend two weeks in a day-glo green Alfa Romeo going a hundred miles an hour down Florence side streets that were built for only walking and horse carriages.
"What's the strangest phenomenon about that is you actually get kind of anesthetized to it. By week two, my heart rate wouldn't even go up and we'd be driving a hundred miles an hour down a street with one inch on either side of stonewalls. I think that speaks to your faith in these precision drivers. I mean, Michael hired the best drivers in the world on this movie. So, each day I would be in a car with a new and utterly amazing driver with a skill unmatched by anyone."
You were once named Sexiest Man Alive by People magazine. Do you think you are sexy?
"I don't know. I think being sexy is being comfortable with a lot of things. Maybe that's one of the reasons. I'm comfortable being a husband (to Blake Lively) and a father, and all other things. I think that's what makes a man sexy."
How was it driving through those streets, seeing the beauty of Florence?
"It was amazing. Being in Florence is amazing. Shooting a movie there is extra-amazing because you don't only get to see a destination that I've always wanted to spend time in, but also you get to work there. I couldn't help but feel like we might have been a bit of a pest because, you know, these action sequences, we'd locked down the city of Florence. I don't know how or why anyone gave us permission to lock off that many streets in downtown Florence, but it was pretty unbelievable. By the end, it was a little like, 'Oh, these cars are making a lot of noise. They probably are very excited for us to leave.' As it turns out, they were."
Back to the story, what is it that One looks for in the team members he chooses?
"Each one has a very specific skill. It's kind of a sum of all-its parts-type story. As a unit, we are amazing together. But if we lose any one member, we'd be kind of screwed. It's a true ensemble piece. Each character has their own aspect of the story they need to tell. Each character has a kind of irreplaceable skill or talent that my character needs in order to accomplish this very dangerous mission."
Besides what do you do in comedic films, what's the craziest thing have you done in real life?
"Oh, nothing could be crazier than entering Hollywood. Why? Because you are entering a job force in which 99 percent of your colleagues are out of work. Scary! My parents were scared and nervous. They told me, 'You're throwing your life away! You can't go down there and do that. You'll never know if you're gonna make it.' They were discouraging me."
Have you always wanted to be an actor?
"Yeah, as a kid…when I was 13 in Canada. I have always been a movie fan."
What movie made you realize that you wanted to be an actor?
"There's a lot of them. I love Stand By Me which was one of the first movies that I ever saw. It was Rated-R and my brothers took me to it."
Apart from it being set in Florence, what do you think makes the opening car chase in 6 Underground so spectacular?
"I grew up really loving and appreciating those kinds of chase scenes. And it felt like this iconic kind of sequence. It's just about finding a new angle for it all. And I feel like Michael really did that. Everything in a car chase has been done before, but somehow he invented new things that we could do. I think it's going to be pretty special. I would guess it's going to be up there in the all-time Greatest Car Chases Ever category."
What was it like working on the sets built out at Calatrava, just outside Rome?
"It was a wild place. We used Calatrava as our sort of backlot for 6 Underground and it was a giant space. It is some kind of outmoded stadium that they never really finished building in Italy. We did all kinds of wild car chases and crashes in there. And then we rebuilt the boat and the Hong Kong penthouse set there as well. So, it just gave a lot of space to kind of run around. And, you know, Michael is known for, and very good at, blowing stuff up. He blew a lot of stuff up."
Was it fun doing the movie?
"I liked it. I've been doing movies for 25 years now and I like unpredictable. Unpredictable is very welcomed by me. So I love that. And Michael is incredibly unpredictable. There were days where we'd be halfway through the day and I still didn't know exactly what we were shooting. But there's a rhyme that goes with his reason and he figures it out. He's pretty amazing."
(E-mail reactions at rickylophilstar@gmail.com. For more updates, photos and videos, visit www.philstar.com/funfare or follow me on Instagram @therealrickylo.)