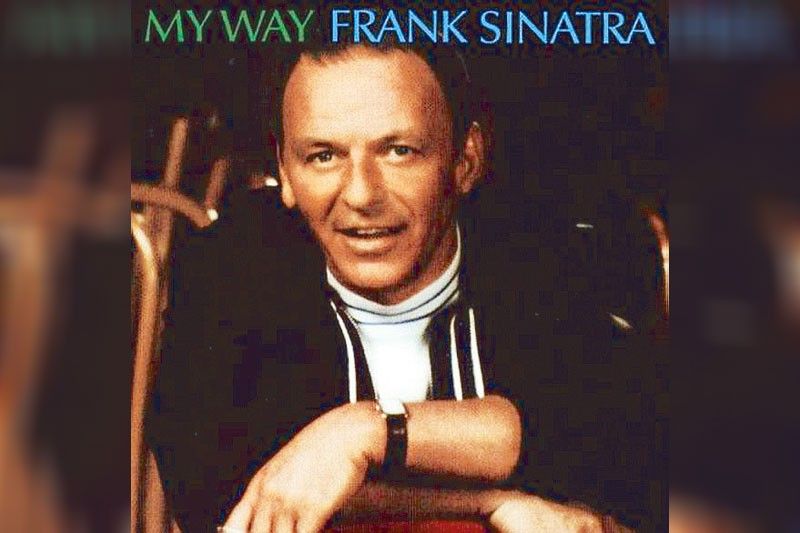 Released 50 years ago in early 1969, My Way was a big hit and became one of Frank Sinatra's signature songs
The odyssey of Sinatra's My Way
On Dec. 30, 1968, the legendary voice, Frank Sinatra recorded My Way. The song had lyrics written by the hot, young singer and songwriter Paul Anka of Diana and Put Your Head On My Shoulder fame. It was based on the French song Comme d' habitude or As Usual composed by Jacques Revaux and performed by Claude Francois.
Sinatra at the time had been very open about wanting to go into retirement. He had, after all, been singing since 1935. That seemed like such a long time ago. And he was by then already considered one of the greatest singers and movie stars of all time. Retiring while he was on top seemed like the right thing to do.
Anka knew of Sinatra's plans. So, when he acquired the rights to do a version of Comme d'habitude in English, he made it into Sinatra's retirement song. Titled My Way, it had all the emotions of a man who refuses to make excuses for his life, a life that he lived in his way.
His lyrics began as: "And now, the end is near/ and so I face the final curtain/ my friend, I'll say it clear/ I'll state my case, of which I'm certain/ I've lived a life that's full/ I traveled each and every highway/ and more, much more than this/ I did it my way."
Released 50 years ago in early 1969, My Way was a big hit and became one of Sinatra's signature songs. Of course, as we all know, his retirement did not hold. He was back two years later singing Let Me Try Again that was based on another French song, Laisse n'noi le temps with English lyrics by no other but Anka.
"Let me try again/ let me try again/ think of all we had before/ let me try once more/ we can have it all/ you and I again/ please forgive me or I'll die/ please let me try again."
But My Way held on the hit charts all over the world. In fact, it now seems like the song had or I should say has a life of its own. For one, although, it was intended for Sinatra and had all the arrogant swagger of the leader of the Rat Pack in its lyrics, it also spawned some popular cover versions.
Anka himself recorded his own version as well as duets with Jon Bon Jovi and Julio Iglesias who gave the song his own Spanish lyrics as A Mi Manera. A few weeks ago, he performed it live with Alec Baldwin during the actor's Celebrity Roast on Comedy Central.
There were two though, that particularly stood out. Elvis Presley liked My Way and performed it in his concerts. After he died in 1977, his live recorded version was released. Of course, it became a hit. Then there was Sid Vicious' version. The bassist of the punk band Sex Pistols did it with his own lyrics. This was released as part of his solo album which came out after he died from a drug overdose in 1979.
Thanks to these two versions, My Way stopped being Sinatra's retirement song but instead came to be associated with deaths and funerals. To this day, there are mourners who celebrate the life of a deceased person with My Way.
Those departed souls could indeed be singing something like, "Regrets, I've had a few/ but then again, too few to mention/ I did what I had to do/ and saw it through without exemption/ I planned each charted course/ each careful step along the byway/ and more, much more than this/ I did it my way."
Here in the Philippines, My Way is not really a popular funeral song. But it has led to the death of some unfortunate individuals, all of them, after they have sung My Way to their hearts' content in some rock joint or karaoke place. These incidents have come to be known as the My Way killings and have even caught the attention of foreign media.
We do not hear of these killings anymore, largely because the singing of My Way live has now been banned in all public places. Why risk another senseless death because of My Way? A pity, because it is a beautiful song that captures a proud moment in a man's life.
And that is the way My Way comes to its end. "For what is a man, what has he got? If not himself, then he has naught/ to say the things he truly feels/ and not the words of one who kneels/ the record shows I took the blows/ and did it my way."