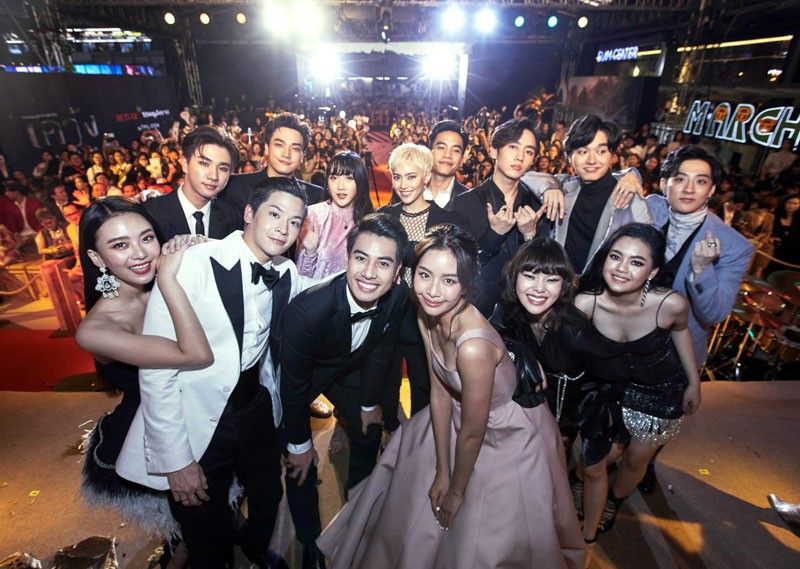 Streaming since Nov. 15, The Stranded is the first Thai Netflix Original. Top and above: Fourteen of the series' two dozen stars graced the red carpet in Bangkok last week. Back row, from left: Kittisak 'Jack' Patomburana (Ice), Siwat 'Mark' Jumlongkul (Jack), Tatchapol 'Tanthai' Thitiapichai (Gun), Oabnithi 'Oab' Wiwattanawarang (Joey), Tanapon 'Perth' Sukhumpantanasan (Krit) and Nichapat 'Pearwah' Chatchaipholrat (Mint) Front row: Chaleeda Gilbert (Arisa), Pawin 'Win' Kulkaranyawich (Nat), Ticha Wongtipkanon (Ying), Chayanit 'Pat' Chansangavej (May), Papangkorn 'Beam' Lerkchaleampote (Kraam), Chutavuth 'March' Pattarakhumpol (Anan), Pemika 'Pam' Sooksawee (Jan) and Chanya 'Ning' McClorly (Nam).
FUNFARE
-
Ricky Lo
(The Philippine Star) - November 21, 2019 - 12:00am
BANGKOK — There's a lot of films about people stranded on an island, including the 2000 Tom Hanks starrer Castaway about a man who finds himself marooned on a desolate island in the Pacific after his plane crashes and, with no ways to escape, he must find ways to survive in his new home; the Joey Gosiengfiao camp movie Temptation Island about fiery females who compete for attention instead of working together to get out of the island where they were swept into when their ship sank; and the Lupita Concio-Kashiwahara-directed Alkitrang Dugo which was inspired by 1954 novel Lord of the Flies by Nobel-Prizewinning author William Golding about a group of British boys stranded on an uninhabited island and their disastrous attempt to govern themselves.
Now comes The Stranded (Kweng in Thai), the maiden Thai Netflix Original series, the seven-episode first season of which started streaming Friday (Nov. 15) last week and kicked off by a dressy red-carpet event in this city graced by 14 of the series' 21 stars (some of them popular and others on the brink of stardom).
First, let's call the roll (brace yourselves for the tongue-twisting names made easier by the nicknames, at random): Sinjai "Nok" Plengpanich, Hatsanai "Mek/Winai" Kraibutr, Saranyu "Tua" Wongkrachang, Hattaya "Ple" Wongkrachang, Sahajak "Poo" Boonthanakit, Orn-anong "Orn" Panyawong, Papangkorn "Beam" Lerkchaleampote, Chutavuth "March" Pattarakhumphol, Oabnithi "Oab" Wiwattanawarang, Chayanit "Pat" Chansangavej, Chaleeda Gilbert, Kittisak "Jack" Patomburana, Tanapon "Perth" Sukhumpantanasan, Siwat "Mark" Jumlongkul, Pemika "Pam" Sooksawee, Ticha Wongtipkanon, Chanya "Ning" McClorly, Pawin "Win" Kulkaranyawich, Tatchapol "Tanthai" Thitiapichai, Sasithorn "Heen" Panichnok and Nichapat "Pearwah" Chatchaipholrat.
Fourteen of them attended the strictly-Thai press conference at the ballroom of St. Regis Hotel, with the homegrown journalists dominating the Q&A while the other journalists from other Asian countries (five from the Philippines) took notes through headphones for English translation.
Before going to Bangkok, the Philippine journalists were given screeners that highlighted three episodes and I would say that the series is worth watching because it tells a story of sacrifice and survival, spiced up with tales of mystery surrounding Thai legends, and at the same time showcases the breathtaking scenery around Thailand.
Executive-produced by Ekachai Uekrongtham and directed by Sophon "Jim" Sakdaphisit (popular in the horror-film genre), The Stranded story goes: When 18-year-old Kraam and his classmates from a famed private school of Pintu Island, a small island in the south of Thailand, were the survivors of the great tsunami in the Andaman sea, the group of 30-something students has to do everything to survive amidst the ruins, with no sign of help coming their way. Not only did they have to face the post-disaster hardship alone, the kids were faced with mysterious events that occurred every day. As the evil forces drew closer and closer, Kraam rose as the leader to help himself and the group through the difficulties. (Trivia: The 2004 killer tsunami that hit Thailand and several other countries around Asia has nothing to do with the story.)
With director Jim, seven of the stars were divided into two groups during the roundtable interviews. Group 1 (and their characters, to guide you as you follow the series): March (as Anan), Beam (as Kraam) and Pat (as May). Group 2: Ning (as Nam), Mark (as Jack), Perth (as Krit) and Oab (as Joey). There was a reminder not to mention any "spoiler alert" so you will just have to be "alert" for surprises (lots of them!) as you stay glued to Netflix. Not to worry, the series is subtitled in English.
Through a lady interpreter, this much The STAR gathered from the stars:
• The shoot took more than 70 days and the stars got to know one another on the set, ending up like one big happy family;
• After passing a series of auditions (with flying colors!), they attended an acting workshop and "getting-to-know-you" sessions;
• One of the seven stars said that, yes, she could survive on an island since she is used to living by herself but the rest said, "No way, we would die!"; and
•You guessed it, like any millennial (or anybody in this age of social media), they could live without food and water but not without cell phones (in the story, the island has no signal).
Uekrongtham was quoted as saying in the production notes, "The Stranded was selected as Thailand's first Netflix Original as a cinematic multi-episode series from the very beginning. This approach is in line with Netflix's story-telling method where a series does not end in one episode but the plots are connected on a grander narrative that the audience follows in the subsequent episodes and seasons."
Streaming in 190 countries globally and calculated to reach 150 million people worldwide, The Stranded blends local flair with an international feel. Thailand is a country rich in beliefs, stories, traditions and local uniqueness, making it interesting and attractive to foreign audiences of different cultures from various countries in the world.
"At the same time," said director Jim, "The series follows the characters' friendship, relationships and their survival amidst post-disaster difficulties. These universal themes are highly relatable, making the series a good material for further development as Thailand's first Netflix Original series."
And to make sure that the series will have a "purely-Thai" look and feel, the actors (famous and new faces) were chosen for their distinctly Thai looks, as differentiated from Korean and/or Chinese actors.
Asked why Thailand was chosen, Erika North, head of International Content at Netflix, Asia Pacific, said, "Thailand is a very important market for Netflix. Thai creative professionals, including writers and directors, are fantastic. The location is beautiful. The production team here is highly experienced. What Netflix sees is our world-class platform being accessible in 190 countries and Thailand's interesting stories.
"(Director) Jim has a sense of a young man with modernity at heart. His scriptwriting skill is superb. He can translate something on paper into something fresh on the screen. That's what we wanted for The Stranded. Jim is also very experienced in producing and directing movies for different age groups. This is definitely great for our storytelling."
(E-mail reactions at rickylophilstar@gmail.com. For more updates, photos and videos, visit www.philstar.com/funfare or follow me on Instagram @therealrickylo.)