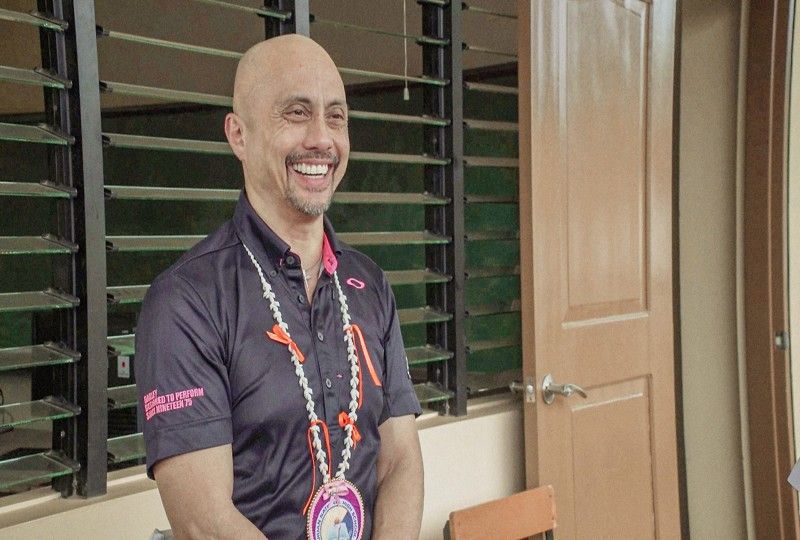 What Ernie Lopez hopes to achieve with G Diaries
ABS-CBN Lifestyle Ecosystem and Creative Programs, Inc. president Ernie Lopez has taken over the spot of his late sister Gina Lopez as host of G-Diaries, the Kapamilya network's travel and lifestyle TV program that features the country's most scenic destinations in an effort to support ecotourism.
Ernie, the second to the youngest of seven children of Kapitan Geny Lopez, has become more visible on television these days now that the show continues its fourth season of airing. Ernie had seen Gina "in action" while doing G-Diaries before because his sister would always take him to all the different sites that she was developing.
Through the Dressing Room Exclusive segment of Tonight with Boy Abunda, televiewers got to know more of Ernie as he talked about life as one of the sons of Kapitan Geny, as a brother to Gina and as a father to his children. He also shared why he feels like a 55-year-old teenager.
Below are excerpts from the interview.
What is it like to be a Lopez? Is it easy for you? Is it difficult? The expectations, etc.?
"There were times when I was uncomfortable with it because you know, you always have to wonder about people — why they are friendly to you, why they're nice to you, what's their agenda. But overtime, you learn how to read people. It's what I tell my children all the time. I said money and popularity cannot be the goals of your life. These are only tools so that you can help other people. Don't make it your goal."
Describe your relationship with Kapitan Geny Lopez, your father. How was that relationship?
"I think all my siblings know that I was one of his favorites but that didn't mean that I got anything more financially. But I know that I was really, he doted on me. He's very affectionate, very, very malambing."
Describe to us what kind of a father you are.
"I wouldn't say I'm a perfect father but I truly, truly adore my children. I love spending time with them. I love doing things with them. They're all teenagers now so it's a very different challenge. It was easier when they were younger, now I have to adjust to their moods so it's different but it's still good. I mean, it's another stage and I'm also enjoying the stage."
What are the other things that you do with your kids?
"I like to do sports with them. One of the things that we, all my kids like doing now is called Pretty Huge Obstacles (PHO), it's like, I don't know if you've ever watched American Ninja Warrior. It's like that, the whole gym is (similar to) American Ninja Warrior. I love going there — it's an obstacle course racing."
How often do you do this?
"Usually, Saturdays."
How much do you miss Gina?
"I really miss her, yeah."
What is the one thing that you truly, truly miss about your sister?
"I miss taking trips with her because that's where we have a lot of fun together."
As kids, what do you remember best about you and your sister?
"I just noticed that whenever I would see her in the house, she was a vegetarian but she was always looking for chocolates (laughs). She's raiding the ref, always looking for chocolates pero vegetarian s'ya (laughs)."
Isang bagay na tungkol kay Gina na hindi alam ng marami?
"Well, maybe not everybody knows she likes to play hide and seek and she doesn't care, you know. The way she is with you whenever she sees you, that's the way she is with everyone… talagang may integrity 'yung tao."
During your eulogy, I caught that when you said, "Thank you for making me a 55-year-old teenager." Exactly, anong ibig sabihin mo doon?
"Well, because of her, there's a girl that I met. I was at the hospital; she saw me walking. I was gonna visit Gina — I think she's gonna have her MRI. This girl saw me and she accompanied me to Gina and then Gina saw her and said, 'What's your name?' and she said, Michelle, and Gina said 'How old are you?' She goes 48 then she said, 'Are you married?' Then she said, 'No, I've been annulled for 19 years.' She (Gina) goes, 'I want you for my brother.'"
So, what happened?
"Because of that, the rest of my family joined in. You know, they all like her so much. I've been separated from my ex for eight years and I never went out with anyone. I never dated and so I made the decision. Even Michelle was saying, she looked at me for two seconds and then decided that (laughs). I'm happy to say she makes me feel nga like a teenager."
So, you and Michelle are happy together?
"Very much. At least I am, I don't know about her, hahaha."
Let's talk about G-Diaries, anong aasahan namin sa palabas na ito?
"My dream is that the show would be used to decongest the city. People come to the cities kasi akala nila may trabaho d'yan. So, they come to the city at wala naman trabaho so they contribute to the pollution, they contribute to the traffic, to the congestion, to the crime."
If you have your way, sino ang mga celebrities natin dito sa Pilipinas na sana'y gusto mong lumabas?
"Sana lahat ng mga loveteams."
You're talking about KathNiel?
"KathNiel, JaDine, MayWard. MayWard's already shown."
Some guys are telling me you're able to wear wigs during the show.
"Hahaha yes, wigs. Why? I don't know they told me to. I would go to bazaars and I would just try it on. I was with my ex and we would just really laugh. It happened abroad when I was in Hong Kong and I walked into a wig store and we're just laughing and laughing so whenever we go to a bazaar, we'd find wigs and buy."
So how many wigs do you have?
"A lot. There are 10 or 12 of different kinds. The G-Diaries staff found it and sabi, 'Sir, dalhin mo.' So I have to play a mom then play a dad (laughs)."
G-Diaries was named Best Travel Show at the 33rd PMPC Star Awards for Television 2019 held recently.