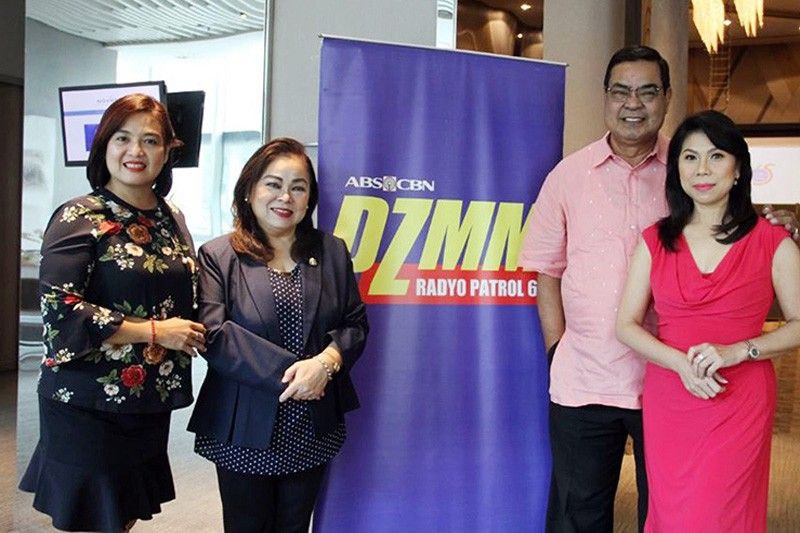 From left: Lawyer Claire Castro, Dr. Bles Salvador, Bro. Jun Banaag and Mare Yao are ready to discuss the country's hottest issues and give pieces of advice on topics about love and relationships, health and legal concerns on their respective DZMM programs
No time is ever wasted when DZMM anchors Bro. Jun Banaag, O.P., Dr. Bles Salvador, and lawyer Claire Castro with Mare Yao start discussing topics on-air. Listeners who tune in to their programs — whether they're at home or on the go — easily acquire a wealth of information from Bro. Jun who gives pieces of advice on love and relationships via Dr. Love Radio Show weeknights at 11 p.m.
Dr. Bles, on the other hand, shares her expertise in an aim to make Filipinos have a better understanding of their health through Dra. Bles @ Ur Serbis (Sundays at 6 p.m.), while lawyer Claire gives free legal advice every night at 9 on Usapang de Campanilla with Mare Yao as co-anchor.
Bro. Jun, himself, has a colorful love story. He shared he was once a philandering husband. He sinned but he repented. That painful yet eye-opening experience made him a credible counselor to listeners who phone in their predicaments in love and life.
"I started in 1997 but before that, sana maintindihan n'yo," he began. "I left my family for another woman. We lived in the States for 10 years. So, I was philandering husband — was! After 10 years, I came back and that was 1997."
He furthered that Radio Veritas offered him a program on counseling. He was initially hesitant but the station's vice president was insistent. "But initially the program was designed for the young generation, 'yung mga kabataan na nag-LQ (lovers' quarrel) and it ended up like public service."
Two years after, Bro. Jun was invited to join DZMM to host the same program format. "Nagtuloy-tuloy na but majority of my listeners today are as old as 97 years old. If there are five or six years old, maybe because of the influence of their parents."
Apart from giving comforting words, Bro. Jun's religious reflections are also like food for the soul. He, too, speaks his mind on the country's hottest issues like the longstanding talks on divorce law to take effect in the country.
Bro. Jun admitted there are callers who strongly oppose divorce and they can't control about reacting negatively. He just allows them to let their steam out by listening to their stand. And do not expect Bro. Jun to have a dialogue with someone about faith "because I won't allow anyone to dictate on my faith. In the same way, I will not try to change what anyone believes in. It's just a matter of respect."
But when it comes to health issues, Dr. Bles is happy to explain to all Kapamilya every topic they wish to discuss. She also gives "medical word for the day" on her radio program.
"I believe it's also my mission to share my knowledge to listeners so that they understand what is happening to their body. I am a gynecologic surgeon so my patients are women."
She admitted about having celebrity patients saying, "In fact, more than a handful of them are radio personalities, a few actors who consult mostly maternity cases. Some had pap smear and there was also a case of herpes but I'm not at a liberty to mention names or say any clue because I strictly adhere to patient-doctor agreement."
On legal matters, lawyer Claire and Mare Yao said their callers seek advice on cases regarding annulment, marital concerns, corporate issues, real property problems and in some occasion, criminal cases.
"As a lawyer, I also give free legal consultation especially when someone really has no means to fight for his/her right," said Claire. "Masarap sa pakiramdam kapag marami tayong natutulungan."
To learn more, stay tuned to the three programs over at DZMM Radyo Patrol 630 and DZMM Teleradyo.