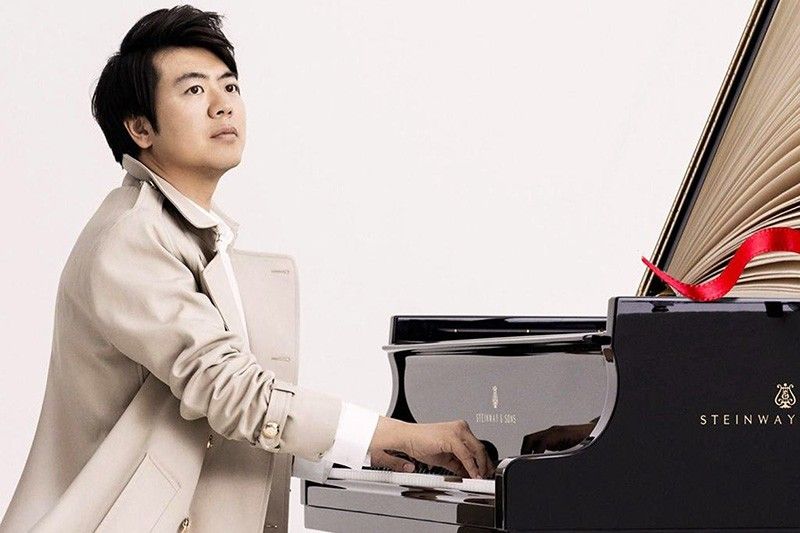 Lang Lang's Piano Book, Artist Approved Collectors' Edition contains 29 popular pieces from around the world that were personally selected by him.
Photo from Lang Lang's Facebook page
A piano book by Lang Lang
Lang Lang, the Chinese piano prodigy who won the prestigious International Tchaikovsky Competition for Young Musicians in Japan when he was only 13 years old, has become a teacher. That is for the fortunate and extremely talented few nurtured inside his Lang Lang Foundation. Lesser beings though need not despair because Lang Lang in his desire to teach and impart his love for the piano to as many music lovers as possible, has recently released his very own piano book.
It is titled Piano Book, Artist Approved Collectors' Edition and is literally a piano book. A beautiful hard-covered volume, it contains 29 popular pieces from around the world that were personally selected by Lang Lang himself, plus lots of photographs ranging from his childhood snaps during recitals and with his teachers including the great Gary Graffman down to recent, very trendy pop star shots. This is a piano book that is meant to be treasured for ages and which will surely whet the appetites of music lovers for more piano sounds.
Lang Lang's foreword explains the stunning folio. "With Piano Book, I'm going back to my first love, to the pieces that made me want to become a musician in the first place. I would love to inspire everyone to play the piano — and what better way than through a collection of the most significant pieces from my own musical journey, the repertoire that shaped me as a player and created my great passion for the piano. All the music in this book has huge personal importance to me and reflects my deep love of every aspect of the piano."
Anybody who has ever in his lifetime received even just a smidgen of piano lessons will understand what Lang Lang is saying once he takes a look at the list of works included. These are the usual classical tunes assigned to early learners. Lang Lang has also thoughtfully included an introduction to every piece and even bits of advice as to how best to play it.
Bach's Prelude in C Major; Beethoven's Fur Elise; Mendelssohn's Song Without Words; Clair de lune and Doctor Gradus ad Parnassum from Debussy's Children's Corner; the Raindrop Prelude in D flat major by Chopin; the Allegro from Mozart's Sonata Facile; Andante from Clementi's Sonatina in C Major Op. 36 No. 1; the Presto Op. 299 No. 1 from Czerny's School of Velocity; Debussy's Reverie; Moment Musical by Schubert; To Spring by Grieg; Schumann's The Wild Horseman; the Staccato FP from Poulenc's pieces for children; The Maiden's Prayer by Badarzeuska-Baranouska; Mozart's Piano Variations on Ah Vous dirai-je, Maman; and one more from Bach, the Minuet in G.
Whether the aspiring pianist only got as far as Mozart's Twinkle, Twinkle Little Star or got to exercise his fingers with Czerny and reached for serious musicianship with the Clementi Sonatas, there is something to love in this Lang Lang collection. Note, too, that these much-loved classics are not all there are in Piano Book. Because the line-up mirrors his personal journey, Lang Lang has also included some new works and traditional favorites from various parts of the world.
From the movies come selections from The Leftovers by Max Richter and from Merry Christmas Mr. Lawrence by Sakamoto. From China are The Eliza Aria from the Kats-Chernin Wild Swans Concert Suite; Chopsticks and Jasmine Flower; the Danza de la Moza donosa from Danzas Argentinas; Limu limu lima from Sweden; Nimrod from the Elgar Enigma Variations from the United Kingdom; Arirang from Korea and Scott Joplin's Maple Leaf Rag from the United States.
Best of all, even non-pianists can enjoy what Lang Lang has put together. The now 34-year-old much revered concert pianist has recorded all of his favorite pieces and compiled them in two CDs that come with the book. This is music to enjoy for the ages and Lang Lang's masterful playing is suffused with so much tenderness for the pieces he loves so much. Having the complete package would be fantastic but if you are worried about storage or the hefty $35 price tag, all of the tracks are also available for downloads or streaming.
Lang Lang closes with, "This is the music that has shaped me as a pianist and musician from the very beginning. I hope you enjoy playing it as much as I did."