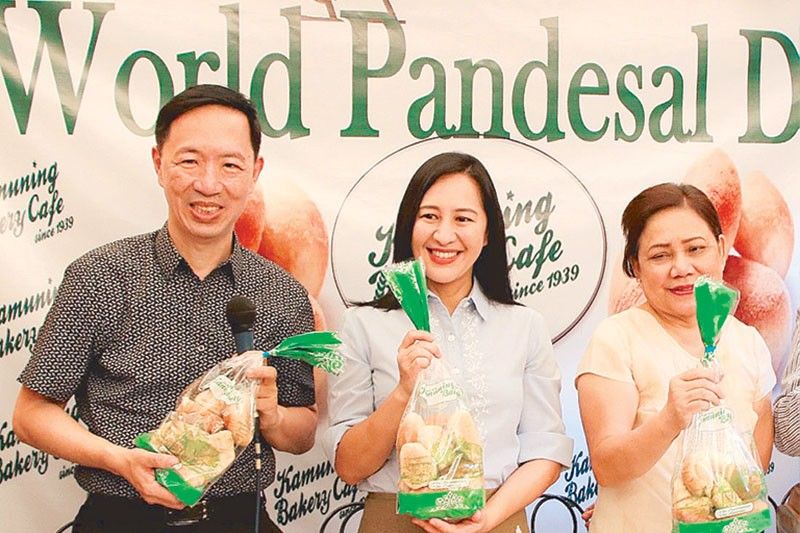 Quezon City Mayor Joy Belmonte (center) and Sen. Cynthia Villar celebrate World Pandesal Day with the bakery owner Wilson Lee Flores
Kamuning Bakery will rise again soon in same 'old look'
FUNFARE
-
Ricky Lo
(The Philippine Star) - October 22, 2019 - 12:00am
One year and eight months after it was razed to the ground in February last year, the iconic Kamuning Bakery is expected to rise again next year, retaining its "old look."
This was announced by STAR columnist Wilson Lee Flores who now owns and manages the bakery at its temporary home on the same location (Judge Jimenez corner K-1st Streets, Quezon City) during the World Pandesal Day as a nod to the World Food Day Tuesday (Oct. 16) last week.
"We are re-building the bakery exactly how it looked before the fire," said Wilson. "The construction was slightly delayed because it took a while for the old owner to divest her 30 percent share. She said she's too old to invest so she decided to sell her share to me."
Among the structures to be retained are the two antique pugon (wood-fired ovens) made of adobe which survived the fire intact and have remained operational (although not yet used for the meantime).
"The World Pandesal Day is also our gesture of thanksgiving," added Wilson as he surveyed the area with temporary canvas roof highlighted by the burnt remains of a stairway that now leads to nowhere. "We are selling the same items like pan de suelo, pan de coco, pan de regla, egg pie, pandesal with pansit/bihon as palaman, fruit and many more. We are thankful that after 80 years, Kamuning Bakery is still around and continues to enjoy public patronage since 1939 despite the rise of many giant bread factories and modern bakery chains, also despite a destructive 2018 fire which heavily damaged it."
More than 70,000 pieces of pandesal were given away to around 7,000 people who lined up with stubs as early as 3 o'clock that morning. Also parts of the package were sardines (from Mega Sardines), packs of rice (from Doña Maria Rice), pieces of Eden Cheese, bottles of Lily's Peanut Butter and foodstuff from King Sue.
"In my research," shared Wilson, "I learned that the Philippines is the only country with pandesal as staple part of the diet. The World Food Day is an important event because it reminds people around the world about the reality of hunger and poverty. World Pandesal Day is a civic and cultural project that hopes to honor the humble yet great Filipino bread pandesal."
As part of the month-long celebration of Pandesal Month, Kamuning Bakery Café also organized two free medical, dental and optical missions, with another one on Sunday, Oct. 27, from 8 a.m. to 12 noon.
Wilson said that although Kamuning Bakery was just a small business when he bought and revived it four years ago, he was inspired to start World Pandesal Day charities due to the Bible story about a humble boy who shared five loaves of bread and two fishes, which Jesus Christ multiplied to feed over 5,000 men.
Among those who graced World Pandesal Day were Quezon City Mayor Joy Belmonte, Senators Cynthia Villar and Risa Hontiveros, Labor Secretary Silvestre Bello III, Manila Mayor Isko Moreno and Regal Matriarch Lily Monteverde.
Pres. Rodrigo R. Duterte sent his congratulatory message. Excerpt:
"My warmest greetings to the Kamuning Bakery Café as it celebrates World Pandesal Day... As you honor our history and heritage by showcasing the remarkable skills of Filipino bakers, I encourage you to create more job opportunities for our people. I also call on you to engage in corporate social responsibility and pursue initiatives that will improve the lives of your workers and our localities... I wish you a successful and joyous event."
As he congratulated Wilson, former Senate Pres. Manny Villar recalled the important role of pandesal in his life, "When I was young, I would help my Nanay Curing in selling shrimp and fish in Divisoria. I would wake up early in the morning, take a quick breakfast of nilagang kape and pandesal before walking to the market. The smell of coffee and hot pandesal triggers fond memories of my childhood. And I am certain that pandesal has become part of the Filipino life, too. I wish you a successful celebration of World Pandesal Day."
GMA Network, Inc. chairman/CEO Felipe L. Gozon, who was a consistent guest and patron of the bakery, said in his message, "I first stepped into the doors of Kamuning Bakery a long time ago upon the invitation of my friend, Wilson Lee Flores. The smell of freshly baked pandesal and brewed coffee evoke warm memories of home. The bakery and I share something special. This year, we both turn 80 years old!"
Federation of Filipino Chinese Chambers of Commerce & Industry, Inc. (FFCCCII) president Dr. Henry Lim Bon Liong said, "Kamuning Bakery Café has a long, fine heritage to be proud of. By satisfying the basic need of baking affordable breads to save people from hunger and malnutrition, you are doing a valuable service to our people. We are also glad to be your partner in conducting a free medical and dental mission in Kamuning Bakery on Oct. 27."
(E-mail reactions at rickylophilstar@gmail.com. For more updates, photos and videos, visit www.philstar.com/funfare or follow me on Instagram @therealrickylo.)