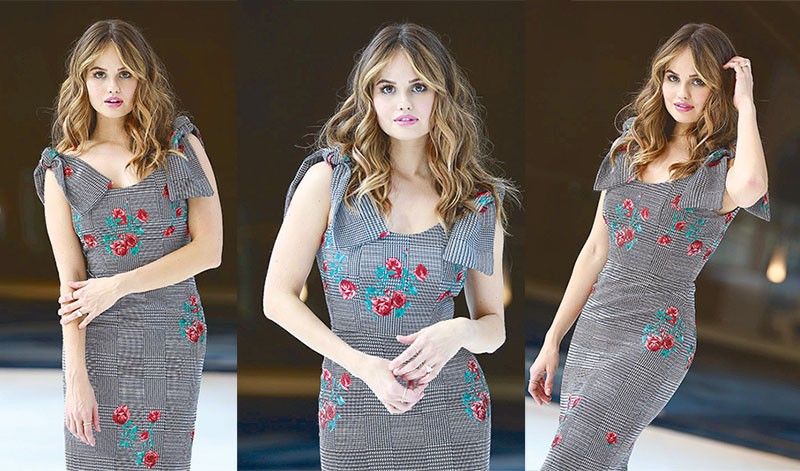 The star of the Netflix teen dramedy Insatiable has some advice for youngsters: A lot of people are gonna try to tell you who you are and who you're not, especially in a world of social media and comparison. You need to be really mindful when you're so young and shaping who you are. Screen every voice that's telling you who you are, even if it's your own.
Photos by Walter Bollozos
Why Debby Ryan feels right at home in Phl
MANILA, Philippines — Just in case you missed it or want to relive it: Debby Ryan, star of Netflix's Insatiable, was recently in Manila for a meet and greet with local fans and press. Also in attendance was co-star Dallas Roberts, who extended his stay in the country by enjoying a quick holiday at an undisclosed island-resort.
During the promotional events for Season 2 of the teen dark comedy, now airing on the streaming giant, both were joined by our very own Gloria Diaz who appears in episodes six and 10. No spoilers here but Insatiable tells the story of Patty (Debby), a bullied, overweight teen who transforms herself and sets out to become a beauty queen under the tutelage of disgraced lawyer Bob (Dallas).
Meanwhile, with the former Miss Universe's appearance on the show, as a formidable pageant coach named Gloria Reyes, Debby got a front-row introduction to the pageant culture in the Philippines.
Asked if she's aware that the country is crazy about beauty queens and pageantry, Debby told The STAR, "That was one of the first things that we learned. But it was not only beauty pageants but also satire. These were a couple things that our show did really well, which was very exciting, because it felt like we were seen."
The STAR had a spoiler-free interview with the 26-year-old former Disney star about all things Insatiable during her brief visit on Oct. 8. These included the controversy the first season courted and how despite it, Insatiable went on to become one of the most-binged shows on Netflix.
Here are excerpts from the 10-minute interview:
What can you say about your first time in the Philippines so far?
"I have noticed the kindness and the warmth just culturally, the people, and it's been really nice and also just the food has been very good and clean and fresh and that is a delight.
"Yeah, I love the gays! It's been so fun. I was like talking last night with a lovely boy and he was like, do you wanna come out with us tomorrow night, and I was like, I think we have early mornings, but why not?
"It's truly like it's my favorite thing about L.A. and also before I hit on here, I was aware of our fan base here, it seems the bloggers and some influencers had been really supportive of the show. And to see that there's such a lovely and supportive gay community and people of all sexualities here are celebrated and glamorized, it's been like really ­— it feels like home. I feel like ah, this is a safe place."
What can you say about working with Gloria Diaz? She's a seasoned actress but she said you helped her a lot in her scenes.
"Certainly working with her was learning about her legacy. Being impressed was there, the respect was there.
"The temperature on set is very specific; we're a family who's all at this little summer camp in Atlanta for five months of a year that we're shooting this thing.
"So this home field advantage? I know what it's like to walk into someone else's and be like, what do I do? How do I swing? How can I play with you? And she came up and she held her own and she was conversational. And she was so humble and gracious and we got to meet Belle (Gloria's daughter Isabelle Daza).
"Truly, you know, it was a really great introduction to not only kind of iconic pageant culture, but also Filipino culture. I think that was the first thing that really made me fall in love with the culture."
Insatiable's Season 1 was the ninth most-binged series on Netflix despite the controversy (i.e. the revenge storyline, etc.) even before it started streaming in 2018. What do you think was the attraction for the audience?
"People who look at the controversy and of course, the overwhelming support is due to conversation, right? It was something people spoke about. When people watched and began to watch it, in my experience, people couldn't stop talking what is this, what am I watching, like, how has this changed so quickly and how is it continuing to change?
"For people to kind of digest it with other people and create these communities, find these communities, that was very cool. I think a lot of us went into this because we were always looking for a community to discuss finding ourselves, finding our identities, finding how we feel about ourselves, what we're searching for, what we haven't found, how we don't really measure up, sexual identity, racial identity, all of these things that are kind of touched on in a certain way.
"There is a community of people who don't even all have to be going through the same things because they're all going through something or going through it together, and I think that jumps off at the screen. So much points like about what we do on camera, but mostly it's a reflection of everyone that shows up and that everyone can see a little of themselves in it."
I'm just curious, were you in any way affected by the backlash?
"I spoke with people that I really respect, who I admire and people who challenge me and don't have a problem telling me if I've messed up, and if something doesn't land. And I spoke with all of them and was like, watch the show, watch the first four episodes and tell me what you think and be honest with me.
"People I knew, people that had no affiliation with the show, people who don't actually agree with some of the issues and are pretty staunchly against the issues that we support on the show, and they all understood what we were doing, understood the good and saw that that translated so much louder than anything that was misread or misperceived.
"That brought me a lot of security in knowing, oh okay, that's actually like just talk, and anyone who's speaking about the actual show like knows what we did, and that is so much louder and that was so much more important.
"So, I think, you know, for a second, it's definitely jarring because there's this safe place where we all go in and I talked about disordered eating, dysmorphia, addiction, just all of these things that I never really had a place to be open about and put them into an art before. And so we felt that there was this great safe place that we all bring the things that we've gone through and create something beautiful out of it.
"And then for people to see that as something that it wasn't, or to see it as mean-spirited, it hurts! It feels like it questions your character and it feels like you're misrepresented and misread. That was jarring for a moment. But I think only so much more, so much greater redeemed when there was so much visibility on what we were actually doing and why the conversations were started."
Insatiable touches on image issues, bullying, mental health, high shool life woes. Did you ever go through these issues and what would you advise your high school self, as well as other teenagers out there?
"I would say that a lot of people are gonna try to tell you who you are and who you're not, especially in a world of social media and comparison, which is just the thief of joy. I think, you need to be really mindful when you're so young and when you're in high school and you're shaping who you are and building your future. Make sure you are screening every voice that's telling you who you are, even if it's your own.
"And you're making sure that it checks out and it resonates with what you think is true and what you want to be true and that if you are not okay, or if something is prohibiting you or if you don't want to build on something, then you stop right there, right well you're young, right where you have the opportunity.
"And you get help and you fix it and you talk to someone and you read about it, you look into it and you do the hard, uncomfortable thing to rewire that programming, so that as you're building yourself and your future, you're doing so with help along the way."