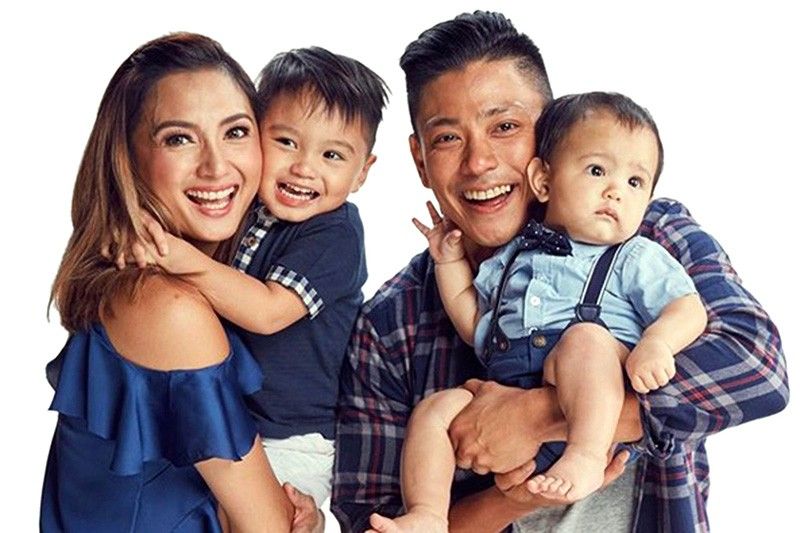 Drew Arellano (with wife Iya Villania and sons Primo and Leon): Kapuso forever .
Photo from Drew Arellano's Instagram
MANILA, Philippines – Despite having started as an actor in the youth-oriented show Click, Drew Arellano has always believed he is meant for a different job — hosting. And hosting he does in most Kapuso infotainment shows for more than a decade now. Drew has found his niche in hosting, saying it's something he does passionately "because if you love your job, it doesn't seem like a job (at all)."
Drew was also part of Unang Hirit and in 2015, he hosted QTV's travel show Balikbayan which later had an offshoot program Weekend Getaway on GMA News TV.
"Do what makes you happy… follow your heart," added Drew, showcasing his versatility in hosting via GMA News and Public Affairs' AHA! and Biyahe ni Drew. "I get to travel with the entire crew of Biyahe ni Drew or make kids learn through AHA!. So, I'm happy being a host, holding a microphone and being myself is for me the most natural thing to do."
Drew, who first met his wife of five years Iya Villania on the set of Click in 2003, also finds fulfillment in being a dad to sons Primo, three, and Leon, one. Drew recalled he knew that he wanted to be a good father even before deciding to settle down. That's why despite his hectic schedule, he decided to scale down his work to three times a week. Instead of going out with friends, Drew said he'd rather spend quality time with his family.
"My life revolves around that objective so I have to sacrifice a few things…work hours should be regulated. Going out on gimiks with friends and other stuffs, for me, that's not an option right now. I have to be home by 7 p.m. I wanna be a great father so I need to adjust all other aspects in my life. So that's the priority and then others come secondary."
A Kapuso for 14 years, Drew recently renewed his contract with GMA Network in a signing attended by GMA Network chairman and CEO lawyer Felipe Gozon, first VP for Public Affairs Nessa Valdellon, SVP for News and Public Affairs Marissa Flores and Asian Artists Agency representative Rowena Salido.
He said, "I think anyone can produce a travel show but not everyone can have my team. Our chemistry is pretty solid that's why we are very efficient with our work. It's a fine group of people that you will be happy with for 14 years and will probably be happy for another 14 years."
AHA! and Biyahe ni Drew, which have been recognized by various local and international award-giving bodies, have also established a strong online presence.
With the tagline, "Ang happy place ng mga batang smart," AHA! deals with the science and technology behind everyday things, experiences and viral activities through the help of credible experts. It makes sure that viewers will find fun in learning through entertaining treatments, language and exciting animations.
Byahe ni Drew, on the other hand, sees the Kapuso host explore islands, jump from the highest cliffs and eat the most exotic dishes. Aside from featuring beautiful destinations in the country, the travel show has taken viewers to various Asian destinations such as Singapore, South Korea, Taiwan, Japan, Brunei, Malaysia and Hong Kong. It also went to Africa namely Kenya, Zimbabwe and Zambia, as well as Israel and Jordan. The show has successfully launched the Biya-Hero and Sustaina-Goals campaign.
When asked about his dream destination with family, Drew replied, "There's too many but just as long as I'm with my family, then every destination will be a dream destination."