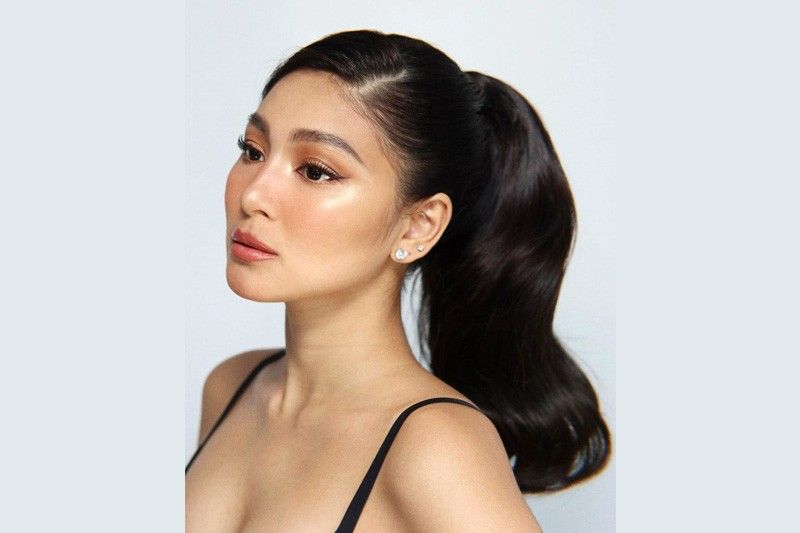 Nadine Lustre: I love my life right now. I'm just really enjoying every bit of it.
Photo credit: Nadine's official Facebook page
Nadine decides to slow down and 'live life'
JAKARTA — Nadine Lustre is busy "living life" amid the big news that her reel and real-life partner has taken on a new project pairing him with another actress.
Last Oct. 4, it was announced that James Reid will topbill the upcoming Dreamscape production Soulmate with Nancy of the K-pop girl group Momoland.
The night before the big news, The STAR interviewed the 25-year-old actress-singer on the sidelines of HOOQ's Hooked on Asia: SEA of Stories event in the Indonesian capital. HOOQ is considered the leading video-on-demand service in Southeast Asia (SEA).
Nadine was one of the celebrity guests because aside from having an Indonesian fanbase, HOOQ co-produced Ulan — her movie early this year — with Viva Films.
The streaming service also mounted a meet and greet for Nadine's Indonesian fans. They said they have been following JaDine, her love team with James, since their 2014 movie Diary ng Panget and 2015 series On the Wings of Love. The latter currently airs on Indonesian TV.
While she didn't give the slightest hint about her beau's next career move (except saying he might do a movie), Nadine said she doesn't feel pressured to do films and shows with James only, despite clamor of fans.
To recall, James has recently left Viva to manage his own career. Nadine, on the other hand, has remained with the talent management company.
"I don't eh. Before I feel like I would, but now kasi parang my mindset has changed so much within the two years, na me and James have been together and learned a lot of things together and (are) growing separately, not apart, but separately," she said.
"My mindset has changed. I'm not rushing. I'm not trying to get anywhere. I just want to slow down and enjoy things," she added.
Right now, Nadine has declined projects while trying to recover from a case of "burnout." "Na-burn-out talaga. It's not really just the shooting ang nakakapagod, but it's more on the promotions talaga," she admitted.
"I really just stopped accepting projects muna because the start of 2019 has been so, like, stressful for me because I did two movies (Ulan and Indak) and I did (the talent-reality show Your Moment) also for ABS naman. Sabi ko sa sarili ko, parang the 'ber' months, this time I deserved some time off naman for myself."
According to her, she's just been chilling and spending her free time with her family, friends, dog and James. She's also focused on making music with James for his independent record label Careless Music.
Nadine is thankful to Viva for being "very understanding" with her decision.
"I'm enjoying life right now. Parang what I did kasi, I took a step back and I got freed na kasi finally," she said, then taking inspiration from the HOOQ slogan, "I'm hooked on living life."
During the meet and greet, Nadine happily obliged selfie requests and entertained questions from fans.
"I love them! I really appreciate everyone because I see them all the time on Instagram. I love how they are very supportive of me and James."
She's not taking this adulation from fans — who even call her "President" — for granted. "It's good for me, at least there's someone to look up to. But there's so much pressure because with me, I'm just like, you know, I don't want to make mistakes and at the same time, if I don't, that does not make me human. So, nakaka-pressure lang na I don't do anything, I don't say anything na makaka-affect... it's very influential."
Meanwhile, it was Nadine's second time in Jakarta but the first time to spend time with her supporters.
When asked if she plans to return to Indonesia for a holiday, she said she wants to go to Bali, but there's one thing she fears. "Everyone is saying that if you go to Bali with your partner, you will end up breaking up. So, I was thinking, if I'm going to go there, I'm not going to bring James (laughs)."
"Come to Lombok instead," one fan advised, which is an island east of Bali famous for its beaches.
Interestingly, these foreign fans are learning about Filipino culture through JaDine.
Ferizka Amalia, 25, said, "Even though sometimes we don't understand the Pinoy language, we try to understand. We Google translate the dialogues because we love them."
"We learned about the philosophy and folklore of the Philippines through films like Ulan. (We learned) that there's tikbalang. These are new things for us," added Ferizka, a member of the We Love JaDine Indonesia fans club.
For Rieka Cahyani, 39, through JaDine teleseryes and films, they found out that Indonesians and Filipinos have something in common.
"We are learning about culture. Sometimes, we have a similar language. For example, langit (sky), biro (joke), lima (five), mura (cheap), payong (umbrella), anak (child). We really have similar cultures. We have something in common. Actually, a lot! So, we feel close to Filipino people," she said.
The meet and greet ended with fans giving Nadine an early birthday surprise. She is turning 26 on Oct. 31.