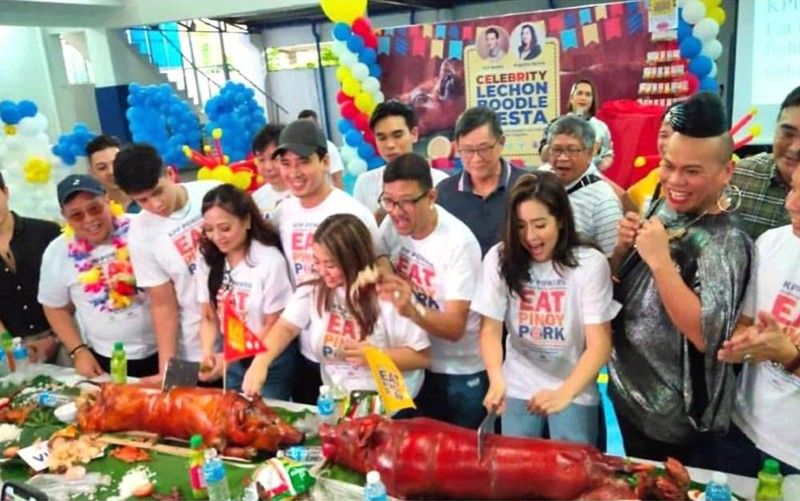 Qualibet CEO Pinky Tobiano, daughter Pianne Sinfuego and husband Juancho Robles lead celebrities in feasting on a row of lechons at a Celebrity Lechon Boodle Fight last Saturday at Veterans Village, Project 7, Quezon City.
Photos by Ricky Lo
A 'crispy' day for lechon lovers
FUNFARE
-
Ricky Lo
(The Philippine Star) - September 25, 2019 - 12:00am
The proof was in the eating.
To allay fears, Quezon City Mayor Joy Belmonte maintained that pork and other meat products being sold in the city are safe from the ASF (African Swine Fever) virus, even as she urged the public to exercise caution when buying pork in the markets following confirmation of ASF cases in the city.
"Consumers should look for meat inspection certificates from vendors," Joy said. "Buyers must also look for stamps from slaughterhouses as proof that pork meat is fit for human consumption."
The same finding was confirmed in a Celebrity Lechon Boodle Fight at an auditorium at the Veterans Village in Project 7, Quezon City, last Saturday, Sept. 21. It was led by star guests Super Tekla, Erik Santos and Angeline Quinto who feasted on two huge lechons after regaling the 100-plus-strong crowd with songs and laughter, as if to reassure that it's indeed safe to eat pork (yes, with caution).
The lechon-crispy event was spearheaded by Qualibet CEO Pinky Tobiano, Progressive Laboratories and KPP Powers Commodities, Inc. in collaboration with the Department of Agrarian Reform (DAR), National Hog Industry of the Philippines (NHIP) and Propork.
"We mounted the event to share our favorite pork dishes like lechon, pork adobo, pork binagoongan and grilled liempo with the country's celebrities," said Pinky who was supported by her husband Juancho Robles and daughter Pianne Sinfuego. "I wanted to express my support for Filipino pork farmers and show that karneng baboy being sold in the wet market or groceries is safe to eat."
Progressive Laboratories is the toll manufacturer for veterinary products, KPP Powers is the exclusive distributor and Qualibet Testing Services Corporation (QTSC) is the testing laboratory for food, feeds, drugs and cosmetics.
Other celebrities were Kyle Echarri (of the Kapamilya soap Kadenang Ginto), G Force, Empoy, Bambbi Fuentes, DJ Lamar, Glen Vargas and Pinky Fernando (of the famous bakeshop).
Of course, Super Tekla took the chance to promote his first-starring movie Kiko En Lala which is showing nationwide starting today.
"The balat (skin) is so crispy and yummy," said Angeline. "I ate a lot, without rice."
"It goes well with white rice," added Erik.
They each got one whole lechon as take-home gift, while Super Tekla settled for one whole head.
"Paksiw ang ulam namin bukas," he announced.
* * *
Bayanihan, the National Dance Company of the Philippines, pocketed US$3,000 when it won in the first Federation of International Dance Festivals (FIDAF) Brazil World Championship during the 15th International Folklore Festival held in Nova Prata last Sept. 15. Bayanihan was the lone entry from all over Asia. It's the group's 13th international award.
With 10 dancers and five musicians, the group showcased the best of Philippine culture, dance and music through Pandango sa Ilaw, Tinikling, Muslim Mosaic, People Under the Sun and Call of Lumads which elicited standing ovation.
Led by its executive director Suzie Moya-Benitez, dance director and choreographer Ferdinand Jose and musical director Melito Vale Cruz, Bayanihan outshined folkloric dance troupes from Mexico (second place), Russia (People's Choice Award), Slovakia (Special Jury Prize), Bulgaria and Romania. The jury was composed of representatives from Brazil, Spain and Turkey.
Meanwhile, Brillante Mendoza received the Kumamoto City Award (runner-up) for Alpha: The Right To Kill in the 29th Focus on Asia Fukuoka International Film Festival in Japan last Sept. 19.
Written by Troy Espiritu, the film is set against the backdrop of the Philippine government's war on drugs. It stars Allen Dizon, Baron Geisler and Elijah Filamor.
During the festival, Brillante conducted and lectured in a forum, A Master Class in Filmmaking, with 100 attendees. He also participated in the symposium New Waves in Asia.
The Fukuoka Audience Award (grand prize) went to India's Sivaranjani and Two Other Women directed by Vasanth Sai.
Brillante will serve as the president of jury in the seventh Bogazici (Bosphorus) Film Festival in International Feature Film Competition in Turkey, Oct. 18 to 25. — Reported by Celso De Guzman Caparas
* * *
(E-mail reactions at entphilstar@yahoo.com. For more updates, photos and videos, visit www.philstar.com/funfare or follow me on Instagram @therealrickylo.)