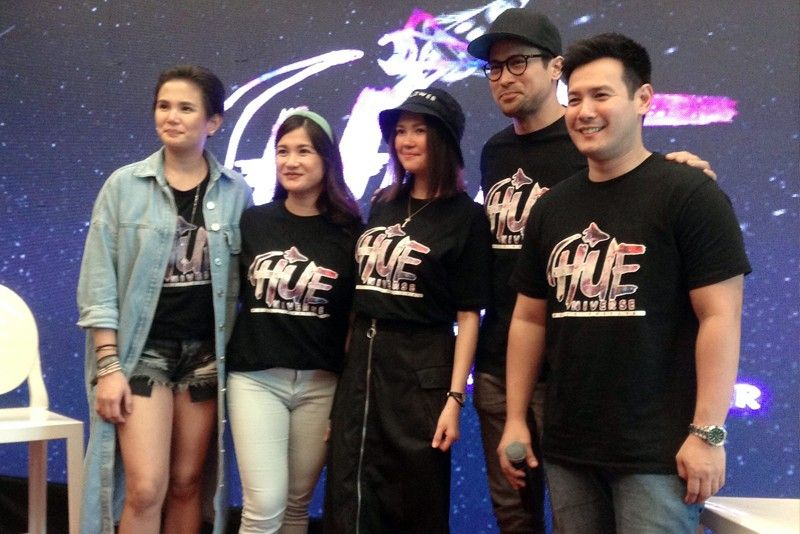 Music festival director John (rightmost) with (from left) Isabel Oli, Camille Prats, Angelica Panganiban and Sam Milby during the presscon
Photo by Bot Glorioso
John Prats spreads positivity in Hueniverse
Bot Glorioso
(The Philippine Star) - September 22, 2019 - 12:00am
MANILA, Philippines — Music enthusiasts are set to experience for the first time what is dubbed as "The Music Festival Like No Other" via Hueniverse, happening on Sept. 28 at the Filinvest City Events Grounds in Alabang, Muntinlupa. It will be a 12-hour (from 3 p.m. to 3 a.m. but gates are open at 1 p.m.) event with non-stop performances from various artists of different genres.
Produced by Bright Bulb Productions of John Prats, Isabel Oli, Camille Prats, Angelica Panganiban and Sam Milby, Hueniverse aims to bring positive vibe through songs.
"We want to bring in a different universe where everyone is united and with (the word) hue in our title, it means color so we have different colors in one universe where everyone is equal," began John, who is also the music festival director. "That's why my directive to all the artists is to spread positivity because as a parent myself, I want the young to go to where they will enjoy and at the same time learn something."
Strict security measures will be implemented for everyone's safety, preventing untoward incident, especially in relation to prohibited drugs. Camille said there are law enforcers, firefighters, medical team, undercover marshals and PDEA agents around the venue during the event. "It may be one of the requirements in any event but on our part, we made sure even from the start that the safety is of utmost importance," she stressed.
"The whole objective of Hueniverse is to have good, clean fun," added John. "Kaya sana ma-achieve natin since we can only do so much, pwede namang mag-enjoy ng ano, ako nga I don't drink (alcohol) but I enjoy. So, let's unite and just have fun in one party."
Joining in the music festival are Spongecola, Autotelic, Allmost, The Ransom Collective, Agsunta, Bita and the Botflies, Written by the Stars, Chiquerella, Mark Oblea and Claudia Barretto. Also present to add electrifying and danceable tunes are DJs Ron Poe, Jennifer Lee, Katsy Lee and Tom Taus.
That's not all. Award-winning international DJ Borgeous, who is known for his hit single Tsunami with DVBBS, will make his presence felt in the show. "There is another artist who's going to be in the festival but we will announce it as soon as everything has been completed," said John.
During the presscon, a video clip of the venue layout was also presented to give everyone an idea of the stage design and overall set-up. John revealed it was Angelica who broached the idea of holding a music festival in the country similar to those she had attended abroad like the Fuji Rock Festival in Japan.
"It was a three-day camp na nasa bundok and there were about 15 stages there," shared Angelica of the scenario in a Japan music fest. "We would stay the whole day for three days na kumpleto may banyo na doon na din naliligo. Inuulan kami doon but the performances were nonstop. So, I told them, kay John that it would be okay to hold something like that here since our weather fits to that kind of event."
John described that Hueniverse has one main stage yet they created a two-band set-up in order to maintain and achieve seamless transitions. "Walang magsasabay na performance like for example, we have a band here, then the next is the DJ. There will be one stage but so much fun and entertainment are going to take place there." Each band will perform for 45 minutes to one hour, while solo acts will have 30 minutes each.
Asked about the challenges of directing a music event, John replied, "One challenge is to keep it tight; seamless na walang dead air because what I want is for the show to become one big medley.
"Another challenge, for me, is the technical aspect, considering the size of the venue," he added. "The sounds should be clear, the cables have to be secured but the toughest is the stage design. It's good that we already have a perfect design so the rest will be on the implementation and I trust the vision of the technical director." In fact, Sam is once again in-charge of the editing just like he did in previous projects of Bright Bulb.
The actor also looks forward to bond with their closest friends in showbiz whom they invited to the event. He said it would be a perfect time to bond aside from the annual gathering of artists in the ABS-CBN Ball.
(Tickets, priced at P399 for Gold Lite, P999, Gold, and P2,999, Platinum, are available at www.smtickets.com.)