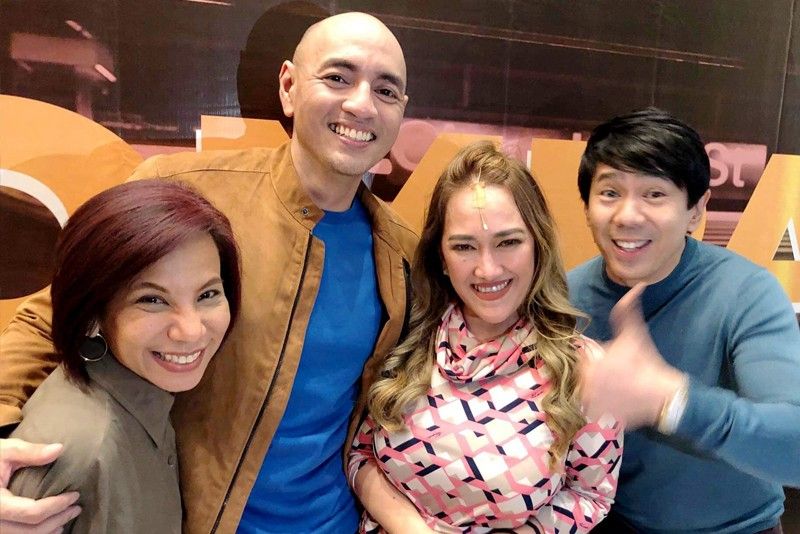 Company is the latest venture of Upstart Productions, starring OJ Mariano (second from left) as the lead Bobby, with his fellow The CompanY member, Sweet Plantado (second from right). They are thankful to Annie Quintos and Moy Ortiz for allowing them to do the musical.
MANILA, Philippines — "Surreal" is how the two members of the popular vocal sextet, The CompanY, describe their performing stint in Stephen Sondheim's musicale, Company, from which the 34-year-old group interestingly got its name.
Company is the latest venture of Upstart Productions, starring OJ Mariano as the lead Bobby, with his fellow The CompanY member, Sweet Plantado. The musical was staged by Repertory Philippines way back in 1997, as part of its 55th season. Menchu Lauchengco-Yulo is the only original member of the cast returning for the new production, reprising her role as Joanne.
It's a "very nice coincidence" that OJ and Sweet are doing Company together. The musical is a favorite of The CompanY founder, Moy Ortiz, that was why he named the group as such.
OJ, the youngest member of The CompanY who joined the group only four years ago, is so blessed that he has found a second family. He replaced Jay Marquez. "Our relationship is very good," attests OJ about The CompanY members.
Meanwhile, Sweet became a member of The CompanY back in 1999. Company is also one of her favorite musicals, that's why she lost no time in auditioning for the role of Sarah.
"Our director (Topper Fabregas) gave a 12 noon to 5 p.m. rehearsal schedule daily, so we can give time to the rest of what we are doing," Sweet grants. "We are grateful to Moy and Annie (Quintos) for allowing us to do this musical. We are always in a happy place every time we do rehearsals for Company. The camaraderie is great. Ang sarap ng feeling.""
For the first time, OJ and Sweet work with Topper as director. "I first met him back in 1997, when he was 14 or 15," Sweet recalls. "We did The Lion, The Witch and the Wardrobe, where we were both in the cast."
OJ previously worked with Topper also as a co-actor, when they both did shows for Red Turnip. Company is Topper's first musical as director. "He takes you by the hand," OJ says of Topper. "He guides you through the process. He is very collaborative.
"He doesn't spoon feed. He gives you ideas. He lets you discover these things on your own, with his guidance. It was a fun process. Every day, it was changing. It was very dynamic."
OJ takes on the role of Bobby/Robert in Company. "It's pretty much written in the text how Bobby is going to be depicted," he grants. "He (Bobby) is the perpetual bachelor, not the marrying type. I went in this process having the perspective of maintaining the fact that Bobby is actually there. I consider him as an accidental lead character in the show.
"He takes on the perspective of the audience, the ones who are watching. He sees all the married couples, the women, the varied relationships around him and how making a decision affects him in the end, whether or not he's really going for marriage, making a commitment or something more serious."
In all the roles that OJ has done in the past — Sebastian in The Little Mermaid, a drag queen in The Adventures of Priscilla: Queen of the Dessert and Emman in Ang Huling El Bimbo — he always tried to have a little bit of himself.
"To begin with, I'm single, so Company is close to me, as well as the character I play," OJ allows. "I want to have a reflection of myself in the character, so at least I'd be drawing some truth. In any character originating from me, I always give 120 percent."
Becoming a singer was simply a "crazy fantasy" when OJ was younger. Since he joined ABS-CBN's Star in a Million in 2004 and emerged second runner-up, with Frenchie Dy as the winner, OJ understandably pursued a solo singing career.
Theater came in 2010, when he played second lead to Christian Bautista in the musical ballet, Rama Hari and shared the lead role of Jose Rizal with Franco Laurel in Isang Panaginip na Fili for Dulaang UP that same year.
Bobby in Company is the "biggest role" that OJ is doing. "This is the most difficult and challenging role for me," he offers. "It's the most words that people will hear from me. I'm pretty shy. I am normally silent and reserved. I just take whatever is given to me and make the most out of it. I receive every opportunity graciously. There's a switch when I'm onstage. There's a second layer that's protecting me."
He is in awe of his amazing co-workers in Company, like Menchu, Michael Williams and even Joel Trinidad, also the artistic director of Upstart Productions.
"I am a fan of most of them," OJ beams. "They are theater stalwarts. I still get amazed whenever I do scenes with them. I still get intimidated, but it gives me that extra push to step up and join them (up there)."