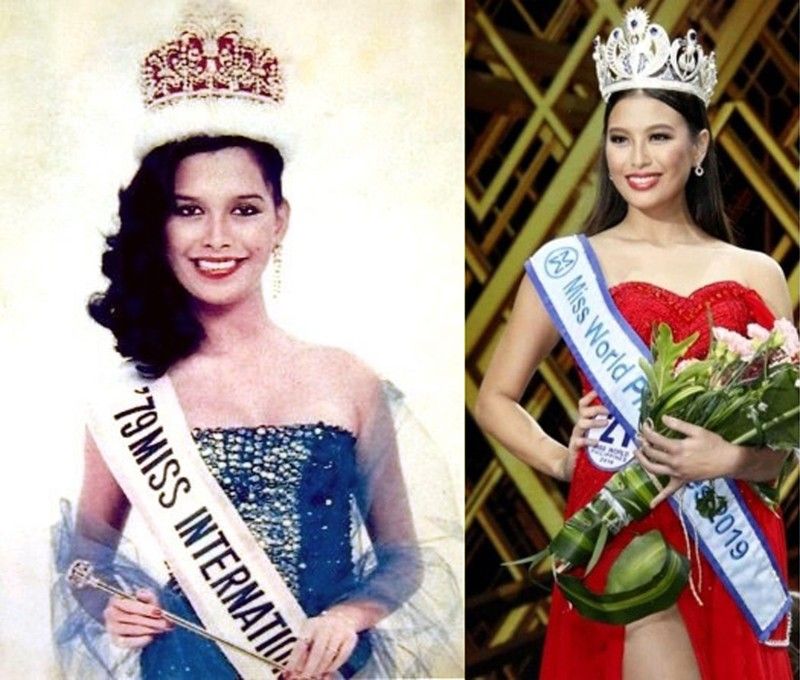 Melanie Marquez and daughter Michelle Marquez Dee: Mom was 1979 Miss International and daughter is newly-crowned 2019 Miss World Philippines
Like mother, like daughter
FUNFARE
-
Ricky Lo
(The Philippine Star) - September 20, 2019 - 12:00am
Forty years after Melanie Marquez won the third Miss International crown for the country in 1979, (after Gemma Cruz and Aurora Pijuan, and before Precious Lara Quigaman, Bea Rose Santiago and Kylie Verzosa), her daughter Michelle Marquez Dee proved that beauty runs in the blood by winning 2019 Miss World Philippines. If Michelle bags the Philippines' second Miss World crown (after Megan Young) on Dec. 14 in London, she will be on equal footing with her mom. Reigning Miss World is Mexico's Vanessa Ponce.
Of course, Melanie is a tough act to follow, with more titles to her name including Face of the '80s (1985) in New York, 1986 Supermodel first runner-up, 2005 Mrs. World finalist and voted "The Most Beautiful Miss International of All Time" in 2000 by a pageant website. At 24, Michelle (a first-timer in the pageant game) has enough time to catch up.
Melanie and Michelle are not the only mother-daughter beauty winners. There are more, to wit:
1908 Carnival Queen Pura Villanueva and 1931 Miss Philippines Maria Villanueva Kalaw-Katigbak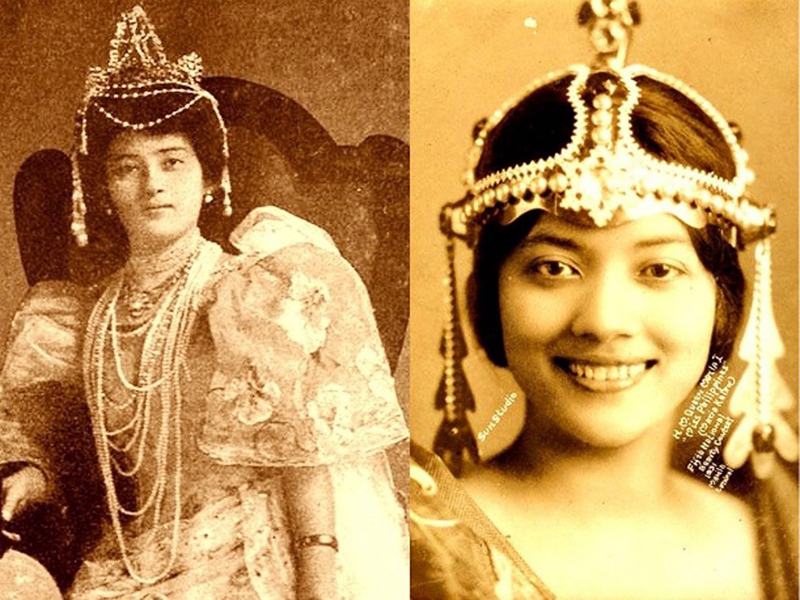 Pura was a writer and women's page editor of El Pueblo, a leading Spanish newspaper, an author, a pioneer for women's suffrage and founder of Asociacion Feminista Ilonga, a women's group in Iloilo. She married lawyer Teodoro Kalaw, former secretary of the Interior and director of the National Library.
Prior to her crowning as 1931 Miss Philippines of the Manila Carnival, Maria was muse of the UP College of Law's Bachelor Club, and author of books. She was elected member of the Philippine Senate, the lone woman senator from 1961 to 1963. Married to Dr. Jose Katigbak, an obstetrician and gynecologist, Maria served as chairman of the Board of Censors for Motion Pictures (BCMP), forerunner of the MTRCB (Movie & Television Review and Classification Board).
1926 Miss Philippines Anita Noble and 1956 Miss Philippines Edith Noble Nakpil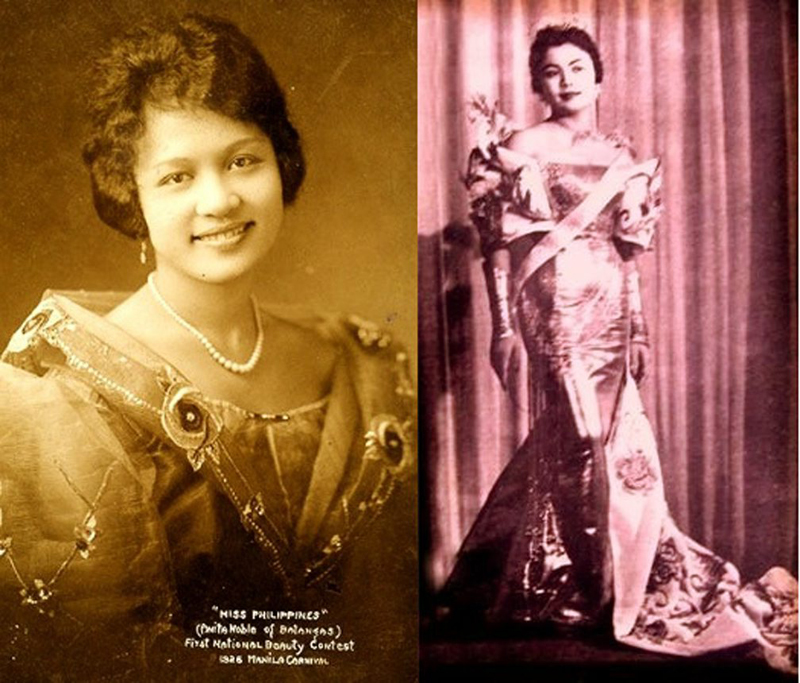 Anita was crowned Miss Batangas before winning the Manila Carnival's First National Beauty Contest Search for the first Miss Philippines. She married architect Juan Nakpil who was declared National Artist for Architecture in 1973.
Edith forfeited her right to represent our country in the Miss Universe contest that year because she didn't want to wear bathing suit in public (and was replaced by Isabel Rodriguez). She played Mary Magdalena in the Lenten play Martir sa Golgota with Gloria Romero as the Virgin Mary staged at the Manila Grand Opera House in 1956. Married to Francisco Rabat, a politician from Davao Oriental, Edith became a member of the Second Batasang Pambansa in 1984.
1965 Miss Press Photography Elvie Gonzales and 1994 Bb. Pilipinas-Universe Charlene Gonzales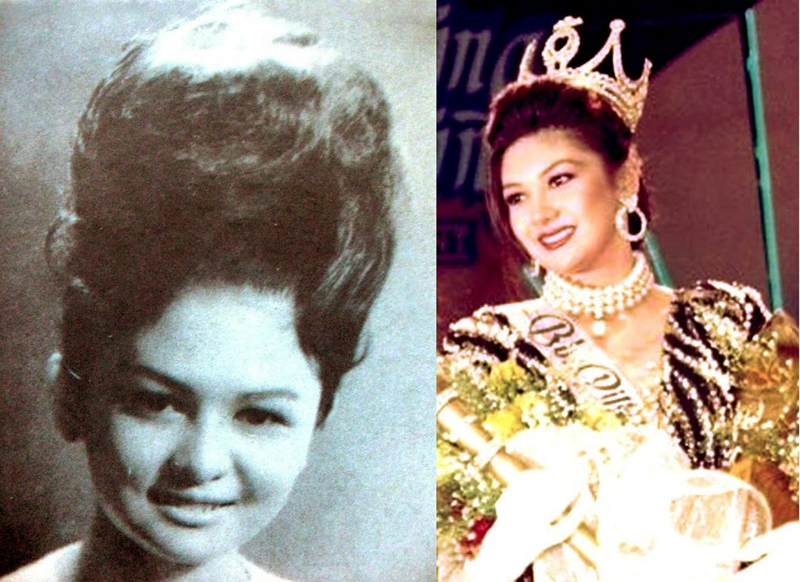 Elvie was also Queen of Dance-O-Rama for August 1963, Bb. Ilang-ilang (runner-up to 1964 Bb. Pilipinas Myrna Panlilio) and fourth runner-up to 1965 Bb. Pilipinas Louise Aurelio Vail.
Charlene finished Top 6 and was named Best in National Costume in the 1994 Miss Universe held in the country, and won by India's Sushmita Sen.
1970 Mutya ng Pilipinas Asia Alice Crisostomo and 1990 Mutya ng Pilipinas Asia Pacific Mutya Crisostomo Laxa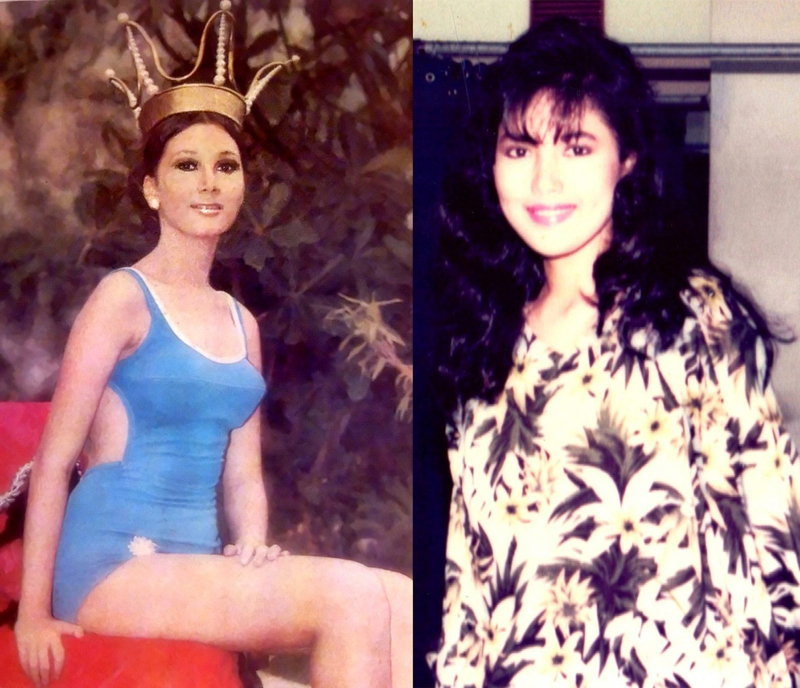 Alice finished first runner-up to 1970 Miss Asia Quest Zeenat Aman of India. Before winning the Mutya ng Pilipinas crown, Mutya was first runner-up in the 1990 Bb. Pilipinas pageant. She was named Mutya by her mom Alice and dad Tony Ferrer after the beauty search.
1975 Bb. Pilipinas-Universe Chiqui Brosas and 2009 Bb. Pilipinas second runner-up Regina Brosas Hahn

Chiqui placed fourth runner-up to 1975 Miss Universe Anne Marie Pohtamo of Finland held in El Salvador on July 19, 1975.
1984 Bb. Pilipinas-Universe Desiree Verdadero and 2019 Bb. Pilipinas first runner-up Aya Verdadero Abesamis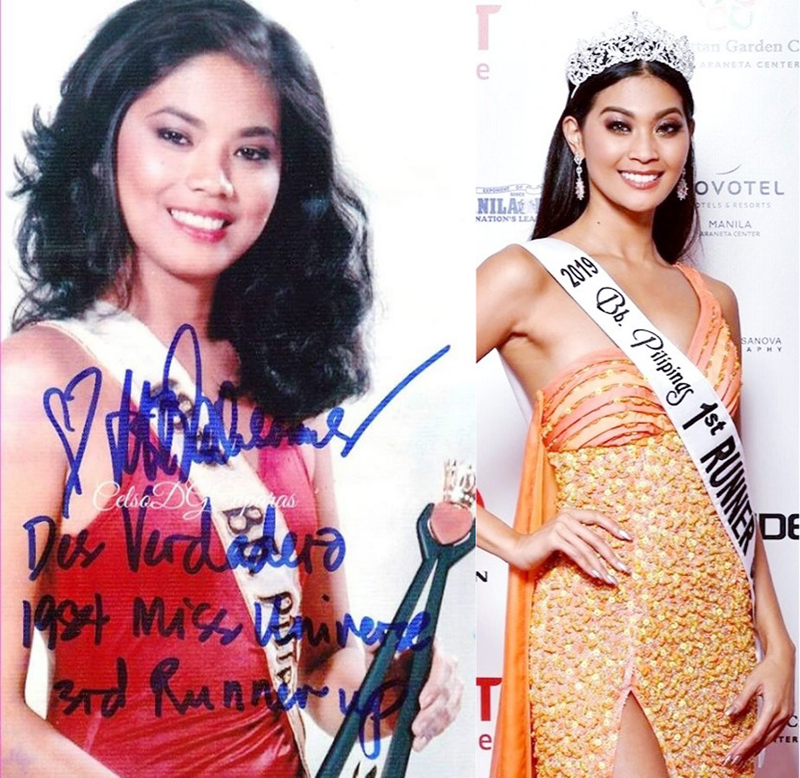 Desiree was third runner-up to 1984 Miss Universe Yvonne Ryding of Sweden held in Miami, Florida, USA. Two years before, she was first runner-up to 1982 Bb. Pilipinas-Universe Maria Isabel Lopez. In 2018, Aya was a Top 15 semi-finalist in the same pageant.
1955 Miss World Carmen Susana Duijm of Venezuela and 1983 Miss Venezuela World Carolina Cerruti Duijm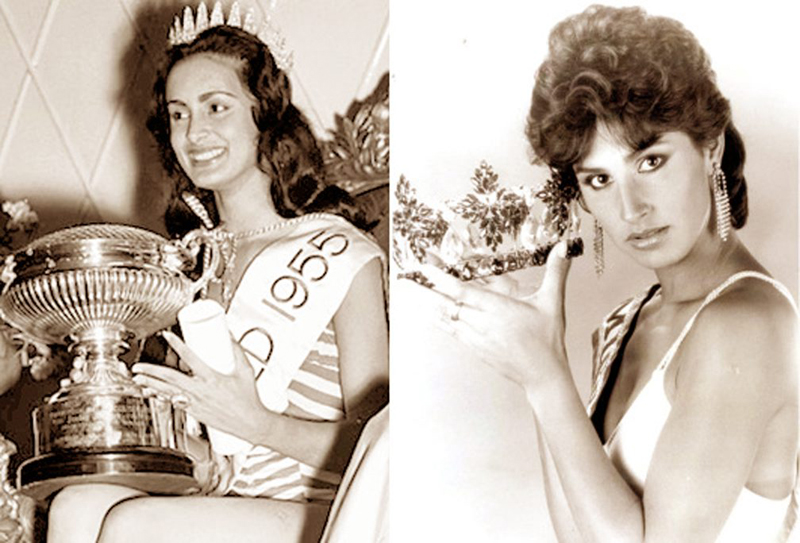 Susana was also a 1955 Miss Universe Top 15 semi-finalist won by Sweden's Hillevi Rombin. Carolina competed in the 1983 Miss World in London won by Sarah Jane Hutt of United Kingdom.
1983 Miss World finalist Unnur Steinsson of Iceland and 2005 Miss World winner Unnur Birna Villhjalmsdottir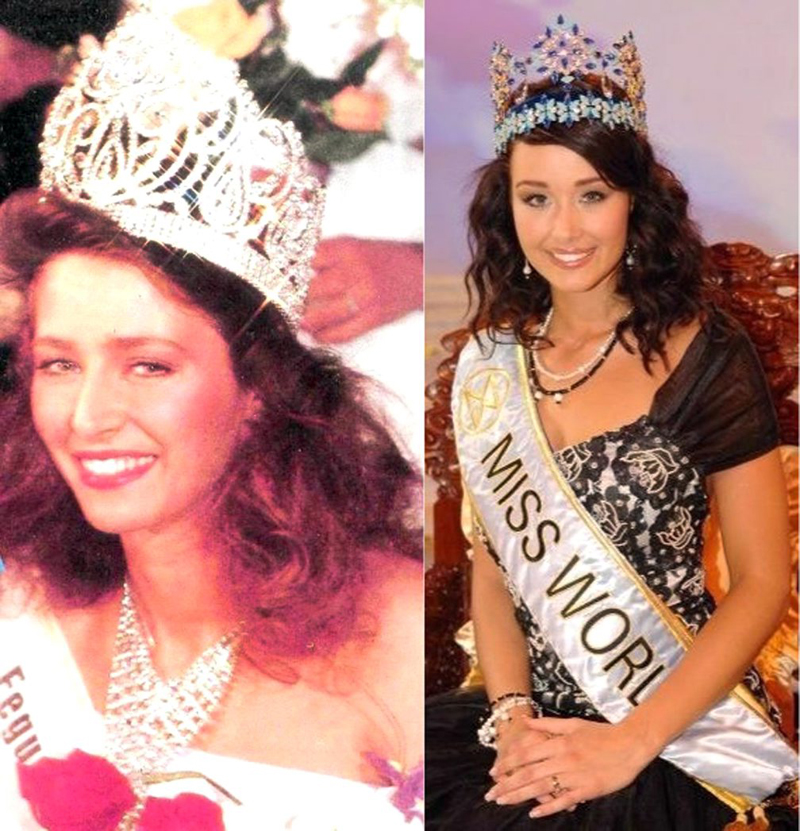 Unnur also competed in the 1980 Miss Young International held in Manila and was named Miss Mabuhay (Friendship), Miss Punctual and third runner-up to Simone Renee Overman of Hawaii. It was staged at the Folk Arts Theater on Aug. 20, 1980. She was also Iceland's delegate in the 1983 Miss Universe won by New Zealand's Lorraine Downes.
Meanwhile, Unnur Birna won Miss World and Queen of Northern Europe in 2005 in China, beating 101 other beauties including Philippine bet Carlene Aguilar who finished as one of the Top 15 semi-finalists.
— With a report from Celso de Guzman Caparas