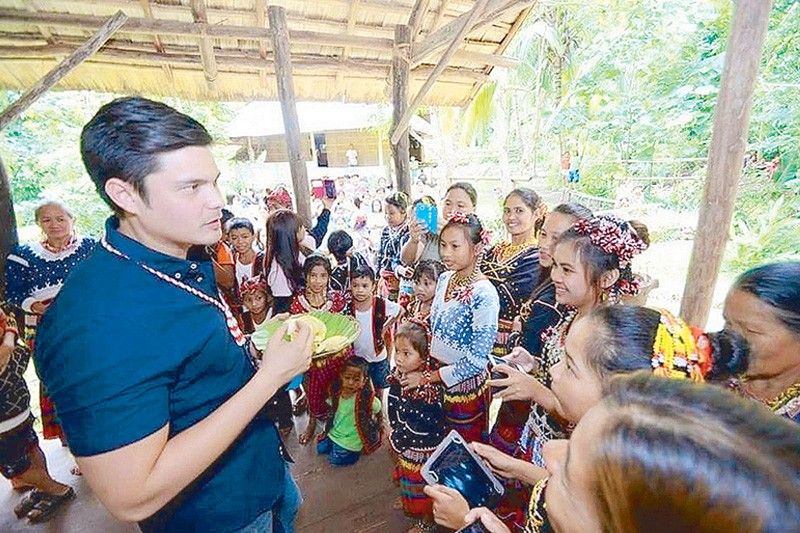 Under Project 888, Dingdong and YPF visit schools and communities to conduct leadership symposium such as this one in Saranggani Province.
Dingdong is more than just an actor
According to the wise words of our national hero, "Ang kabataan ang pag-asa ng bayan."
For some of us, these are nothing but empty words. But for someone with a heart as pure as Dingdong Dantes', these words have become the premise in establishing his chaired foundation centered on youth empowerment and nation-building programs, the YesPinoy Foundation, Inc. (YPF).
Yet, apart from the countless characters that Dingdong has breathed life into in the course of his colorful two-decade career as a Kapuso, some people may not be aware that he wears different hats besides that of an actor.
He was a former commissioner of the National Youth Commission; an entrepreneur owning multiple business ventures; an army reservist; an active supporter of youth and environmental advocacies; and not to mention an amazing dad to Zia and Ziggy and a loving husband to his wife Marian Rivera.
They say a simple act of kindness can ignite a movement that can one day change the world. This, perhaps, is what fired the enthusiasm of Dingdong when he established the foundation on that fateful day of Aug. 21, 2009. Initially formed to bridge resource gaps in education and help out-of-school youth and children of fallen soldiers, YesPinoy has evolved and focuses on a now larger scale cause — YES or Youth, Empowerment and Service to the country.
"This is the issue we want to address; we want to make the youth as heroes kahit na bata pa sila. Paano nila mapagtatanggol 'yung kapatid o kaibigan nila kung 'yung sarili nila hindi nila kayang ipagtanggol," expresses Dantes.
Coming from a family of soldiers, Dingdong has been influenced by his relatives to always put his life in the service of others leading to his decision to enlist in 2006 and be a part of the Philippine Marine Reserve corps.
In spite of being a marine reservist, Dingdong still feels the need to serve his country in a more concrete and sustainable way hence, the birth of YPF, which he effectively champions with the help of passionate benefactors and volunteers from various institutions such as the GMA Kapuso Foundation.
As part of its initiatives on education, YPF provides scholarship opportunities and participates in the annual Brigada Eskwela of the Department of Education (DepEd). In addition, it has turned over classroom buildings and donated school chairs through The One Chair, One Child Project in Iloilo.
As a champion of environmental causes, YPF has trained young people and leaders on climate action, disaster preparedness and responsible citizenship; distributed go bags and emergency kits; led post-disaster programs; and established partnerships with schools and communities.
YPF also launched I am Super, a disaster preparedness campaign that organizes trainings in public schools and distributes YPF's emergency go bags.
Recently, the foundation also partnered with the Stunt Association of the Philippines and the Seoul Action School-Korea to convene together all stunt actors and directors in the country for a series of extensive trainings and seminars titled Project #BeScene.