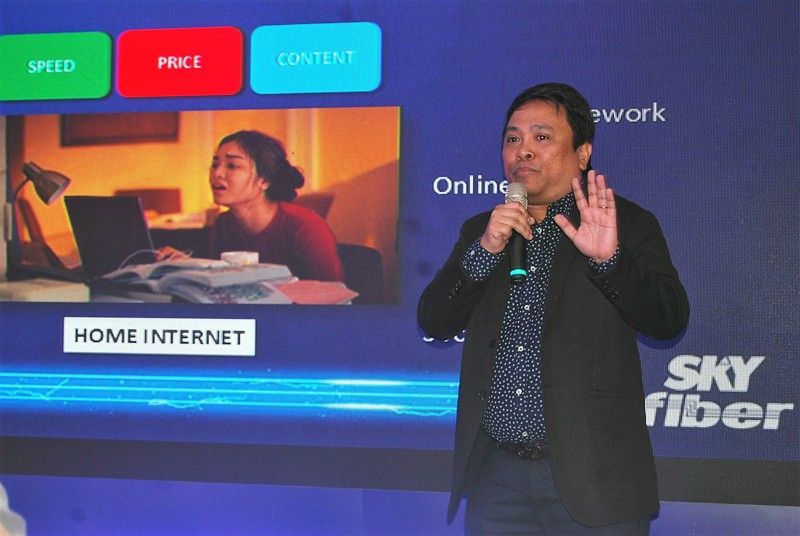 SKYcable Corp. head of broadband products Allan Supnet at the launch of SKY Fiber Super Speed Plans and SKY Fiber All-in Box
Photo by Honey Orio-Escullar
MANILA, Philippines — Tech-savvy people, most notably millennials and Gen Zs, would certainly agree with the blurb "Internet is life" since online connectivity is already becoming an integral part of one's daily life — be it at home, in school or at work. It makes one productive, gives one an unlimited access to various kinds of entertainment and keeps families and loved ones closer in spite of the distance. The Internet helps people connect with the rest of the world instantly. That's why there are those who can't live without it as this proves true in surveys conducted by the ABS-CBN research team, citing for instance those who prefer "Internet over water or electricity."
"You will be surprised that some had even gone to sacrifice food for the sake of a data plan if you look at some of the researches in the sari-sari stores and that's Internet data for 10 minutes. They will give up cigarette or noodles, and they will just eat candy in favor of an Internet connection," said Skycable business unit head for consumer products group Jaja Suarez during the recent media launch of SKY Fiber Super Speed Plans.
SKYcable Corp., in partnership with ABS-CBN, introduced the superior Internet experience which is expected to reach more Filipinos. It is a set of affordable fiber-fast home Internet subscription plans in the market and offers the most value for money, starting with the Plan 5mbps at P999 per month; the best value Plan 25mbps, P1,499 per month; Plan 50mbps, P1,999 per month; 75mbps, P2,499 per month; and 150mbps, P3,499 per month.
Suarez added, "As a company that values innovations, SKY is once again inspired to bring you to a leveled-up experience of the Internet through SKY Fiber. And I assure you this will make you look forward to fiber-fast days ahead with our new super speed plans. So streaming Netflix and iWant, doing research, playing multimedia games will now be faster and a better experience."
SKY Fiber subscribers are also in for a new entertainment experience as they can choose to bundle the Super Speed Plans with the new SKY Fiber All-in Box which frees users from the hassles of maintaining three different devices for their broadband, cable TV and digital TV services.
"The first of its kind in the country, the device combines the power of a Wifi-enabled modem, digital terrestrial TV and cable TV modem for total entertainment," said SKY head of broadband products Allan Supnet, adding that families that also want cable TV can choose bundles for as low as P1,599 per month with 15mbps speeds while those subscribers who want seamless connection in their two to three-storey houses can avail of its Home Wifi plans (for as low as P1,999 per month for Plan 30mbps) that are bundled with free Wifi Mesh. The latter gives users an optimized Internet experience as it eliminates Wifi dead zones in large spaces.
With the All-in Box, users can catch free ABS-CBN TVplus channels such as Cinemo, Yey, Jeepney TV and Knowledge Channel. They can binge-watch ABS-CBN shows, iWant Originals and local movies on the TV screen via the built-in iWant app, access SKYcable channels such as Cartoon Network HD, Nickelodeon, Cinema One, Metro TV HD, CNN HD and NBA Premium and subscribe to Pay-Per-View.
(Until Nov. 30, SKY Fiber All-in Box is available for a special introductory fee of P1,499. It is initially available in Metro Manila, Cavite, Laguna, Bulacan, Cebu, Bacolod, Iloilo, Davao and General Santos).