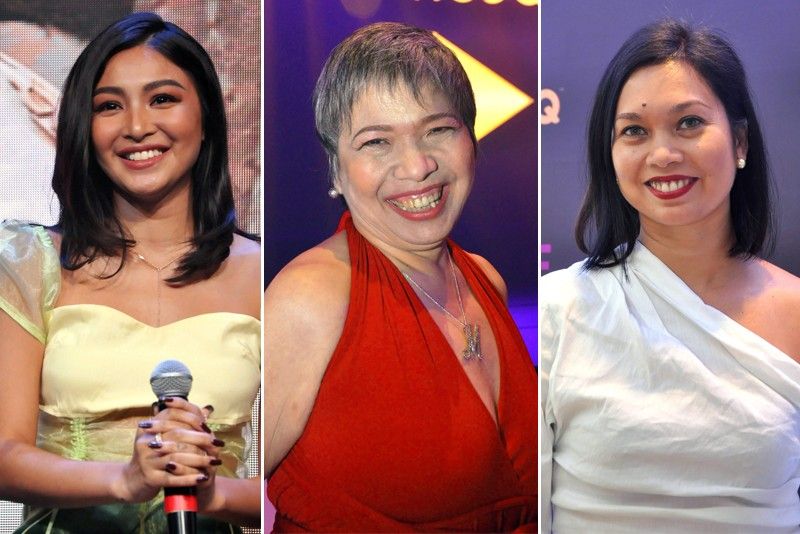 From left: Ulan lead star Nadine Lustre, Dr. Margie Holmes of Sex Talks, HOOQ PH country manager Sheila Paul
HOOQ delivers classic local films for free
Gil Villa
(The Philippine Star) - September 12, 2019 - 12:00am
MANILA, Philippines — Call it old-school, low quality, picture-wise, but there's something in Pinoy classic movies that makes film buffs treat them like treasure finds. Memorable clips may be found on YouTube or passed around via Facebook feeds, but accessing them in full form is no snap of a finger.
Thus, the experience of having to go through an array of these past films and being able to watch them for free is no doubt fun and fulfilling.
A couple of months back, the video-on-demand service, HOOQ, shared that it's providing free access to several Filipino movies now much valued with the passing of time and the prevailing pop culture of yesteryear. The word was out that HOOQ "eases access to over 1,000 pieces of content via HOOQ FREE." By "free" means "without having the need to register."
HOOQ FREE is billed as "a major enhancement to the user-experience, providing Filipinos access to popular on-demand local films, programs, live channels and short-form content. This platform, which can be watched via the web, mobile app and on select TV models and set-top boxes, is designed to give viewers immediate access to some of the nation's most popular films and series.
For the classic movie hunters, thrill comes into play when browsing Classic Regal Films or Classic Viva Films, or one labeled 90s Favorites. Perhaps even millennials may find it cool watching in entirety Regal gems like Sister Stella L., Underage, Manila By Night or Gawa Na Ang Bala Para Sa Akin, which boasts the classic harana scene capped by the Panchito punchline "Ay papatayin ko!" Equally young film aficionados can learn from masters by watching Viva's good ol' stuff like Ang Probinsyano, Maging Sino Ka Man, Andres Manambit and Working Boys, featuring Tito, Vic, and Joey and Herbert Bautista at their comic prime. The Cesar Montano-starrers Jose Rizal and Muro-Ami belong to the '90s, of course.
HOOQ Philippines country manager Sheila Paul related, "HOOQ is attuned to the evolving needs of the social, convenience-driven and digital-savvy Filipino. We understand local nuances and most importantly, we get our audience so we're introducing HOOQ FREE and the HOOQ FREEPLAY Festival in response to their wants and needs as VOD consumers."
HOOQ FREEPLAY Festival is an innovative streaming festival bringing a variety of local content from HOOQ's vast library onto the "freemium" layer every quarter. At its launch, new originals like the recent smash-hit Ulan, co-produced with Viva Films and starring Nadine Lustre and Carlo Aquino, was introduced in HOOQ FREE.
Explaining further the principle behind offering a long list of movies for free watch, Jennifer Batty, HOOQ chief content officer, shared, "We are giving Filipinos the freedom to view over 1,000 titles for free and there will be no sign-ups, no registration for a trial or paid subscription needed. Based on our data and insights, and our deep connection to the local audience, we know that video entertainment delight is all about instant enjoyment, consumption that's mobile, and the power of bite-size and binge-worthy content with local relevance."
While giving premium in the classics, HOOQ is equally committed to delivering new local content in HOOQ FREE for Filipinos in support of local content creators. One example is Sex Talks with Dr. Holmes, a 10-episode helpline series for those who have questions and concerns about sex and how it figures in their daily lives.
As for those wanting complete access to HOOQ's vast catalogue of the hottest Hollywood and regional series and movies including Krypton, John Wick, La La Land and Marvel's The Avengers, as well as the latest HOOQ Originals, plus Korean dramas like Jewel in the Palace and Winter Sonata, they can sign up to a HOOQ VIP plan on www.hooq.tv.
(HOOQ VIP Plans are available for as low as P59/week with multiple payment options via credit card, debit card, and telco partners such as Globe, Smart and Sun. HOOQ can now be enjoyed on more devices like Google Chromecast, Samsung Smart TVs, Android TV, Apple TV, Globe Streamwatch powered by Roku and the new Globe Streamwatch Xtreme Prepaid.)