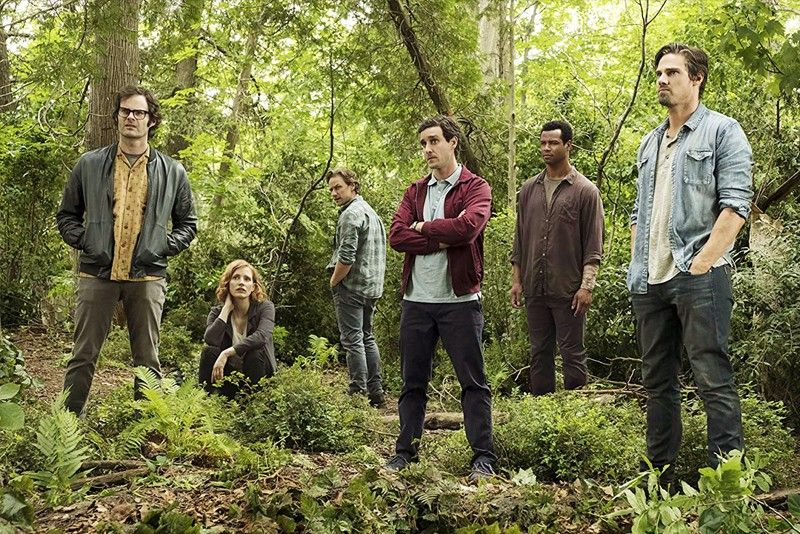 From left: Bill Hader, Jessica Chastain, James McAvoy, James Ransone, Isaiah Mustafa and Jay Ryan as adult Losers in It: Chapter Two
Stephen King surprises fans in It: Chapter Two
MANILA, Philippines — After years of declining invitations to appear in films based on books, bestselling author Stephen King surprises his fans this month with a notable cameo in It: Chapter Two, the sequel to the highest grossing horror movie ever and the most successful adaptation of any of the horror master's countless bestsellers — thanks to director Andy Muschietti, who directed both It films.
"I am very ambitious when it comes to cameos," the director said this week during the junket for the movie at the Heritage Museum in East Los Angeles. "I think that's one of my best traits as a director. Stephen King is my hero. I grew up reading him and he's one of my life heroes. I got to know him and I discovered a very loving and funny guy and I wanted him in the movie so I offered him a cameo."
When the director approached Stephen, the author warned him of the reason why he rarely appears in his own movies. "Well, you'll have to consider that I'm a jinx. Every movie that I am in, it bombs!" But with the record-breaking success of the first It installment, Andy assured Stephen that everything would be fine.
The author plays a crucial part in the sequel and his legion of fans will be delighted, including Jessica Chastain who is joining the cast as the adult Beverly Marsh.
The Oscar-nominated actress came to love Stephen because one of her favorite characters shared her last name. "One of the first books that I read that wasn't assigned to me was Pet Sematary and it went on from there to The Shining and Misery — and I loved it that her name was Misery Chastain."
It: Chapter Two is a continuation of the voluminous book and
faithfully picks up the story 27 years after the events of the first film when the Losers' Club defeated Pennywise, the murderous clown who terrorized the town of Derry. In the sequel, the Losers' Club, now middle-aged adults, regroups in their old hometown after Pennywise resurfaced and started committing murders again.
Bill Skarsgard, who plays Pennywise, is returning together with the young actors who played the members of the Losers' Club. New to the movie and joining Jessica as adult Losers are James McAvoy, Bill Hader, Isaiah Mustafa, Jay Ryan, James Ransone and Andy Bean.
To welcome the adult Losers, the actors playing the young Losers all sent their adult counterparts a secret letter.
"We had a little blind date," Andy shared. He added that he and Wyatt Oleff had a staring contest for a few minutes. "He's great! They did such an amazing job with the first one and we are just trying to not get in the way." Andy and Wyatt portray the adult and young Stanley Uris in the film.
James, who plays the adult Eddie Kaspbrak, had a totally different experience with his younger counterpart Jack Dylan Grazer, who thought he was not cool enough for the part. He was trying to impress the young actor by boasting of his skateboarding talent.
Below was their exchange:
James: "I know about skateboarding, too!"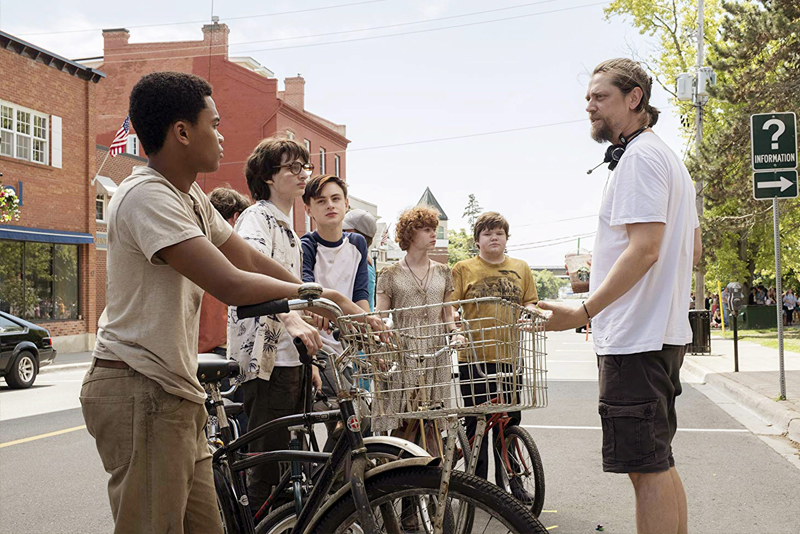 Young cast members Chosen Jacobs, Finn Wolfhard, Jaeden Martell, Sophia Lillis and Jeremy Ray Taylor with director Andy Muschietti (rightmost)
Jack Dylan (responding nonchalantly): "Okay."
James (Dropping names of skateboarding celebrities): "I know those
guys, I am pretty cool!''
Jack Dylan: "No, it's not cool."
And, like Jack, Jeremy Ray Taylor also gave his adult counterpart Jay a little bit of a hard time in the beginning. They both play Ben Hanscom, the nerdy and overweight kid who transformed into a six-pack wearing hunk as an adult. "Don't screw this up!" was the warning young Jeremy gave Ryan.
It didn't take long for both Jeremy and Jay to bond. "His mother, kind of, became like my mother on set. He's got a very lovely family," Jay shared.
In contrast to Jack and Jeremy, Chosen Jacobs, who plays the young Mike Hanlon, was a gentleman from the get-go, according to Isaiah, his adult counterpart.
"Chosen is like the ultimate gentleman. He was raised in a Southern household so he came up and he just started giving me compliments upon compliments," recalled Isaiah who, overwhelmed with praise, only managed to reply, "Oh, you're awesome" to young Chosen.
Bill, who steals most of the new movie and whose performance as the adult Richie Tozier has generated Oscar buzz, also has the funniest experience with his young counterpart Stranger Things star Finn Wolfhard.
"Finn got me the job!" the Emmy-winning actor for HBO's Barry
exclaimed. "He was talking about me in the press and my agent sent me a link, and I was, like, 'Oh, that's nice.'" Months later, when Bill learned that Andy Muschietti wanted him for It: Chapter Two, he thought to himself, "Finn must be the most powerful person in Hollywood!"
And when they finally met, Finn gave Bill a framed picture of himself when he was still much younger. Bill declined the sweet gesture after learning that it was the only picture of Finn as a young boy that he carried with him when he shoots on location.
Sophia Lillis, when asked what she felt when she learned that Jessica would be her adult counterpart, nervously responded that she felt "relieved."
"I think the most important thing about Beverly is the importance of her relationship with the Losers. So, after knowing the Losers, she realized that there's more to life than her father and there are people who actually love her for who she is and she knew she couldn't let them go and I really wanted to portray that to Jessica."
"Meeting Sophia was incredible," Jessica recalled. "The first time we met was the first day of rehearsals and she was a bit shy. We literally stood in front of each other and, kind of, giggled."
Jessica studied Sophia's performance from the first film and "I stole her performance."
It: Chapter Two is now showing in cinemas nationwide.