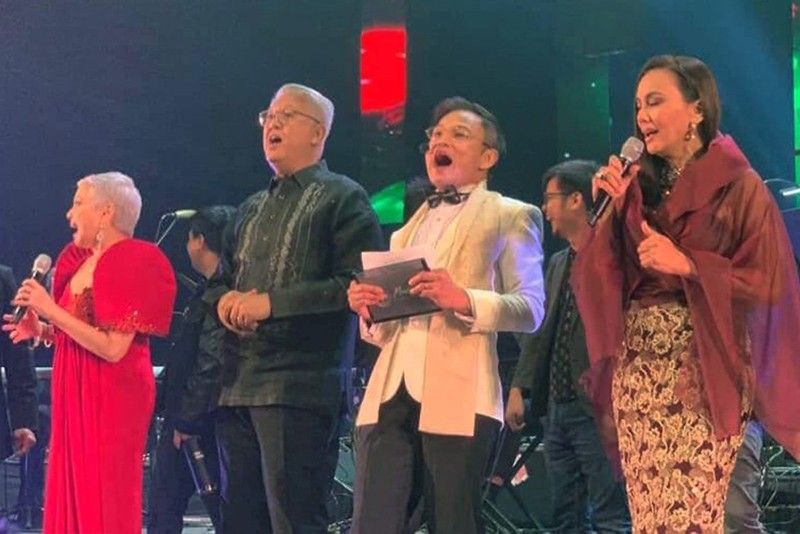 From left: Celeste Legaspi, Mr. C, host-narrator-performer Jon Santos and Kuh Ledesma
Photos by Audie Gemora
A loving tribute to Mr. C
MANILA, Philippines — When the subject and the honoree has these illustrious titles — National Artist for Music and 2019 Ramon Magsaysay Awardee — one will readily acknowledge his enviable echelon in the local music world and the entertainment scene.
Ryan Cayabyab was recently given a tribute, MaestroRy, by the silver jubilarians of St. Scholastica's College High School Batch 1995, to mark his 40th year as an esteemed songwriter and musician. Held at the Theater at Solaire, the concert had musical director Mel Villena, who played the familiar strains of Kay Ganda ng Ating Musika as photos of Mr. C — from childhood to master storyteller in his many immortal songs — flashed on the big screens to lead the orchestra in three hours of beautiful music that Mr. C created.
Host, narrator and performer Jon Santos started with the upbeat Da Coconut Nut (1991), originally a hit by the popular quartet, Smokey Mountain. "Walang sinayang na taludtod ang kantang ito," said Jon about the popular ditty. Then, he amusingly enumerated the many benefits the coconut brings to everyone.
Veteran artists were elated to have been a part of the tribute. Celeste Legaspi rendered Limang Dipang Tao (2004) — "a hell of a song" — and returned for an encore, Minsan ang Minahal ay Ako (1989), the hauntingly sentimental theme from the musical, Katy.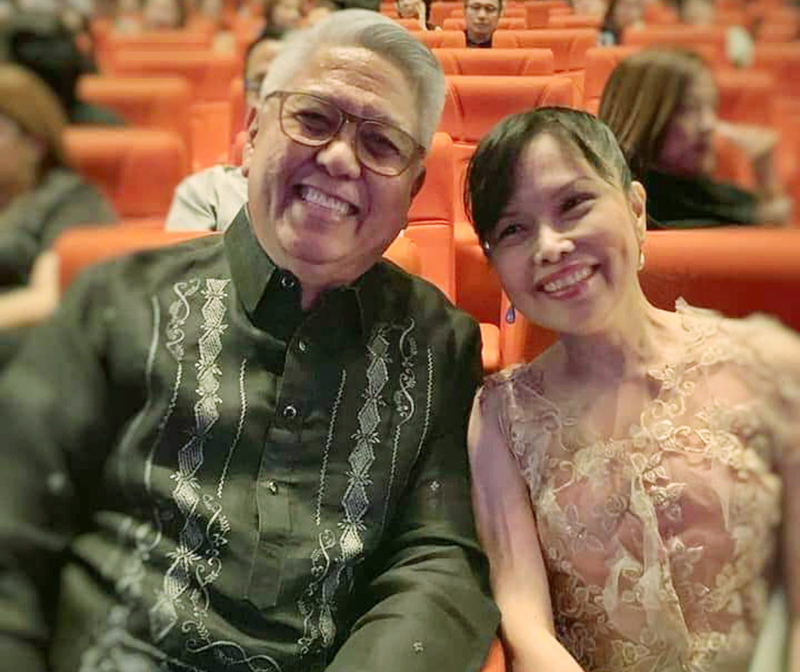 National Artist for Music and 2019 Ramon Magsaysay Awardee Ryan 'Mr. C' Cayabyab with wife Emmy Punsalan
Basil Valdez, for whom Mr. C penned more than a dozen memorable songs, crooned Paraisong Parisukat (1977) and Nais Ko (1978). Pop diva Kuh Ledesma delighted Mr. C when she carried out Sino'ng Baliw (1983) and Magbalik Ka Na, Mahal (1980), the song from the musical, Rama Hari.
Cocoy Laurel, who addressed Mr. C as "Cip," taking after the latter's real name, Cipriano, delivered Corner of the Sky, a song for the musical Pippin given a new arrangement by Mr. C in 1983.
Asia's Phoenix Morissette belted out the powerful Sometime, Somewhere (1980). Nicole Laurel Asencio showed her vocal range with Araw Gabi (1985). Singer-composer Thyro Alfaro wowed everyone when he interpreted Bugoy Drilon's Paano Na Kaya. Jeffrey Hidalgo, the original Smokey Mountain member, gave the audience one of the group's popular songs, Better World (1989).
Bands had their respective impressive versions of a Ryan Cayabyab original, given new flavor and interpretation. "All year round, you can actually be singing a Ryan Cayabyab song," Jon bragged to the audience.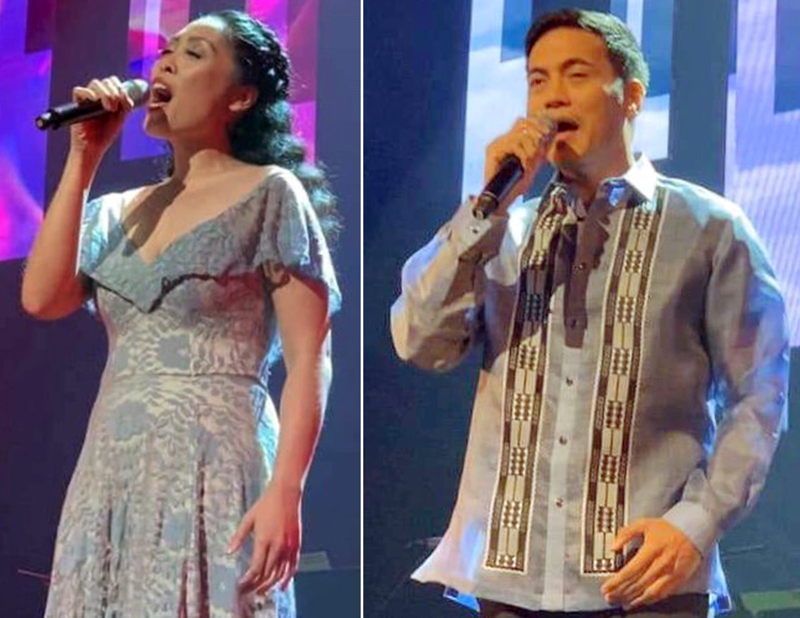 Krina Cayabyab, Jeffrey Hidalgo
Bleu Rascals gave a reggae version of Tuwing Umuulan (1978). Urbandub sang How Can I? (1984). IV of Spades had Mamang Kutsero (1981) and Autotelic interpreted Kailan (1991).
Meanwhile, Mr. C's talented children — Krina and Toma — had their respective participation in the show. Understandably, the two sang the romantic ditty, Tunay na Ligaya, a song Mr. C penned for his engagement to Mrs. C. (Emmy Punsalan Cayabyab).
Krina later rendered Iduyan Mo with Baihana, joined by the two other members — Mel Torre and Anna Achacoso. Meanwhile, Toma and his jazz band, Debonair District, gave a really cool interpretation of the theme of Sineskwela (1984).
A funny thing happened as all the performers joined onstage for the finale, Kay Ganda ng Ating Musika. Jon failed to come in for his part and he readily blurted out to the orchestra, "Otra vez!" To which Mel Villena halted the music and played another cue for Kay Ganda ng Ating Musika, Mr. C's winning entry in the 1978 Metro Manila Popular Music Festival.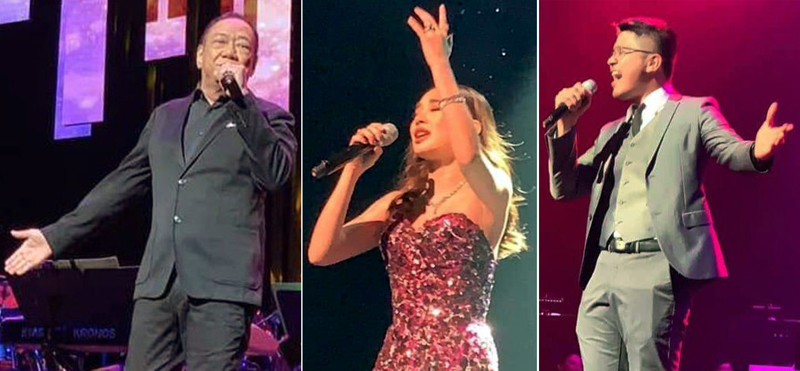 Basil Valdez, Nicole Laurel Asencio, Toma Cayabyab
A fitting Kumukutikutitap (1990) closed the sold-out concert at the Theatre at Solaire, which had tickets wiped out a week before, despite all the other shows, musical productions and plays in other venues around town.
The tribute concert was also a fundraiser for the high school silver jubilarians of St. Scholastica's College in Manila. Proceeds will be donated to the various charities of HS Batch '95.