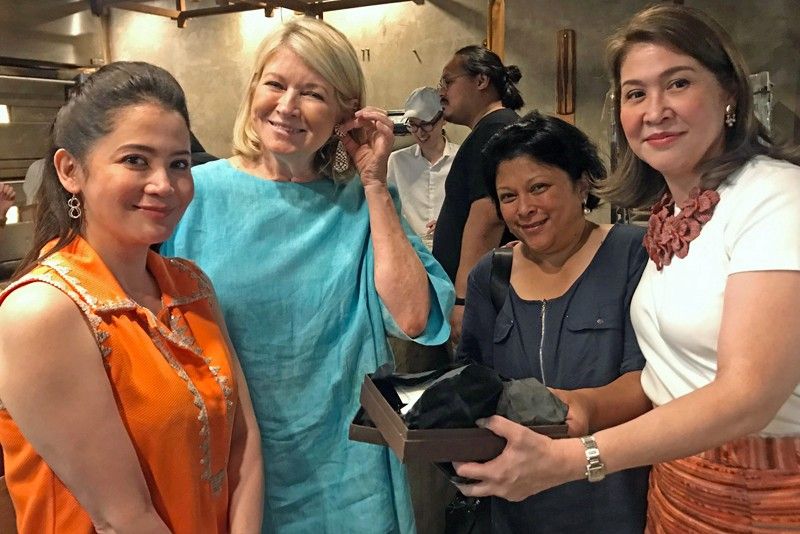 Martha tries on an earring that Berna has given her as send-off gift, with Jocelyn and Berna's sister Mons Romulo
Photos by Ricky Lo
Berna keeps in step with ever-busy Martha Stewart
FUNFARE
-
Ricky Lo
(The Philippine Star) - August 26, 2019 - 12:00am
She came, she saw (and was seen and heard), she conquered.
Cliché but true. That aptly described the five-day whirlwind visit of lifestyle guru Martha Stewart primarily as special guest of the ANC/ABS-CBN's Leadership Series held at the Sofitel Philippine Plaza where she and company (best friend, makeup artist and Jocelyn Santos, her Filipina assistant for 20 years) were billeted. (I'm sure they had a magnificent view of the fabled Manila sunset from their rooms.)
Martha was so full of energy (hardly showing any signs of jetlag from the 15-hour-plus direct PAL flight from New York where she resides) that those who had the honor and pleasure of getting close to her invariably wondered, "Doesn't she ever sleep?"
For a 78-year-old, Martha can outdo, outpace and outrun anybody half her age, savoring every day with enthusiasm, without let-up, starting her day before 7 a.m. ("Never wake up after 7," she advised her Sofitel audience.)
Tourism Sec. Berna Romulo-Puyat, who was with Martha most of the time, has nothing but superlatives about her.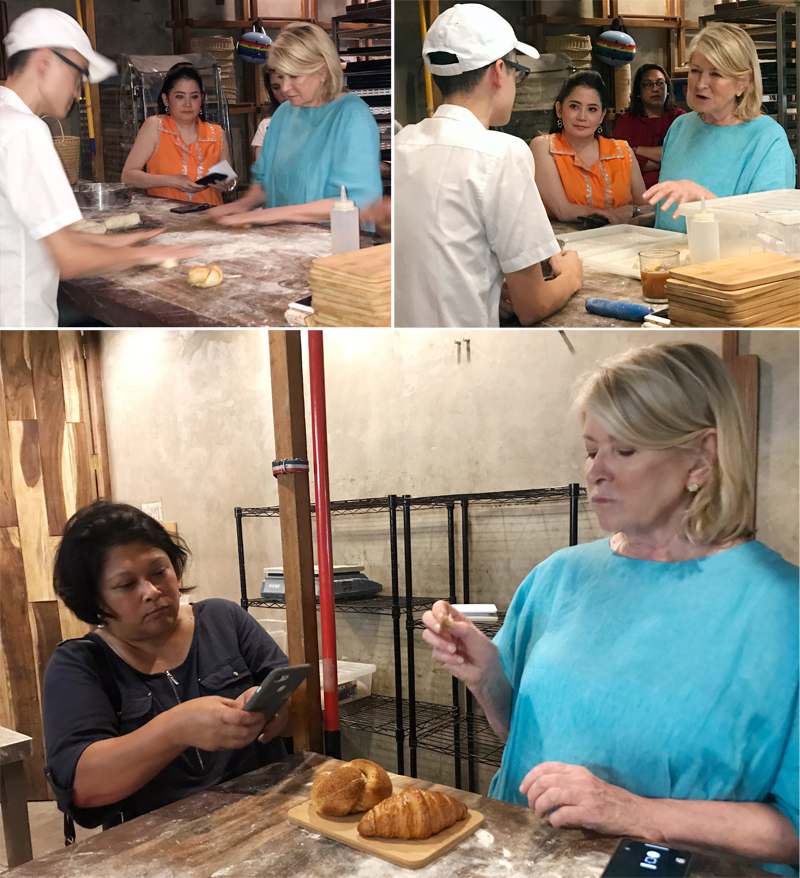 On Thursday, Aug. 22, before she flew back to New York that same night, lifestyle guru Martha Stewart kneads the dough at the Panaderya Toyo (in The Alley of Karrivin Plaza in Makati City) as
Tourism Sec. Berna Romulo-Puyat looks on while Martha's Filipino assistant Jocelyn Santos(below) takes pictures of Martha tasting a bread.
"She's very nice, very amiable, very gracious, very charming and very accommodating," gushed Berna who, thankfully, gamely kept in step with the ever-busy guru.
On Martha's first day in Manila, Berna hosted lunch at the National Museum with Manila Yorme Isko Moreno among the invitees, after which they took Martha on a quick tour of Intramuros.
"She was surprised that the people recognized her and calling out her name," said Berna. "She smiled and waved at them, and enjoyed the E-trike ride. She obliged with requests for selfie."
Same anywhere Martha went –– to Chinatown with a stopover at Eng Bee Tin (the famous hopia tasted good, hmmm!), to Pampanga to plant rice (look, Ma, no boots on…planting rice can be fun), to Greenhills where she checked the "pearl tiangge" like a pro and selected elegant pieces with South Sea Pearls, (Berna offered to show her the goods but no, Martha insisted on going to the mall!), and other places including the Panaderya Toyo inside The Alley at the Karrivin Plaza in Makati City on Thursday before her entourage was driven to the airport for the 7:47 p.m. direct PAL flight back to New York.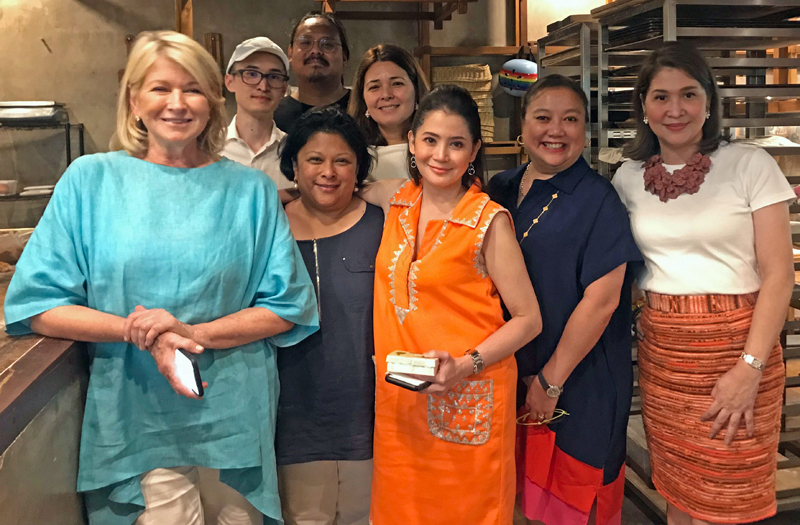 …with (from left) Panaderya Toyo guys, and Berna and Mons' friends Bettina Aboitiz and Lizzy Razon…
"She wanted to visit more places, including Palawan, but there was no time talaga," added Berna. "I told her to stay longer the next time she comes. Her first visit was too short."
"She doesn't get tired," observed Berna's sister, Mons Romulo. "And she's always smiling, acknowledging greetings even from strangers. Ok lang makipag-selfie. So down-to-earth. She doesn't at all make you feel that she's a celebrity." (And 18-time Emmy Award winner, author of several books and host of the popular TV show Martha & Snoop's Potluck Dinner Party.)
The visit to Panaderya Toyo was a must because Martha is a bread-lover. Aside from Mons, Berna was accompanied by friends Lizzy Razon and Bettina Aboitiz who were completely "charmed" by Martha.
With Jocelyn chronicling the visit with her cell phone (Martha herself was doing the same), her "boss" tasted the fresh-baked bread ("Hmmm, delicious!" she exclaimed after each bite. "Very nice!") and then, with a baker guiding her, Martha proceeded to knead the dough before sitting down for a lunch of Tinapay and Palaman, the panaderya's best-selling items –– bread with assorted palaman (Crispy Fish/Tamban, Scrambled Free-Range Eggs, Tortang Talong and Tomatoes; Cured/Pulled Pork, Chili Oil, Pickled Cucumbers, Lime and Soy Butter; and Smoked Beef Brisket, Malunggay, Pickled Tomatoes and Crispy Potato Chips).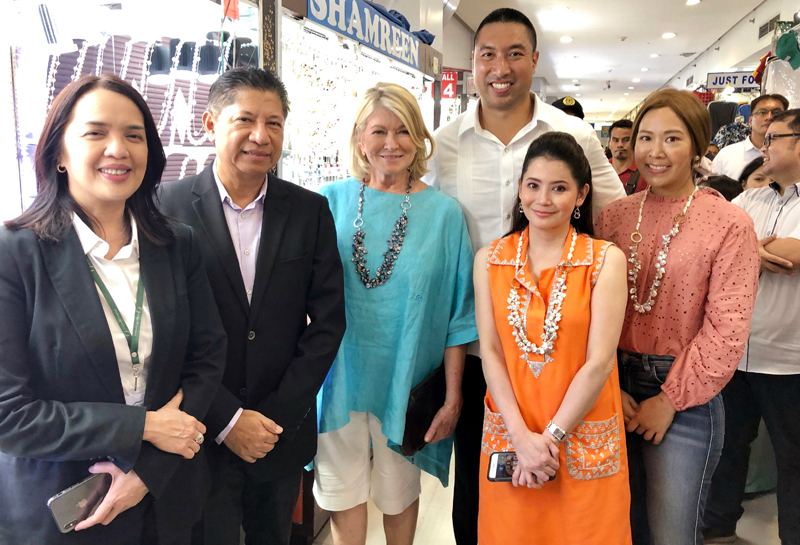 …at Greenhills to buy pearls escorted by San Juan City Mayor Francis Zamora (at back, with wife Keri Zamora), Renee Bacani (leftmost, vice president of Ortigas Malls) and Jaime E. Ysmael (president & CEO of Ortigas & Company) (Photo courtesy of Ortigas Malls)
"She tasted everything," noted Berna. "Her favorites were the Crispy Tamban and Pulled Pork."
During the small talk, somebody mentioned in passing that Jocelyn was staying for two days to spend time with her family in Greenhills.
Martha teased Jocelyn, "But I will have an appointment on Saturday and I need you." And then laughed.
As send-off gifts, Berna gave Martha charms, coffee jam, mango rhum, Ifugao table placemats, dalandan liquor, cocktail napkins with different fruit designs, and necklace and earrings by Ken Samudio of Matthew & Meika.
"Things that she wouldn't find in New York," according to Berna.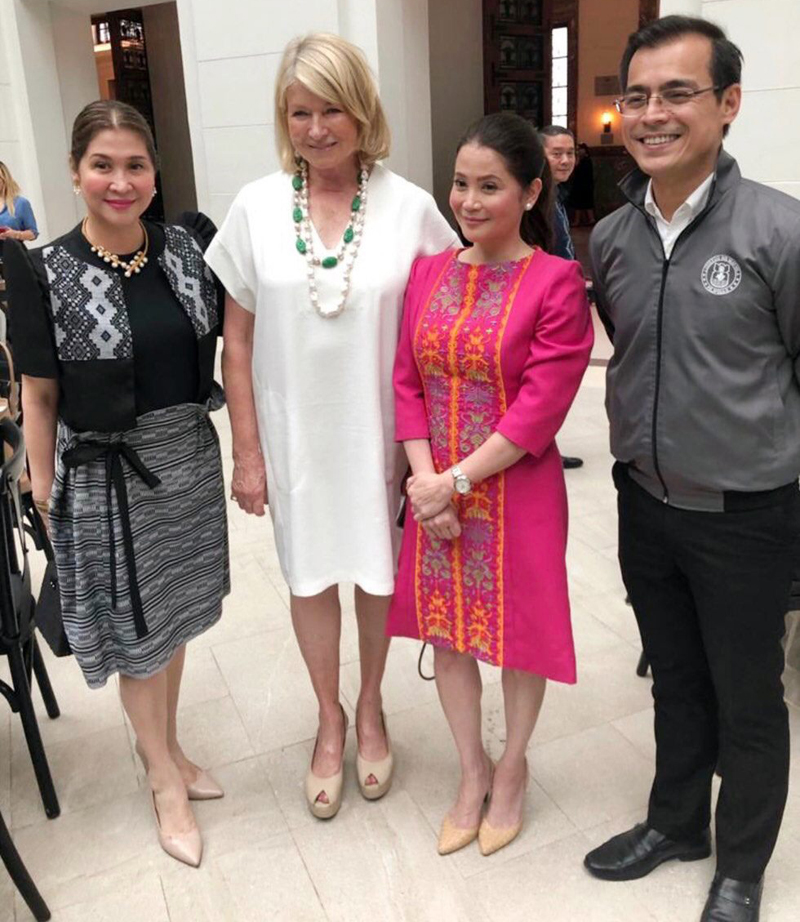 …and with Mons and Manila Mayor Isko Moreno after lunch at National Museum Monday last week (Aug. 19), Martha's first day in Manila. (Photo courtesy of Mons Romulo)
Told that Drew Barrymore also got the same pair of earrings when she came for a visit last year, Martha smiled, got a pair from the box and put it beside her ear.
"Very nice," she said.
With her brief but fruitful visit, Martha served as "tourism ambassadress" for the Philippines.
"She showed that we have beautiful tourist attractions," commented Berna.
* * *
(E-mail reactions at rickylophilstar@gmail.com. For more updates, photos and videos, visit www.philstar.com/funfare or follow me on Instagram @therealrickylo.)