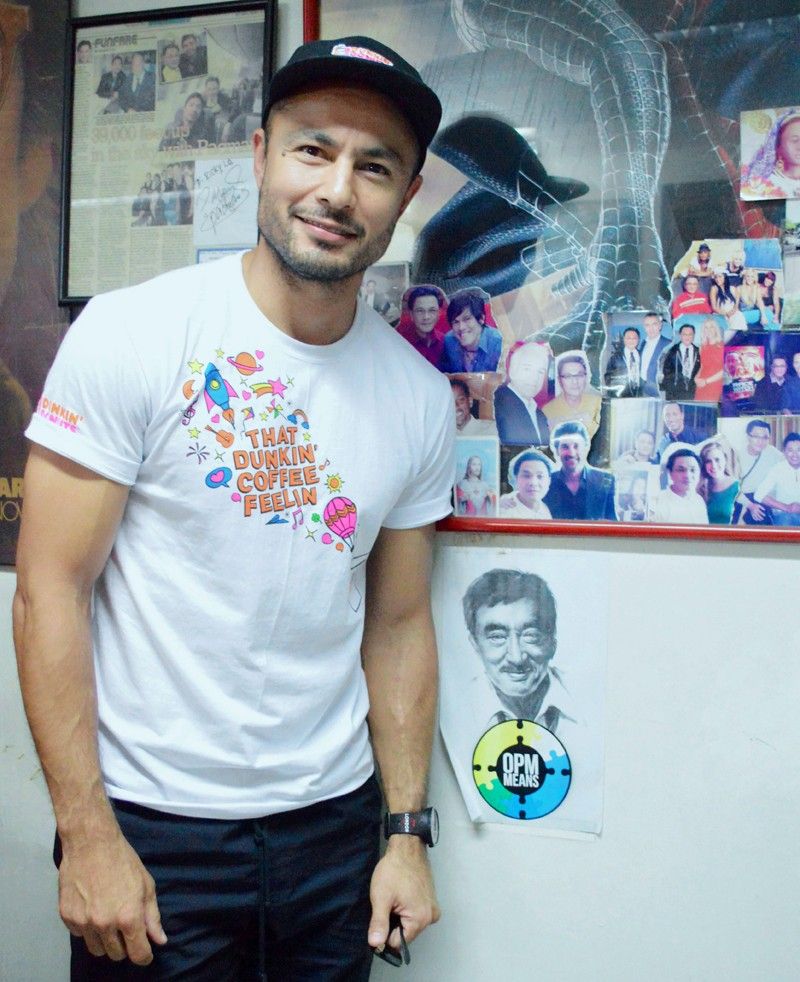 'Grilled' during a brief visit to The STAR, Derek Ramsay gives honest-to-goodnessanswers to nagging questions about the real score betweenhim and his The Better Woman leading lady Andrea Torres and why he turned down the MMFF entry (K)ampon
CONVERSATIONS
-
Ricky Lo
(The Philippine Star) - August 25, 2019 - 12:00am
Last Tuesday afternoon, Aug. 20, Derek Ramsay dropped by The STAR office accompanied by the pretty PR girls of Dunkin' Donuts. They made a quick tour of the departments and distributed boxes of the sweet stuff that he's endorsing with Piolo Pascual and Dingdong Dantes. At the same time, he obliged requests for selfies, ever ready with a friendly smile that easily endeared him to the STAR employees.
At the Entertainment Section, Conversations pinned down Derek for an honest-to-goodness interview, not unlike the "grilling" of an accused in the courtroom in an alimony case. Derek sat on a swivel chair that startled him when it swang backward under his weight.
Derek was game in the no-holds-barred interview, flashing a "not guilty" grin and cleverly fielding questions about his true relationship with Andrea Torres, his leading lady in the steamy GMA series The Better Woman, and why he turned down a choice role in (K)ampon, produced for the 2019 Metro Manila Film Festival (MMFF) by Quantum Films which was behind the 2014 MMFF sleeper hit English Only, Please that won Derek Best Actor (and Best Actress for his leading lady, Jennylyn Mercado).
After the interview, Derek had to leave for Batangas for a basketball tournament, to be joined by Andrea ("I'm picking her up at her home") who will root for him just like what she did last month in Shanghai where Derek and his team competed in the Frisbee championships. Derek and Andrea were staying for two days to shoot for the soap whose set happened to be also in Batangas.
Do you believe that honesty is the best policy?
"Yes, of course!"
Good. You will have to answer as honestly as you possibly can.
"Okay, I will…honestly!"
What's the real score about you and Andrea?
"Well, we're getting to know each other. She went with me to Shanghai to show support for me. I would say that we are more than friends; we are not 'official' or anything yet, but hopefully, it goes down that way. I really like who she is…hmmm, very talented and very family-oriented. For Andrea, family always comes first which is the way I live my life. So, we match in so many ways…"
…and physically…
"…well, physically, hmmm, yes, that's a bonus. She's beautiful! I just came from a six-year relationship so I'm not rushing."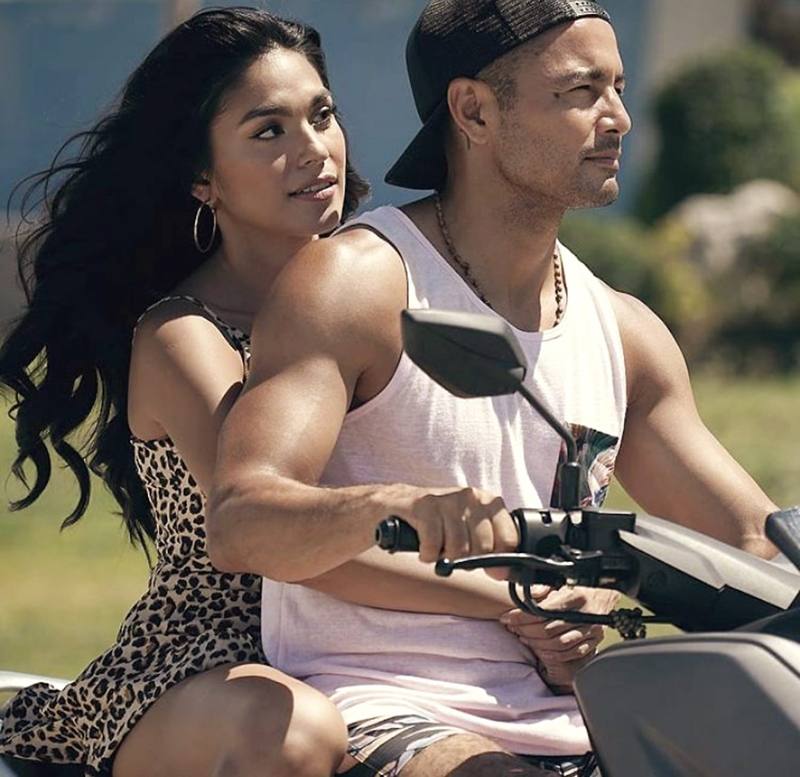 ...With Andrea Torres — Photo courtesy of GMA
Oh, only six years. Hindi umabot ng seven, so it wasn't a case of seven-year-itch, was it?
"No, it wasn't something like that. I wanna make sure this time because the next one has to be my last. Ayoko na, nakakapagod mag-invest ng ganoon."
Really? Naka-ilan ka na ba?
"Konti pa lang. Everyone says na babaero ako but actually you can count in the fingers of one hand kung ilan."
Sige, let's call the honor roll.
"I had Solenn (Heussaff, now pregnant with her and husband Nico Bolzico's first child. — RFL). We lasted together for four years. We have a good relationship up to this day. I'm super happy to know that she's having a baby. There's Angelica (Panganiban), six years kami. And then there's Joanne Villablanca (the model), six years din 'yon. Teka, sino pa ba?"
Nobody in-between, maybe one-night stand or something?
"None. There's no time. Oh yes, there's also Cristine (Reyes, rumored to be separated from her husband Ali Khatibi by whom she has a child). We were best friends. I don't want to say that it was a mistake. We both came from breakups. We were together almost every day because we were doing a movie that took two years to shoot. Sabi namin, 'Maybe we should get together because we are such good friends.'
"But then, it's different pala. In the years that we were friends, we didn't fight. Nang magkasama na kami, away kami nang away. It was different pala if you are just friends from when you live together. So we decided to be just friends again. Now, we are still the best of friends. So 'yon, ilan lang 'yon…Solenn, Angelica, Cristine and Joanne. Konti lang."(Note: Derek forgot to mention his ex-wife Mary Christine Jolly with whom he has a teenage son.)
No more second time around in your case?
"No. Kung pinaabot mo na sa hiwalayan, bitawan mo na. Kung meant to be talaga kayo, hindi mo paaabutin sa hiwalayan."
What about Andrea? Would you know how many boyfriends she has had?
"Hmmm, as far as I know only one…si Sef Cadayona."
Have you introduced Andrea to your parents?
"Yes, and vice-versa."
I heard that Andrea's mom is now your textmate.
"Actually, I just texted her. She also always texted my mom. I've introduced a few girls to my mom. First time na nagpakilala ako ng babae sa mom ko na nagustuhan kaagad niya. My mom is very ano, eh…Either she likes you or she doesn't. If she likes you, mararamdaman mo; and if she doesn't like you, mararamdaman mo rin."

What does your mom like about Andrea?
"Her first impression about Andrea, her exact words: 'I like this girl. You can tell na may breeding and family is important to her.' Moms know best, di ba?"
So how would you describe your relationship with Andrea?
"I guess we are more than friends."
How soon would your relationship go, ehem, beyond "more than friends?"
"Siguro, we can give more attention to it kapag tapos na ang teleserye namin. Maybe that's when we can go deeper into it. It's hard if something happens between you during the teleserye. We are both professional so we don't want it to affect our work."
How was your hotel in Shanghai?
"It was nice. We stayed at the Grand Hyatt. Beautiful!"
Twin beds, queen-size bed or king-size bed?
"Hahahaha!!! Wala silang twin beds noon, eh! Hahaha!!! King-size bed."
Did you, well, behave?
"No hanky-panky. Yes, I behaved, super! You said, 'Honesty is the best policy,' so that's the truth. I have much respect for her. Nothing like that happened. That should happen kung talagang kayo na." (Adding in jest) "Besides, I didn't want something to happen kasi ayoko manghina ang aking tuhod. May laro pa kasi ako, eh!"
Why, does it weaken the knees?
"I believe so. Bawal."
You have such a strong self-control.
"Yes, strong self-control."
You stayed for five days in Shanghai, enough time for you to know more about each other. What did you do, where did you go after the game?
"It was really tiring but I was able to bring her around. She was able to see across the river between the old Shanghai and the new Shanghai. Sight-seeing and wondering at the amazing architecture. Kain kami nang kain…Din Tai Fung, you know."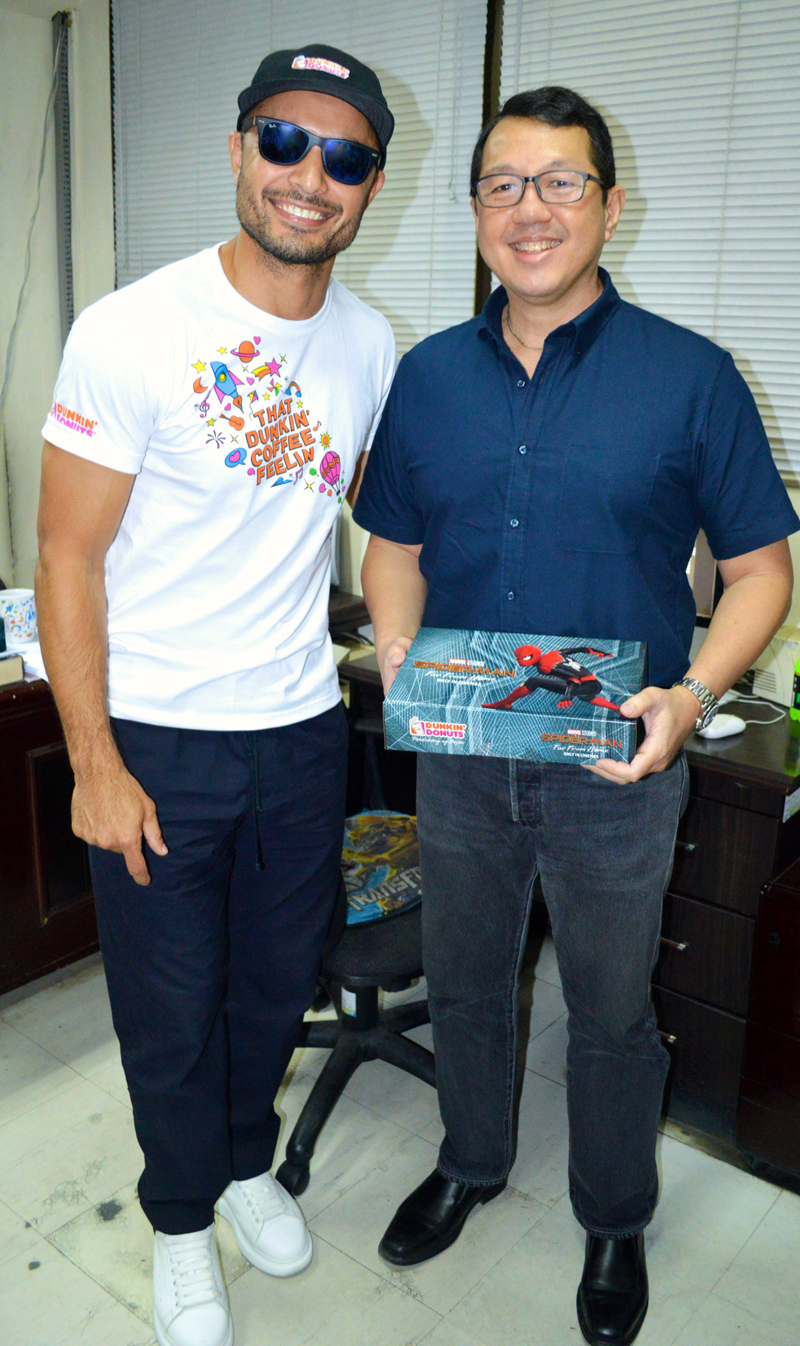 With STAR president/CEO Miguel Belmonte.
Who snored, you or Andrea?
"Neither. That's good. Mahirap kapag may naghihilik, so we had a good night's sleep."
Did you exchange only "good nights" before going to bed?
"Wala na ngang hanky-panky, hahaha!!!"
Mabait ba si Andrea?
"Super! I admire her for that. She has been through a lot of intrigues and through it all she never talked back nor talked against anybody. Tahimik lang siya."
It looks like you are about to find your Miss Right.
"I hope so. She has all the qualities that I want in a woman. Physically, she's my type…morena. She's maalaga (solicitous/caring). She babies me all the time, especially on the set. Mahina ako uminom ng tubig so she always brings me water and drinks, plus food. She always reminds me to eat because when I'm busy, I forget to eat. She's like my mom."
In what way?
"Thoughtful. Even without any occasion, or for no reason at all, she sends my mom fruits and flowers, kaya tuwang-tuwa sa kanya ang mom ko."
Are you the same with Andrea's mom?
"Yes, of course! I'm trying to make her quit smoking but I haven't succeeded yet."
You yourself don't smoke, do you?
"I don't. Against ako dyan."
What's the best gift you have given each other?
"From me, that trip to Shanghai. It was her first time to go to Shanghai. She was so happy. She went with me not just to support our team during the game, patalon-talon pa siya in the background, she was really into the trip. For five days straight, we enjoyed each other's company, never mind if one time she stood in the rain but she never complained."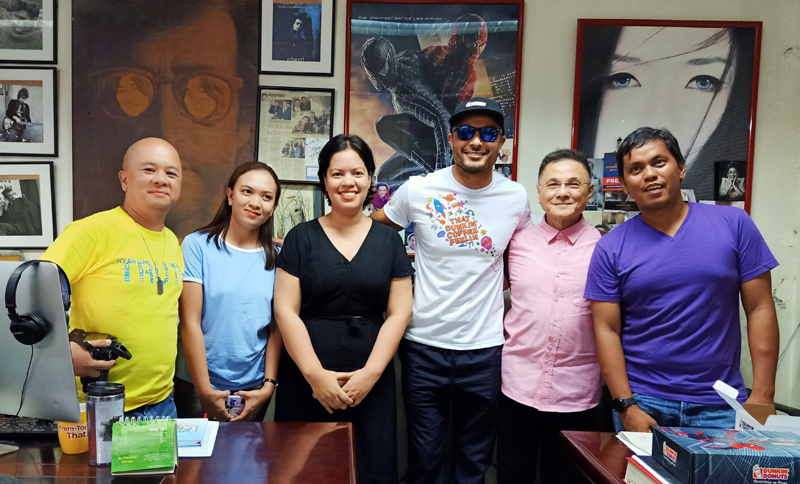 During his visit to The STAR, Derek distributed boxes of Dunkin' Donuts which he's endorsing together with Piolo Pascual and Dingdong Dantes. Above: With the Entertainment staff (from
left: Ver Paulino, Honey Orio-Escullar, Nathalie Tomada, Your Conversationalist and Emerson Salvador).
You are both so fit.
"On our days-off, we work out together. Tinuturuan ko mag-golf and how to drive a car. By the way, she's going to Batangas not only to watch the (basketball) game. Early the next morning before 7 o'clock, we have a shoot also in Batangas."
You bring out the best in each other, don't you?
"Yes. We have a good chemistry and it's obvious in our show, di ba? I enjoy the show. Nakakainis nga lang si Juliet, her character who pretends to be her twin sister Jasmine, my wife."
Incidentally, why really did you turn down (K)ampon, Quantum Films' intended entry in this year's MMFF?
"There's been a lot of talks about it. But I really can't do it. (He was replaced by Gabby Concepcion as lead actor but the film has been disqualified. According to the rules, if there are changes in the cast, it has to have the go-signal of the MMFF. The movie's producer missed the deadline by five days.)
"Actually, if I do it, the film won't be disqualified. But if I do the movie, I might not be able to give justice to it. It's physically impossible because I have to prioritize my network. We tape (for The Better Woman) three times a week in Batangas and I get home at 5 or 6 the next morning. So how can I do the movie? My performance in both the movie and the series will be ruined."
Back to Andrea…do you have any "friendship" (if not engagement) ring?
"None. But I gave her a stuffed toy, an elephant. She likes elephants. On the set, she hugs that toy."
Oh, not you?
"Of course not! We have separate dressing rooms. Professional kami."
And how often do you say "I love you" to each other?
"Hardly. I save those three precious words kapag official na kami na."
(E-mail reactions at rickylophilstar@gmail.com. For more updates, photos and videos, visit www.philstar.com/funfare or follow me on Instagram @therealrickylo.)