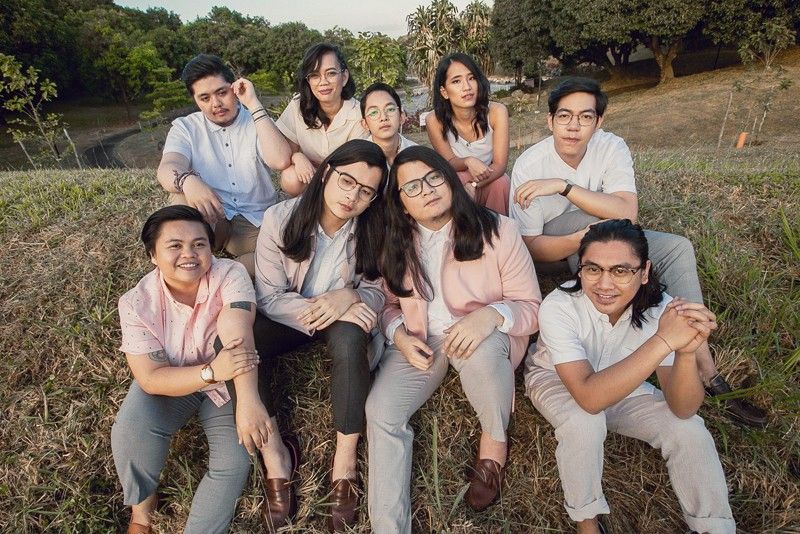 Ben&Ben is made up (frontrow, from left) Toni Muñoz, Miguel and Paolo Guico, Keifer Cabugao, (backrow, from left) Andrew de Pano, Agnes Reoma, Jam Villanueva, Patricia Lasaten and Poch Barretto.
Photos from Sony Music Philippines and Ben&Ben Facebok page
From music to movies, there's just no stopping Ben&Ben
MANILA, Philippines — If you tell Ben&Ben that they're one of, if not the biggest band in the country today, their response (maybe with some tongue-in-cheek humor) will be, yes, they "literally" are the biggest because there are nine of them members and "malalaki din kami." But all signs are telling us that they are.
Ben&Ben is twins Paolo and Miguel Guico on acoustic guitars and vocals; Poch Barretto on electric guitar; Jam Villanueva on drums; Agnes Reoma on bass; Patricia Lasaten on keyboards; Toni Muñoz and Andrew de Pano on percussions; and Keifer Cabugao on violin.
The folk-pop band just wrapped up the nationwide Limasawa Street concert tour in partnership with Ayala Malls and has announced more playdates due to public demand. The series of shows is in support of the band's first-ever album Limasawa Street, released a few months ago and named after a Butuanon word that means light because, yes, they want to spread inspiration and light through their music.
"Grabe ang experience namin. We have mixed feelings really. Of course, andyan yung kaba and adrenalin. Kapag andun ka na onstage, ang sarap lang din ng iba-ibang audience ang tinutugtugan namin," said Miguel.
They're also set for their international music festival debut in November at Clockenflap in Hong Kong alongside Mumford & Sons and Halsey no less. They're record label Sony Music's certified biggest domestic act. And they're starring in a movie inspired by their music, as one of the entries to the Pista ng Pelikulang Pilipino (PPP) filmfest of the Film Development Council of the Philippines (FDCP) this September.
All these just reinforced Ben&Ben's standing just two years into the music scene (as a full band).
During a recent exclusive interview with The STAR prior to a live performance for Monster RX93.1's The Concert Series, the band members talked about their "unexpected" success, the good and bad (hello bashers!) that come with it, as well as their first experience to star in a film after previously just writing songs that became themes for movies like Goyo and Exes Baggage.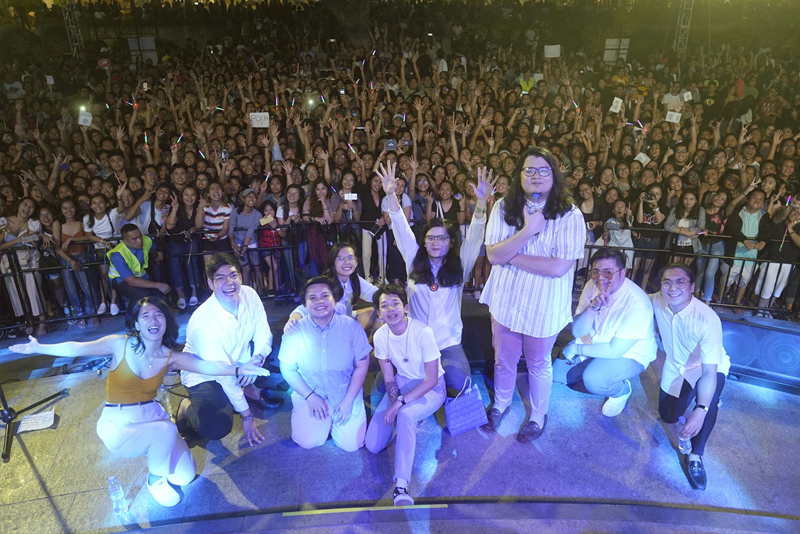 Bringing the Limasawa Street album tour to Ayala Center Cebu
First question, how do they feel about being considered one of the frontliners of OPM today?
Miguel: "I think at first none of us really expected this."
Paolo: "Hanggang ngayon pa naman."
Miguel: "Before we started the whole thing, we were each doing different things. May mga nag-wo-work sa office, some were students. Sobrang hindi kami yung since bata, gusto namin maging 'rock stars'. But when we started playing, I think what we all realized is that everything may all seem to be unexpected, but we feel that we were led to this direction."
And that direction is continuously going up.
Andrew said, "All of us used to watch our favorite bands hoping for that day when we could have a chance to play. So, for the newer generation of musicians (now) looking up to us, it's such a crazy feeling and a big responsibility. We feel that we really have this chance to influence a lot of younger artists. It's truly a big deal."
"We feel pressured because we also take it a responsibility. We're really hoping our music could effect positive change (in our listeners)," Patricia said.
"Sometimes, if we feel pressured, we just tell ourselves na kailangan lang namin i-enjoy. Of course, we feel very blessed to be here because we think it is a privilege and as they say, a responsibility, every time we get to perform or even doing interviews such as this, sobrang saya pala? Thankful kami," said Miguel, adding that three to four years ago, they used to have these conversations about the Pinoy music scene and how they somewhat had a "feeling" that it would experience a "renaissance or rebirth" of sorts. "Now, we're happy and honored to be part of this renaissance; we're motivated all the more to do our best."
What makes them unique is also their being a nine-piece ensemble. Engineering graduates Paolo and Miguel started out as a musical duo, before growing into the present line-up. After some jam sessions with different friends who were individually close to the twins, the Guicos became the nexus that brought all of them together.
"The music started the idea, but it was the fellowship that brought us together. Music plus fellowship are the reasons why this became the structure of the band," Paolo said. "Hindi kami nabuo as a band because parang manufactured or because we want to make it big or sell records. It's really just because we're very fond of each other and because we make nice music together."
Miguel shared that the usual question asked of them is what are the challenges of being part of such a big group. "Well, ang isang nakakatawang challenge ay ang hirap pumili kung saan kakain. Kasi parang laging may family reunion, like (pag-pasok namin) meron kayong table for 10?"
Seriously, they said they hardly had conflicts or differences during the music-making process because they have the same musical tastes and they are fans of each other's musicality.
On the topic of bashers, Paolo said, "Most of those comments are no longer related to music. Yung mga 'Pagupit nga kayo!' Or, 'Wow wala ba silang pang gupit?' Hahaha! Yung isa na madalas, 'Wow, ang laki na pala ni Sadness' kasi kamukha ko daw si Sadness sa Inside Out. I don't know but there's something in the nature of the Pinoy audience na they really just have to look for something to hit on. Nakakatawa naman yung sinasabi nila so we just take it very lightly. I mean, it's not worth our time to feel negative towards these things. It's part of life."
Moreover, the band said that the negative comments are far outweighed by the "deeply personal" dedications evoked by their songs and posted on their YouTube page and other social media.
Meanwhile, the Ben&Ben's latest track off the album Pagtingin has generated over 2M views on YouTube for its music video in less than a month and 10M streams on Spotify. It's also the sixth most currently streamed song on Spotify. The music video features the lead stars of their upcoming PPP film LSS, Gabbi Garcia and Kahlil Ramos. Interestingly, it was the last addition to the album and also the easiest to write, according to Paolo.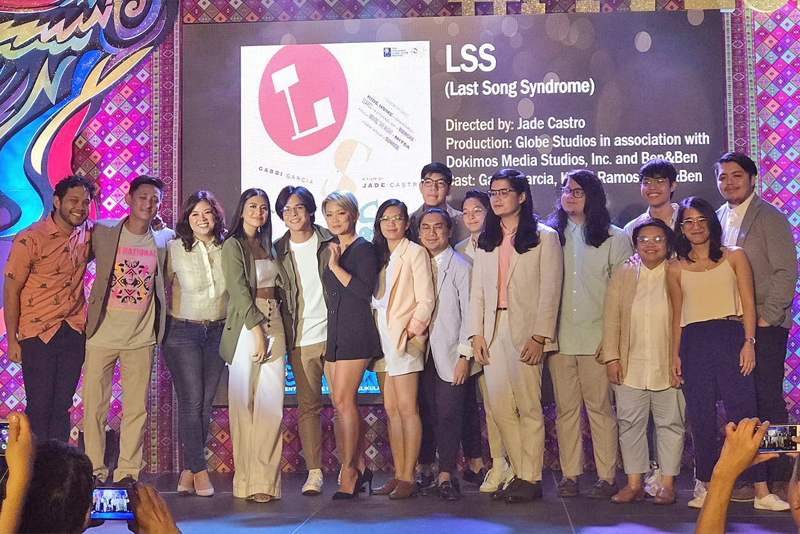 Ben&Ben with (from left) Quark Henares, head of Globe Studios (producer of LSS); FDCP chair Liza Diño; LSS director Jade Castro, and stars Gabbi Garcia, Kahlil Ramos and Tuesday Vargas.
He shared, "It was a burst of idea. Bumaba ako at bumili ng tubig, tapos pag-akyat ko, nandoon na yung song. I played it at the lobby of the studio… there were mixed (expressions), 'O, ang ganda,' pero yung nag-aayos ng schedule namin, 'Wow, pang-next album.' Hahaha!" Of course, Pagtingin became the 13th song to what was supposedly a 12-track album.
"Our philosophy is it's not us… it's inspiration. We feel that the words that we write are words that people need to hear. We're just channels of how (the inspiration) comes out to the real world from the spiritual," Paolo further said of their songwriting process. "It's also part of what we wanna do in terms of the messages of the songs, like we wanna promote a healthy kind of love instead of a toxic one. We honestly feel ang dami talagang music that talks about love but toxic siya eh. Then you ask, 'Bakit nag-be-break after two weeks?' Maybe it's time for a different kind of love song or perspective. That's what we try to put into our music."
When asked which song from Limasawa Street best describes the band at the moment, they said it's Araw Araw. The song, which inspired a wedding proposal during Ben&Ben's concert in Bicol, went through about 10 iterations before it saw its final version. In other words, it was the hardest song to write.
Araw-Araw talks about choosing to love someone every single day, and the band connects the message to their own love affair with music.
Andrew said, "You'd think that the opportunity to get to do something you love doing should come super easy, like for every musician or anyone who gets to do their passion as their job, (akala mo) na madali na yun, even for something such as this, na mahal naman talaga namin. It's still a difficult decision to go and do the right thing every day. You really have to love it to do it right. The effort really comes from, I guess, being able to balance everything. Given a schedule like we have, you really need to think of your loved ones, self-care, kailangan mo magpa-gupit every now then (laughs)."
Keifer added, "In so many ways, kami naman talaga yung bearers ng music. Bina-balance namin na hindi kami yung bida but the message and the song. You can't avoid na kami yung manifestation ng songs but we always work hard to point back to the message of the songs."
Their songs and their messages will get a larger-than-life treatment in the first film that has taken inspiration from their music, LSS, screening on Sept. 13 to 19. The movie will showcase both old and brand-new songs of Ben&Ben. The group will promote LSS at the #PPPGrandFanCon on Aug. 31 at SMX Convention Center Manila. Tickets are available for P99 at SM Tickets outlets in Metro Manila.
Paolo said, "(In the film,) we're like the meeting place of the actors. It's their story but it features our songs and we're also part of the movie. We're like the extras, na bonggang bonggang extra."
As preparation, the band had a one-day acting workshop. Their filming experience had elevated their respect for actors and their craft.
Miguel said, "Excited kami sa film. Hopefully, a lot of people can relate to it. It's not for 'millennials' only, but for everyone because all of us have dreams. The film is about two people dreaming and hopefully, they will be able to help each other fulfill their dreams."