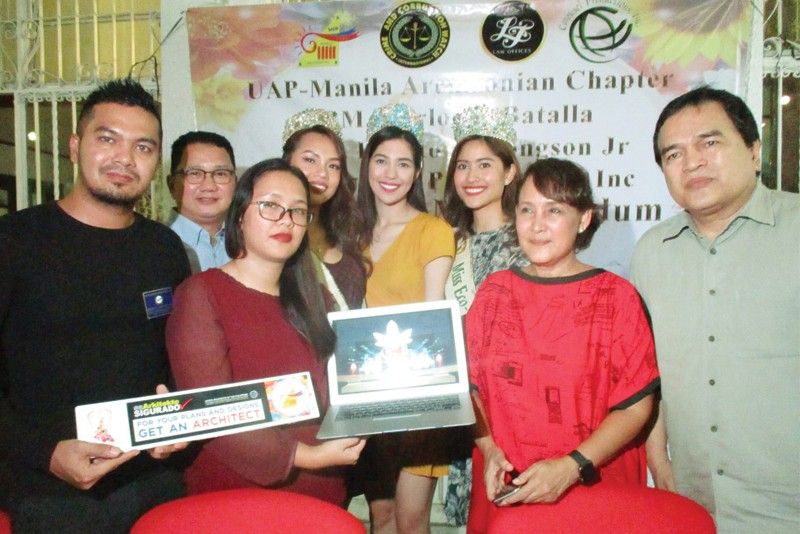 Front row, from left: UAP-Manila Archizonian Chapter architects Louisito Domalaon and Majore Fortin, Carousel Productions EVP Lorraine Schuck and board member Carlo Batalla; and (back row, also from left) architect Florencio Cayrel, Ana Monica Tan (2019 Miss Air Philippines), Chelsey Lovely Fernandez (2019 Miss Water Philippines) and Karen Nicole Piccio (2019 Miss Eco Tourism Philippines).
Photos by Celso de Guzman Caparas
It's final: 2019 Miss Earth pageant in Naga City
MANILA, Philippines — Contrary to an initial report, the venue of 2019 Miss Earth pageant will be held not in Legaspi City but in Naga City, at the 12,000-seater Jesse M. Robredo Coliseum.
This was announced by Carousel Productions executive vice president Lorraine Schuck who also revealed the winner of the stage-design contest.
The 90 contestants will travel to Naga City on Oct. 19 and will stay until the culmination of the pageant on Oct. 27. They will visit attractions in Naga Ctiy and other places in Camarines Sur, and indulge in various environmental activities. Other pre-pageant events will be held in Metro Manila and nearby provinces from Oct. 2 to Oct. 18.
The two-hour television special will be telecast on ABS-CBN nationwide on Oct. 27 (Sunday's Best) and on The Filipino Channel (TFC) worldwide.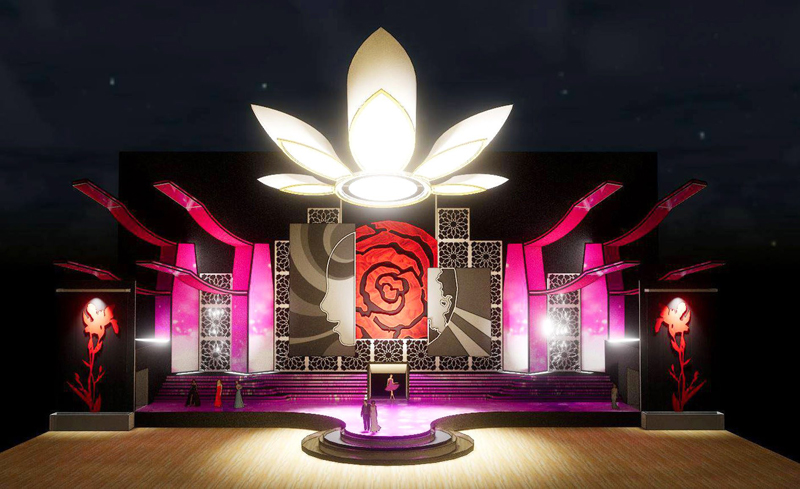 The winning stage design.
Reigning titlist is Nguyen Phuong Khanh of Vietnam.
The winning stage design by Majore Fortin beat five other entries. It revolves around the floral theme of the event in an abstract manner.
The centerpiece (middle background) consists of three frames representing the flower (rose), women and Earth which forms a circle. The pattern blocks (background) add to the floral concept, made from recycled materials. Illuminated lights can be applied to create a play of colors.
The LED columns have the luminous floating flower complete with stem, leaves and petals. The columns, when synchronized with the LED floor panels, can alter the overall color and display of the stage and can be used in transitions between parts of the program. When the grand announcement is made, lighting on the stage is dimmed, except for the lighting on the floating flower and the front part of the stage.
Candidates will enter from the back stage passing through a ramp leading to the middle entrance and will exit to both sides of the stage, covered from the audience by a horizontal board with water works. The board will illuminate a flower silhouette with lighting effects through water.