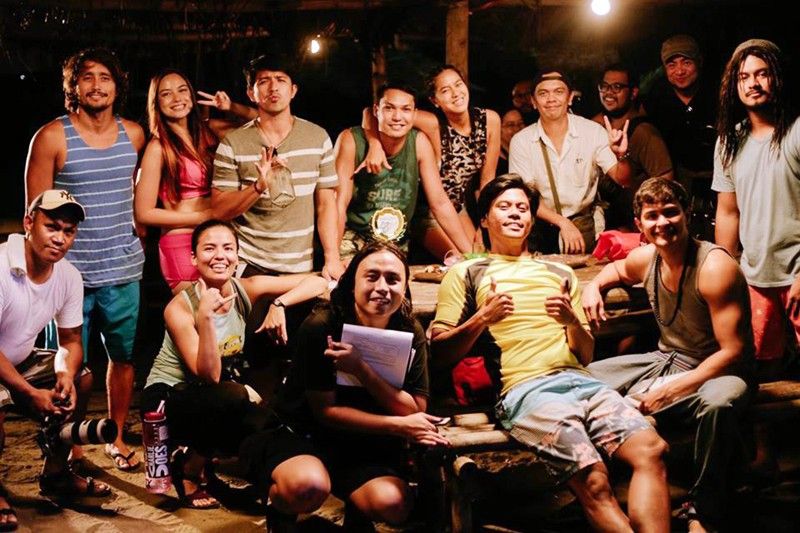 Director Kerwin Go (back row, fourth from right) on the set of Mina-Anud with members of the cast that includes Dennis Trillo (third from left), Matteo Guidicelli and Jerald Napoles (front row, rightmost and second from left). The 'must-see' movie is opening nationwide on Wednesday, Aug. 21.
Why Mina-Anud is rave-worthy
FUNFARE
-
Ricky Lo
(The Philippine Star) - August 19, 2019 - 12:00am
At the end of the screening of Mina-Anud Saturday night last week as closing film (not in competition) of the 2019 Cinemalaya, the CCP Main Theater reverberated with the thundering applause of the SRO audience.
It was a heart-warming approval for "debuting" Kerwin Go who is predicted to be the next/new important director. And rightly so. A native of Cebu, Kerwin finished a filmmaking course at the Los Angeles Film School and has attended workshops. He has been around, doing commercials and online content — you know, someone who knows the ins and outs of the trade. Mina-Anud is the perfect vehicle for his formal entry into the directors' league. He has a refreshingly innovative style, very engrossing and entertaining, that should set him in a class by himself.
Based on the 2009 incident where bricks of cocaine drifted to the shore of a fishing village called Mina-Anud (may inaanud, something is floating or drifting) in Eastern Samar, the film chronicles how the substance, initially mistaken for coffee creamer or rat poison or detergent, corrupts the innocent villagers whose lives drastically change as they resort to drug-selling to experience luxuries like having a flat-screen TV, motorcycles, cars, jewelries, etc.
Unlike other films about the same topic, Mina-Anud is done with a comedic touch provided by Jerald Napoles' character Carlo whose only goal in life is to be a surfing champion until he gets involved in the drug trade with his friend Ding (Dennis Trillo) whose one big dream is to be able to buy a van. Their laidback existence turns upside-down when they meet Paul (Matteo Guidicelli in perhaps his most memorable performance so far), a commercial model/TV host who supplies drugs to Manila's elite circles.
One of the funny scenes shows Jerald pleasuring himself, until his Alzheimer's-stricken grandmother barges in, sending the naked Jerald rolling off the bed and a mouse scampering across the window pane.
"That was Jerald's first scene that we shot," said Kerwin.
How much of the film is factual and how much is fiction?
"The whole incident is factual," Kerwin told Funfare in an exclusive interview, "but the Carlo and Ding characters are composite of the Waray surfers that I know personally. In real life, they were caught in a sting while selling the bricks to undercover agents at McDonald's in Cebu."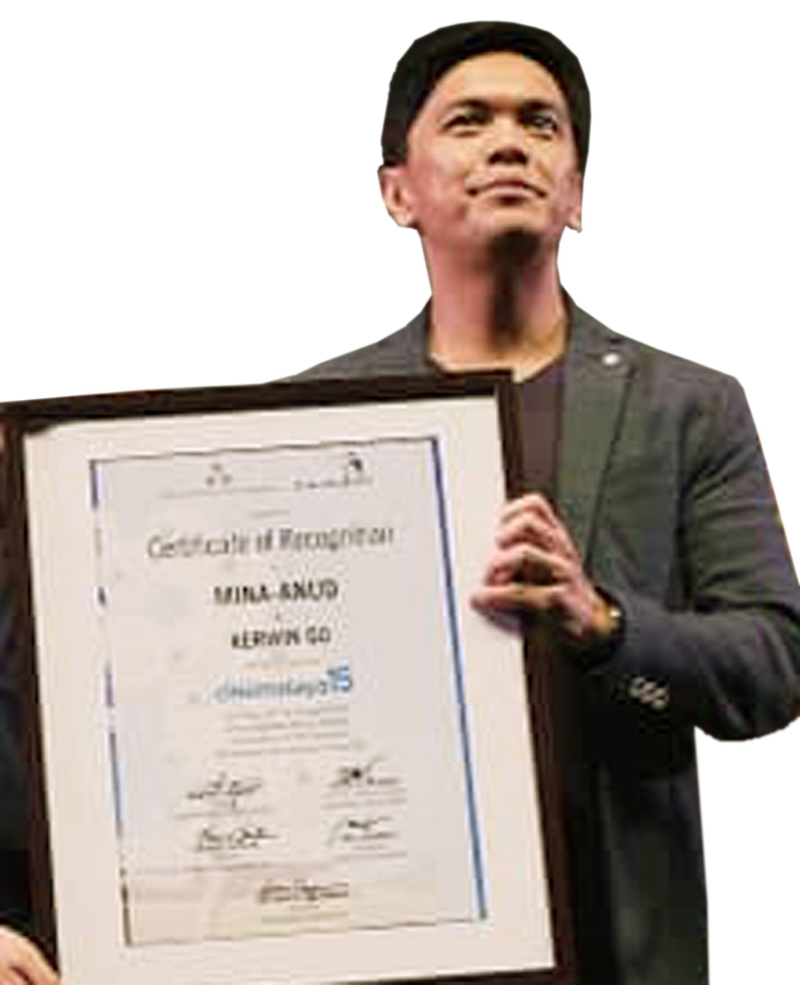 Kerwin gets a certificate of recognition from the 2019 Cinemalaya where Mina-Anud was shown as the closing film.
Kerwin said that he had witnessed the true events first hand.
"I'd been to the place several times before we started the project," he shared. "I would go there to surf, so I know the place very well."
The film ends on a surprise note when the fisher folk (one of them played by Lou Veloso), initially arrested in a drug bust, become the cops' conspirators in the disposing of the bricks. That part, of course, is not factual.
Casting of the actors was based on the suggestion of Mother Lily Monteverde and daughter Roselle of Regal Entertainment, a co-producer of the movie which won the Basecamp Colour Prize at Singapore's Southeast Asia Film Financing (SAFF) Forum in 2017.
"Those recommended auditioned and we selected them according to who suited the parts. Luckily, they all had good chemistry. I have worked with Matteo in Single/Single (a TV series-turned-movie produced by Bianca Valbuena for The STAR). I was doing camera. I got a chance to broach the idea to Matteo. When Bianca sent Matteo the script, he liked it naman. He's a revelation in Mina-Anud. He had fun playing the role."
Kerwin explained that, Mina-Anud being a black comedy, he deliberately didn't resort to a too-serious treatment — "Because if you want to impart any kind of lesson, mas receptive ang tao if it's not 'hard sell'."
But Kerwin did meet difficulties in "selling" the project that he started planning in 2010. It took him a while to convince Bianca to do it ("She was the one who really opened the doors for me") and he said that he mustered the "guts" to do it in 2016. "It was a case of now or never," Kerwin said.
After Mina-Anud, what?
One is a gothic Pinoy horror film and a mini-series action satire for a streaming platform. Bears watching, those two projects.
(Mina-Anud also stars Alvin Anson as a PDEA agent, with Mara Lopez, Anthony Falcon, Marc Felix, Richard Manabat, Dionne Monsanto, Elia Ilano, Lui Manansala and Luke Landingan. It's opening nationwide on Wednesday, Aug. 21. By all means, watch it. I assure you that, like Danny Dolor and I when we watched it at CCP, you will enjoy it.)
(E-mail reactions at rickylophilstar@gmail.com. For more updates, photos and videos, visit www.philstar.com/funfare or follow me on Instagram @therealrickylo.)