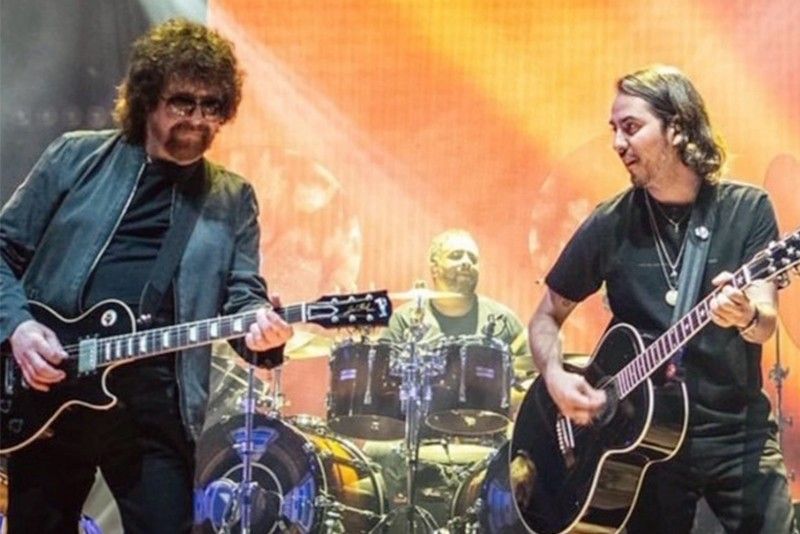 Jeff Lynne (left) and George Harrison's son Dhani on stage for their version of Traveling Wilburys' Handle With Care.
Beatle's son gets lift from ELO
Dhani, whose mother Olivia is of Mexican descent, released his first solo album In Parallel in 2017 and hasn't quite made a name for himself as a recording artist.
MANILA, Philippines — The late Beatle George Harrison's son Dhani is now 41 and his performing career recently got a big lift when his five-man band opened as the front act for Jeff Lynne's ELO 20-city US tour that ended in Pittsburgh last Aug. 1.
Lynne, 71, worked closely with the Beatle guitarist throughout his solo career and from 1987 to 1991, they were on the Traveling Wilburys supergroup that produced two albums with music legends Bob Dylan, Roy Orbison and Tom Petty. When Harrison died in 2001, Lynne collaborated with Dhani to finish his uncompleted final album Brainwashed.
Dhani, whose mother Olivia is of Mexican descent, released his first solo album In Parallel in 2017 and hasn't quite made a name for himself as a recording artist. But he's been successful as a songwriter and score arranger, writing music for TV shows and movies. Opening for Lynne's ELO provided Dhani an avenue for exposure to the US market.
"When I first met Dhani, who was about five at the time, it was also the first time I met his dad, the great George Harrison, whom I went on to have a whole other career with," said Lynne. "So, I've known Dhani for over 30 years. It's a lovely thing to have Dhani playing together before us."
Dhani's great-grandparents on his mother's side migrated to California from Mexico and his grandfather was a dry cleaner and grandmother a seamstress. His mother Olivia worked for a record company in Los Angeles when she met Harrison in 1974. Olivia and Harrison were married in 1978 a month after Dhani's birth. Owing to his parents' musical influence, Dhani was named after the sixth note (dha) and seventh note (ni) on the Indian music scale.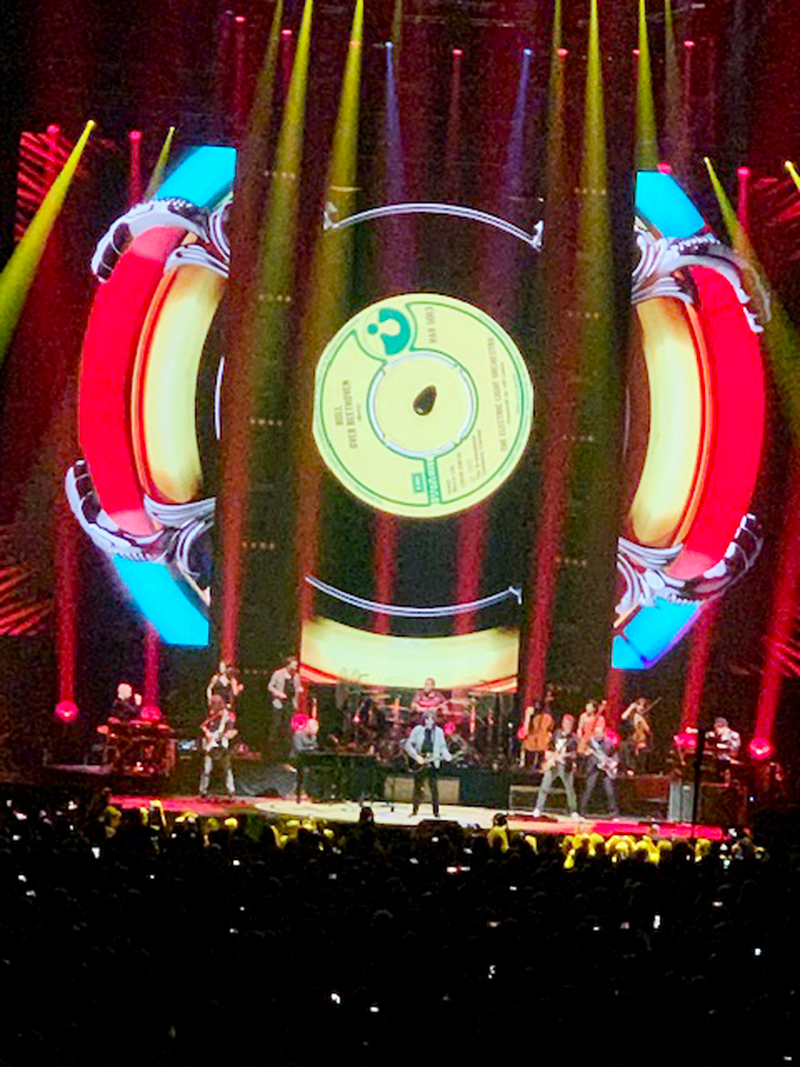 Lynne's ELO performs before a sellout crowd of 19,500 at the Prudential Center in Newark, New Jersey, last July 16.
Lynne, who produced Paul McCartney's solo album Flaming Pie, was credited for assembling the surviving Beatles after John Lennon's death to produce two songs Free As A Bird in 1995 and Real Love in 1996. He took Lennon's demo tapes of the previously unreleased songs and overdubbed vocals and music from Harrison, McCartney and Ringo Starr to come up with the last two Beatles singles ever.
Lynne has been a fixture in the music industry for decades. The Birmingham native was with the bands Idle Race and The Move before moving to the Electric Light Orchestra (ELO) in 1970. To date, ELO has sold over 50 million records with 26 Top 40 hits in the UK and 20 Top 40 hits in the US. Lynne eventually bought full rights to the ELO name and in 2015, the band's 13th album Alone In The Universe was credited to Jeff Lynne's ELO which is what the group is now known as. The album peaked at No. 2 in the Billboard Top Rock Albums charts in the US and No. 4 in the UK Albums charts on the way to platinum status.
Lynne stepped away from ELO in 1986, focused on producing records, performed with the Traveling Wilburys and released two solo albums Armchair Theater and Long Wave. In 2014, he made a comeback with ELO and delivered a rousing show before 50,000 at Hyde Park. That led to Lynne redirecting his career with new ELO music and tours. In 2017, Lynne's ELO performed before 60,000 at Wembley Stadium. That same year, ELO was inducted into the Rock and Roll Hall of Fame.
Last July 16, Lynne's ELO sold out the 19,500-seat Prudential Center, home of the New Jersey Devils of pro hockey and the Seton Hall University basketball team, in Newark with Dhani's band as the front act. Dhani sang nine songs, three from his solo album (Never Know, Summertime Police and All About Waiting), in 40 minutes. His music is essentially alternative rock with Indian mystic undertones, typical of his father's late works. Flashing a fuchsia-colored guitar, Dhani played lead and sang vocals. He did a number with a ukulele, one of his father's favorite instruments. Dhani ended his set with a song he said was written only the other day, Motorways.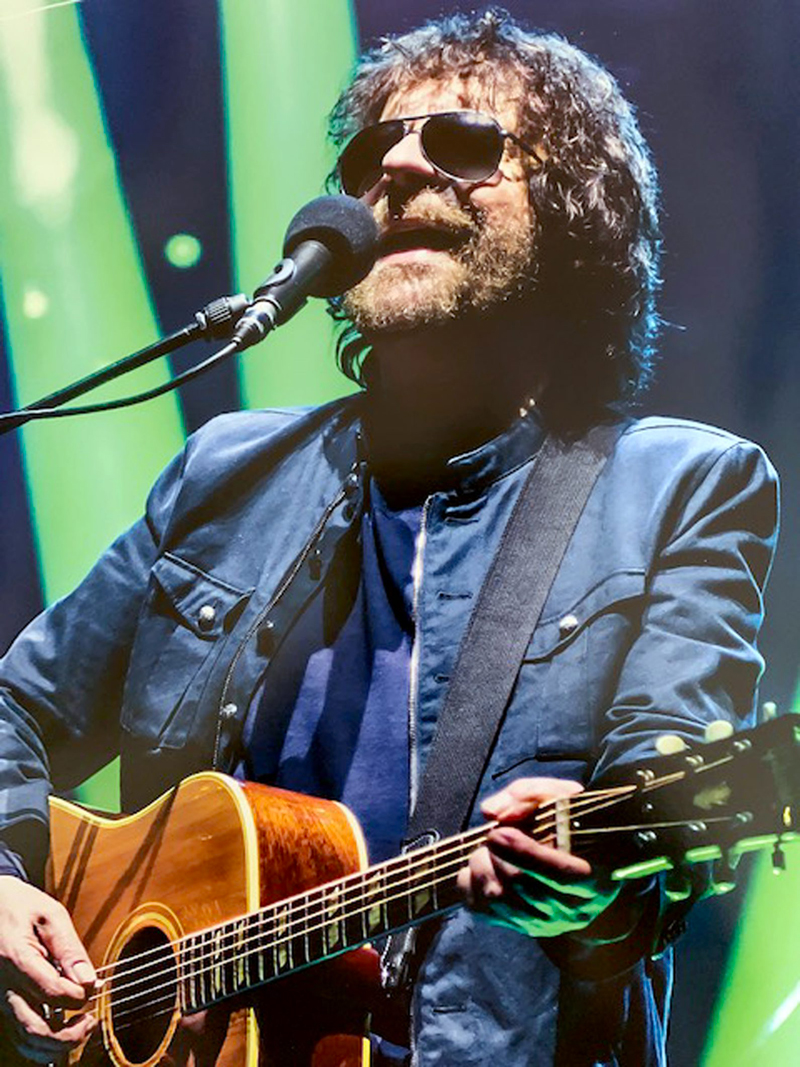 Lynne, 71, is well-known in music circles as a performer, composer and producer.
Lynne delivered 21 songs, including one encore Roll Over Beethoven. He went straight to performing his music and hardly spoke in between songs, once to introduce Dhani who joined him for the Traveling Wilburys song Handle With Care. Lynne also paid tribute to his musical director Mike Stevens who was one of 13 performers on stage. The band featured two cellists Amy Langley and Jess Cox and violinist Jessie Murphy. A giant screen served as a backdrop that showed visuals of the colorful ELO logo, ELO spaceship, Lynne through the decades, Traveling Wilburys and Harrison.
Lynne started with Standing In The Rain and drew a standing ovation for Mr. Blue Sky, Shine A Little Love, Do Ya, Telephone Line and Don't Bring Me Down. He had three guitar changes and strummed an acoustic for All Over The World, Sweet Talkin' Woman and Turn To Stone. Murphy walked up near center stage to play violin on Living Thing.
The crowd enthusiastically sang along to Lynne's songs and it was incredible that a lot of fans knew nearly every line. ELO's music is an amalgam of melodic and thumping rock with symphonic orchestra backing. In the tour program, Lynne said he's thrilled that fans of all ages still listen to ELO. "These days, you almost don't expect to be in the charts," he said. "Making new music is a pleasure and it's still a pleasure that people want to bring the music that you create into their lives. However they get it or hear it now, it still comes down to expressing your music the way you want and then letting that music resonate with other people. I loved that then and I love it now."
Clearly, the music of Lynne's ELO is enduring and impacts on several generations in surviving the test of time.