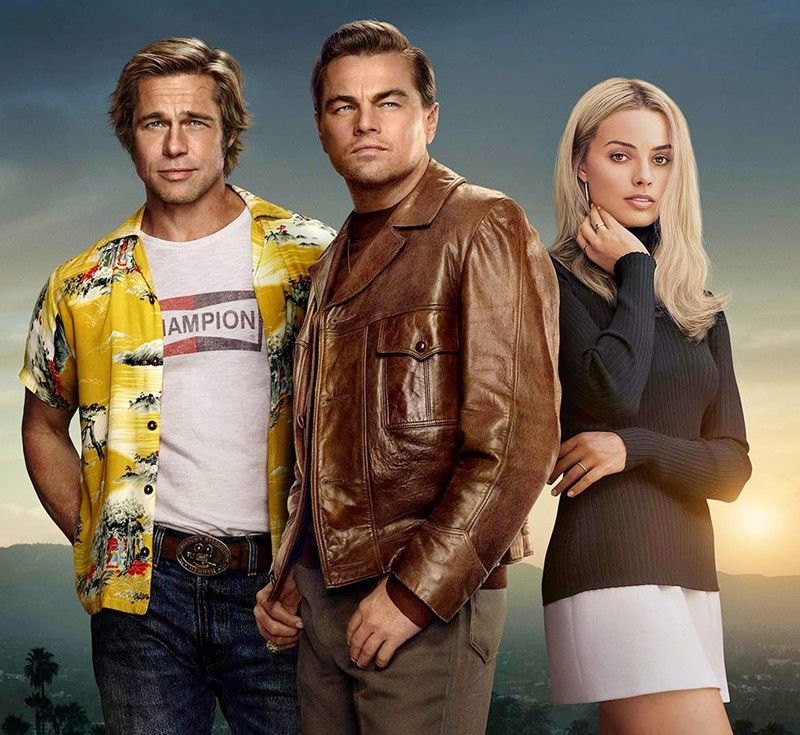 Once Upon a Time in Hollywood stars (from left) Brad Pitt, Leonardo DiCaprio and Margot Robbie
The sounds of 1969 in Once Upon a Time in Hollywood
I knew there was something interesting afoot music-wise in the motion picture Once Upon a Time in Hollywood when I saw the trailer. Straight Shooter by The Mamas and the Papas! Bring A Little Lovin' by Los Bravos! In the soundtrack? Certainly not run of the mill choices for film scores.
Things got even better when the second trailer was released. It had Good Thing by Paul Revere and the Raiders with frontman Mark Lindsey and Brother Love's Traveling Show by Neil Diamond. And it became very obvious then that director Quentin Tarantino is on a 60's sound binge for his latest film.
Tarantino is a filmmaker known for his unique look on violence, unusual storytelling and utter delight in the use of pop culture references. Events and personalities from the past are all prey for Tarantino. So are jokes, fads, movies, radio and TV shows and hit songs. Watch any Tarantino film and you will find them filled with those tasty bits.
Very noticeable is his fun and sometimes shocking use of existing music in his films. Remember Stuck In The Middle With You by Stealers Wheel in the torture scene from Reservoir Dogs? What about John Travolta and Uma Thurman dancing in a twist competition to the tune of Chuck Berry's You Never Can Tell? Or what about the Western-steeped Green Leaves of Summer by the Brothers Four in a Nazi Invasion satire like Inglourious Basterds?
Tarantino, who was also behind Kill Bill, Django Unchained and The Hateful Eight, likes music and he uses it to excellent, often riveting effect in the pictures he makes. And when the movie is one that is as big, as much-anticipated and so full of spaces for his favorite pop culture bits like Once Upon a Time in Hollywood, you can bet that he will go at it like a kid set loose in a toy store.
Once Upon A Time In Hollywood is set in 1969 and stars Leonardo DiCaprio as a TV actor whose career is on the skids and Brad Pitt as his best friend and stuntman who takes falls for him. He lives next door to a young couple on the way up, director Roman Polanski and starlet Sharon Tate.
If you are familiar with Hollywood history you will recall that members of the California commune Manson Family went on a brutal killing spree in that house that ended with five people dead including the pregnant Tate. We will have to watch the movie to find out how the dastardly crime impacts on the lives of the lead characters in the story.
Tarantino seems to be having a grand time promoting his film, which is already being heralded as one of this year's best. He has even come out with a movie playlist made up of films from the period like Easy Rider, Bob & Carol & Ted & Alice and Cactus Flower. And he has given his movie one fantastic soundtrack of songs from the period. These are not necessarily the big hits but an eclectic selection that certainly helps transpose the audience into 1969.
Watch Once Upon a Time in Hollywood and you will hear Hungry by Paul Revere and the Raiders; Kentucky Woman by Deep Purple; You Keep Me Hanging On by Vanilla Fudge; California Dreamin' by Jose Feliciano; Hey Little Girl by Dee Clarke; The Letter by Joe Cocker; Treat Her Right by Roy Head & the Traits; Ramblin', Gamblin' Man by Bob Seger; The House That Jack Built by Aretha Franklin; Choo Choo Train by The Box-Tops; Jenny Take A Ride by Mitch Ryder & the Detroit Wheels and others.
Those tunes contrast greatly with the real hits of the time like Sugar, Sugar by The Archies; Aquarius/Let The Sunshine In by the Fifth Dimension; I Can't Get Next To You by The Temptations; Honky Tonk Women by the Rolling Stones; Everyday People by Sly and the Family Stone; Dizzy by Tommy Roe; Hot Fun In The Summertime by Sly and the Family Stone; I'll Never Fall In Love Again by Tom Jones; Build Me Up Buttercup by the Foundations; Crimson And Clover by Tommy James and The Shondells.
But then, Quentin Tarantino made the choices and like the way he makes films, it is unlike anybody's.