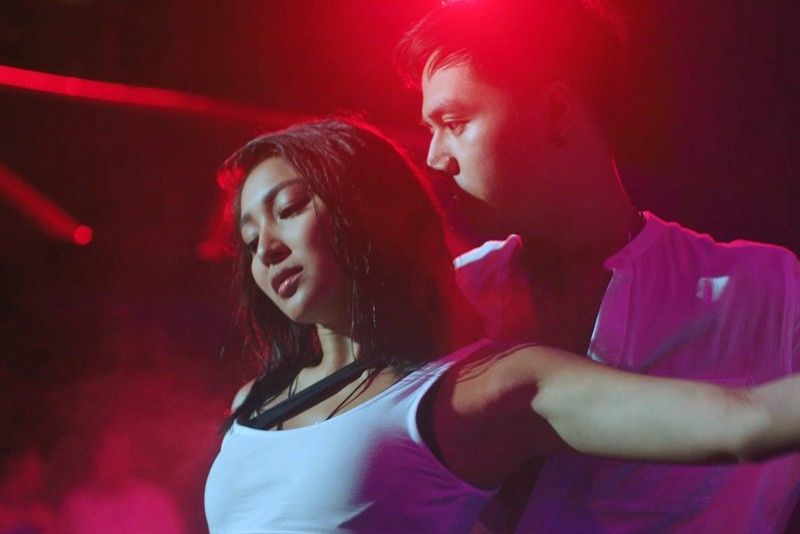 Nadine Lustre and Sam Concepcion in a scene from the movie
Film review: Indak
MANILA, Philippines — In a local film industry replete with rosy romances and dreary dramas, Indak is a breath of fresh air. Viva Films must be commended for taking a risk in producing a movie in a genre that historically does not do well at the tills. From 1980's Kakabakaba Kaba to last year's Changing Partners and the somniferous Larawan – all critically-acclaimed, by the way – dance/musicals all had dismal domestic box-office records.
Indak is an out-and-out musical, with generous helpings of choreographed dance and song numbers. Nadine Lustre is Jen, an island girl whose passion has always been dancing. Her mother (Yayo Aguila) is an herbolario and she, a tourist guide who pilots an inter-island boat. During slow days, she dances solo on her raft to amuse herself. A video of her dancing is taken by tourists and uploaded on the internet, where it goes viral. This attracts the attention of Vin (Sam Concepcion), leader of a dance squad, Indak Pilipinas. He goes to her to convince her to join his team, which is set to compete in Korea. Jen is initially reluctant, as she has never been off her island. "Ito ang mundo ko", she tells him, and besides, her mother is ill. But Vin prevails, takes her to Manila, and introduces her to his group. The members warm up to her except for one, Steph (played with aplomb by Nicole Omillo), for reasons that will be revealed later. It is in dancing with this troupe that Jen not only fulfills her dreams, but begins to confront her true self: who she really is, her capabilities as well as her limitations. She also learns the meaning of friendship and solidarity.
The film's strength lies in its novelty. To be sure, the theme's been done before: Fame (1980), Flashdance (1983), Centerstage (2000), and more recently the Step Up series (2006 to 2019) and Born To Dance (2015). Indak, however, takes the leitmotif to the Philippine setting, albeit within the framework of contemporary dance styles. To its credit, the soundtrack is not only all original Pilipino music, but extremely well-made ones: catchy, foot-tapping, lyrical and conducive to Last Song Syndrome (in fact, days after watching it, I still can't get the darn refrain of the title song out of my head!). And the cinematography is breath-taking: brisk, concise and flawlessly edited, with complex intercuts to faithfully capture the frenzy of dance performances and life in the big city; yet lingering, meditative even, when it comes to scenes of Lustre in Bantayan Island, all the better to depict the contrast with urbanity. Speaking of camera work, Lustre has never been more beautifully photographed in any of her movies as in this one.
The showcase dance scenes, aside from being finely photographed, are also very well executed. To use millennial-speak, "it's got the moves." The group of dancers recruited for the cast know their onions, so to speak. Representing different dancing styles, they work together seamlessly. Concepcion, exceptionally adept at dance, is a good choice as lead, although Julian Trono (Simon) gives him a run for his money. Lustre also dances with competence and energy, although she is not really the best dancer in the cast; that honor goes to the immensely talented Mayton Eugenio (Abbie).
Running at close to two hours, the film is fast-paced and never boring. The writers, however, tried to squeeze in so much subplots in between the dancing that storytelling suffered. While the main plot regarding Jen's conflict about leaving home, and her backstory in relation to her mother, were fully threshed out, other loose strings remained. Thus, the subplot about Steph carrying a torch for Vin is underdeveloped, and the theft of the group's funds is redolent with deus ex machina. The love angle between the two protagonists is also half-baked and left unresolved, and the conflict created between Vin and Jen in the second act felt totally contrived. Lustre's acting is, as always, distinctly above par, but Concepcion does not possess the acting chops to approximate his partner's.
On the whole, the film works both as entertainment and as an inspirational tale. Its underlying message that one should never let one's past define his present or limit his future, should resonate with all: seniors, baby boomers and millennials. And its thesis of dance as allegory for life, with focus, discipline and determination as the requisites for success, and of picking oneself up from mistakes and starting over again with vigor, never looking back, is timeless and universal. As the lyrics of the title track pithily says, "sa hamon ng buhay, huwag kang bibitaw".