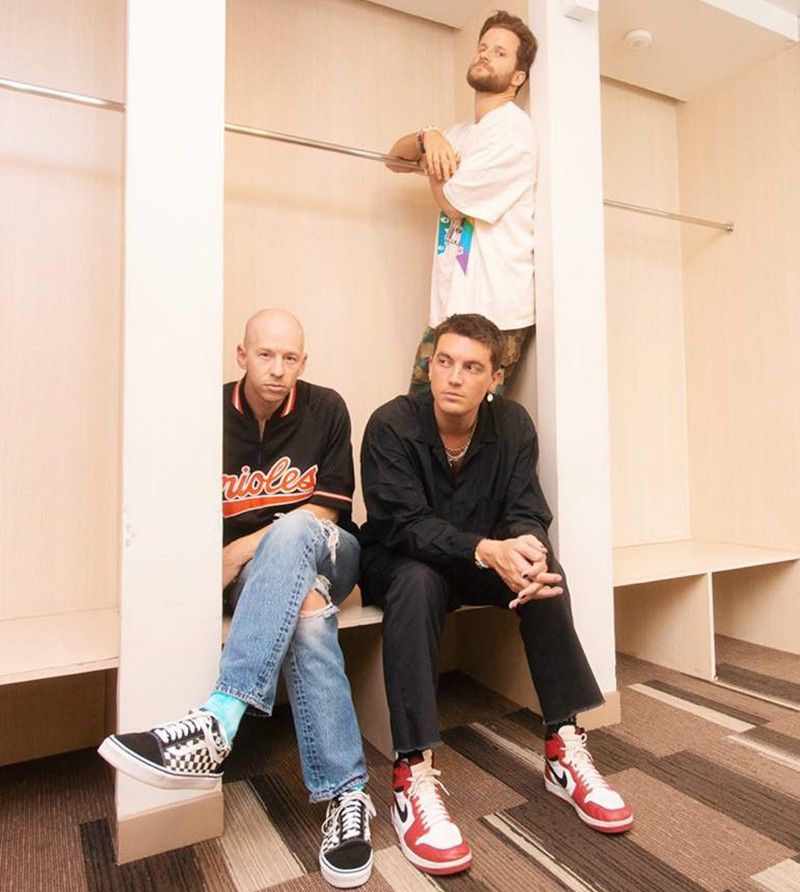 LANY's Les Priest, Paul Klein and Jake Goss pose before the first of three sold-out shows at the MOA Arena. The Manila stop is part of their ongoing Malibu Nights world tour.
Photo from the band's official Facebook page
LANY wants to be the 'biggest band in the world'
MANILA, Philippines — The American trio LANY didn't expect to make history in its fourth visit to the Philippines. Band members Paul Klein (lead vocalist), Les Priest (keyboards, guitar) and Jake Goss (drums) can stake a claim as the first foreign act in Philippine history to have sold out three consecutive shows (July 23, 24 and 25) at the Mall of Asia (MOA) Arena.
Big surprise? Only for those living under a rock.
LANY (which stands for Los Angeles New York) was the Most Streamed Artist of 2018 in the country, beating homegrown, K-Pop and international music superstars, according to the music-streaming site Spotify. Their songs about love, loss, heartbreak, such as ILSYB and Super Far from the self-titled debut or I Don't Wanna Love You Anymore and Malibu Nights from the second album, have resonated strong and loud with the ears and hearts of the Filipino audience.
In a chat with The STAR before their second night in Manila, they declared that they are not going to take the Filipino love for granted, as they continue to work on their ultimate goal to become "the biggest band in the world."
LANY is on the way there. The Manila stop is just a part of an impressive 100-date world tour for the sophomore record Malibu Nights — quite a leap from when the band first came here in 2017 for some mall shows and a music festival they didn't headline.
Here are excerpts from the interview:
How is life on the road treating you so far?
Paul: It's been really good. We've played in almost 100 shows this year. So, we have a great time seeing almost all of the world minus Antartica and Africa... We will get there... I think, to play in these many shows — we haven't gotten to cancel anything yet, well, we had a couple of close calls, but we're pretty resilient as a band, I think. It's pretty cool to travel all over the place, and know that we can put on a show anywhere and in any environment.
How do you cope with the grueling schedule?
Jake: At night, I stretch. Last night, I went to a jacuzzi to take out the back aches. I just got to take care of myself physically and mentally.
Les: Yes, I think, the mental part is the biggest factor. If you don't let it be stressful, I think it's easier to handle.
Paul: We travel with the greatest people, too. It would be a very miserable experience if we didn't get along. We are like brothers, basically.
Jake: I think, a huge key is we laugh a lot. Laughter is important.
Les: Sometimes, we drink a lot of water and try to sleep like 10 hours a night.
This is your fourth time in Manila. Can you still remember the first time you came here to perform?
Paul: We love it here obviously. It's a crazy environment for us to come into. We don't take it for granted at all! We remember the first time we were here was for the Wanderland Festival, 2017, so, it's been cool building this thing from the ground up. We didn't have an album out yet (at that time).
Les: We had no idea (we had Filipino fans). We had a day of press here, and everyone was like, you know how big you are here. I thought they were joking.
Jake: We didn't know what to expect. Our crew was really small. So, we walked on to the stage to do what we call as line check, where we check all the instruments and if they're working. We were on stage for about 30 minutes before we started, (and we couldn't believe what we saw), are these people really here for us? We also did mall shows then. It was pretty crazy.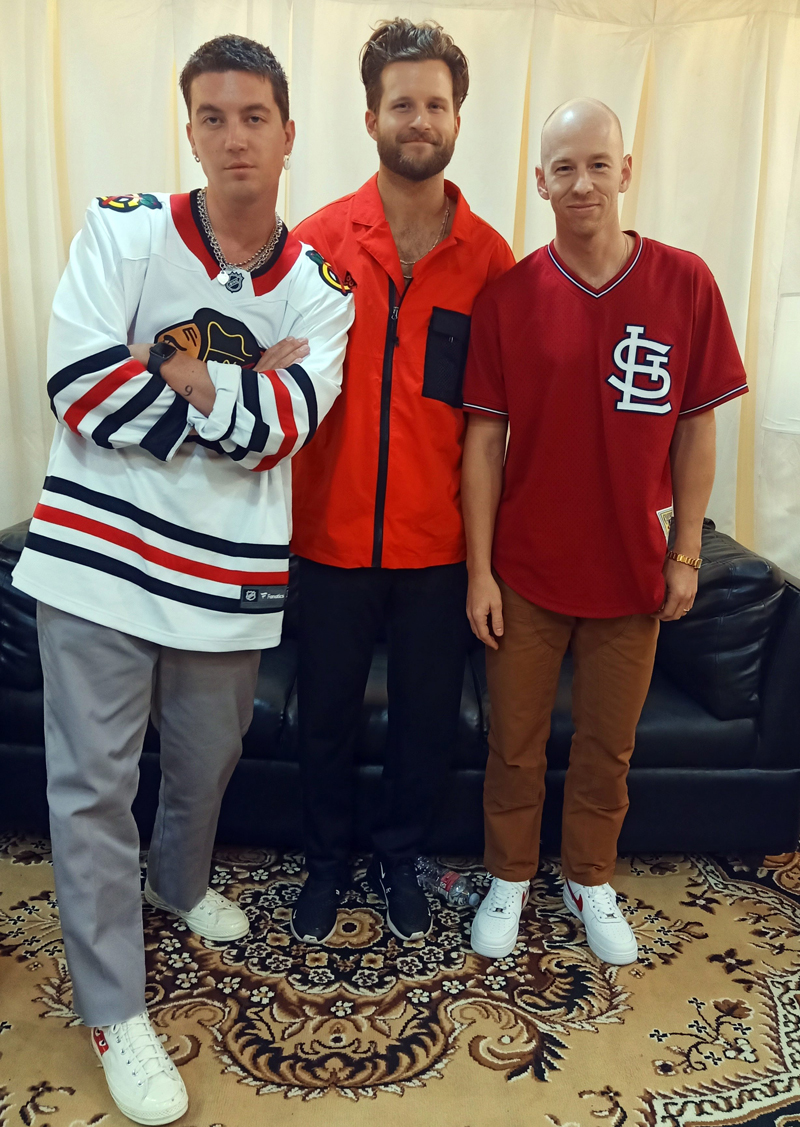 — Photo by Ver Paulino
From mall shows, you're now having sold-out arena concerts, three nights in a row (a first for any foreign artist in Philippine history, we were told).
Paul: It's really amazing! You know, you like making these hyperbolic comments, let's make history, blah, blah and blah, not actually thinking history. And then, this is really crazy that we're making history. I didn't think we'd ever actually make history as a band (laughs).
Les: We don't take it lightly.
So, how do you stay grounded?
Paul: Well, we're still flying economy (laughs). We're still poor (laughs). It's not that crazy, I don't know. We've got a long way to go. We wanna be the greatest band in the world. We wanna be big as it is possibly is. We still got a long way to go.
Jake: So, we keep on working hard.
What are your favorite memories from when you were just starting out in the music business?
Paul: Sweet, little moments like when back in their house, we didn't even live together yet. I was still flying in from L.A. to write songs. I remember just being in that front room of the house that now Les lives in… and I remember there was this guitar part that I wanted to put on I Love You So Bad (ILYSB), which comes in the second chorus or something, and none of us could play it. And I knew exactly the notes I wanted, but had somebody come over and play it. I remember, being up late, working on Made In Hollywood, and we flew into McDonalds at 2 in the morning, and the idea came to me after eating Chicken Nuggets (laughs). Crazy! Just dumb stories like that (laughs).
Jake: I remember I had to take Paul to the airport after we wrote that, and Paul had Walk Away, we just sat in the car and (did) Walk Away.
Les: I gotta say, one of my favorite memories, well, in the early days, I spent a lot of time editing and mixing. I remember, specifically, Paul, just being what he's like, he wants things very certain way. "It's not quite right yet." This is why our music is good because there's this meticulous (approach), this thing that we think should be, and we want to get it there, and if it's not there, it's not right yet. But I would mix and mix, and I would send it out and Paul would make notes and like, it wouldn't just be there. And then, it does get there and he's just so pumped, "This is a masterpiece!" And I always loved that moment, you know. Then, we knew, it was alright.
Paul: I would send the craziest e-mails (laughs)!
Jake: We're gonna have a book about it one day (laughs), just the emails.
For those still waiting for their big music break, what can they learn from your story?
Paul: Never give up, obviously. But if it's not working then you're gonna need to try something different. You know what I mean? Like within music. You wanna do music? I don't know. You can't do the same thing and expect...
Les: Yeah, don't be scared to try new things but also keep trying new things.
Jake: Let it be your voice, not anybody else's.