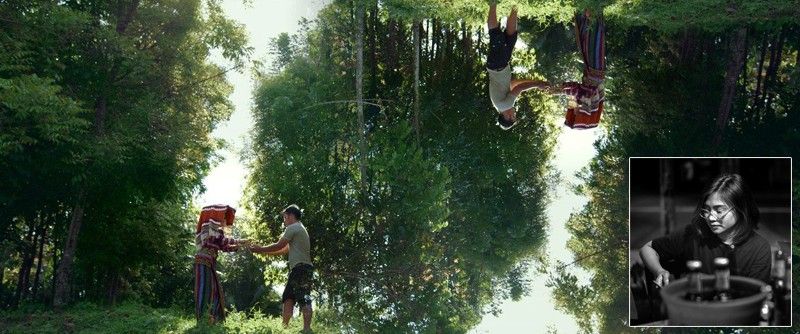 The Cinemalaya short film is about a T'boli man who weaves T'nalak and discovers his true identity. Inset: Director Shaira Advincula.
Tembong: A tale of design & identity
Jerry Donato
(The Philippine Star) - July 17, 2019 - 12:00am
MANILA, Philippines — Dreams signify unconscious wishes and desires, says RD, my psychologist friend. They also speak of repressed feelings. Shaira Advincula presents dreams as a rich realm of design inspirations for a weaver to discover in the short film titled Tembong (Connecting). The dreams-turned-designs intersect symbolisms of birth, life, marriage and death for the living through the T'nalak weaving. Tembong is among the 10 short finalists in this year's Cinemalaya Philippine Independent Film Festival.
"The upturned treatment is mainly used as a transitional device," said Shaira of the film's visual approach, which separates the main character's dream sequences from his reality or present. "Yung dream sequences ay naka-upturned, may naka-juxtapose (na) images, naka-dissolve," added the filmmaker. Running for a little over 15 minutes, the narrative, historical drama represents "the T'boli community right now," Shaira said, "The social inequality with indigenous people is really sad. So it is also a way to represent them, what's going on with them is jarring, it's uncomfortable." Tembong adds to the thickening (visual) discourse on the T'boli community and other ethnic groups.
In the community, women only weave the T'nalak as a way of life (social and cultural practice) for they are "visited" by dreams that serve as design inspirations. In the short film, a T'boli man gets visited by the abaca goddess and eventually "impregnated" by dreams to continue on with the tradition of weaving. It breaks away from the cultural norms of what is existing or the status quo.
"It's a man who weaves because he gets visited by dreams," reiterated Shaira. This new experience, one may call it, is "occurring now" because, to follow the filmmaker's line of thinking, there's a demand for the fabric and its designs. Weaving is a source of livelihood to its community, and the T'boli, as Shaira implied, need to provide food for their families. She said that "there's an overproduction of T'nalak but there's scarcity of dreams (and) designs, kokonti na lang (yung nananaginip)." The male protagonist is the recipient of the dreams.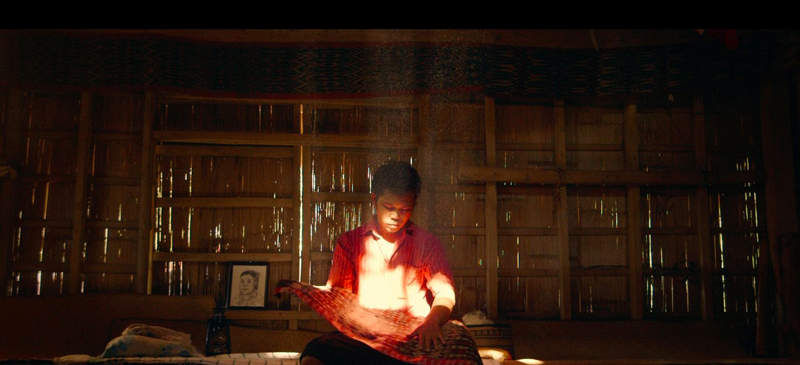 "Parang binabali din niya yung gender norms in that community," said Shaira of Tembong's possible gendered commentary that pushes forward the idea of equality among men and women, "although it is an issue in their culture, it is also a way of saying that anyone can weave, anyone can do anything."
As for the title Tembong, which means again "connecting," the UP Film Institute graduate had this to say: "What is being connected here is the history of people in Mindanao… It's about (the time when) T'boli (lived) in highlands." That vital past is about the meeting of the T'boli and the Christians and how the latter made themselves lowlanders and the former highlanders. This is reminiscent of the interactions that happened between aetas (dwellers of the land) and the sea-faring Malays during the migration time in the country. What audiences should anticipate about the film is the revelation of the main character's identity. Is he a man of T'boli lineage or a product of interracial marriage? In the words of Shaira, he could be a "product of amalgamation."
Asked about the challenges of filming a short and handling such theme, Shaira replied, "It was difficult in a way because I had to do a lot of research (about) it… I had to immerse in the communities, I needed to interview them (asked them questions), my main challenge was that I'm not a part of the community but I'm a lowland Christian in Mindanao. Yung struggle ko ay nag-sha-share ako ng kwento that I'm not part of their community. One of my mentors told me that sincerity is more important than authenticity. My intention as a filmmaker is more important." She had to put all her biases or preconceived notions about her subject aside to narrate a story.
"I originally wrote the script for a full-length," recalled the filmmaker. "I was in Ricky Lee's class in UP. And I was told that I should do short (film) instead."
Does she consider Tembong a regional film?
"I would consider it a regional film," she answered. "I myself am a regional filmmaker. I'm from South Cotabato... For me, as a filmmaker, I really want to strive (in pushing) forward Mindanaoan narratives. They are so diverse and rich."
(Cinemalaya entries will be screened from Aug. 2 to 11 at different venues at the Cultural Center of the Philippines. For details, visit www.cinemalaya.org or www.culturalcenter.gov.ph.)