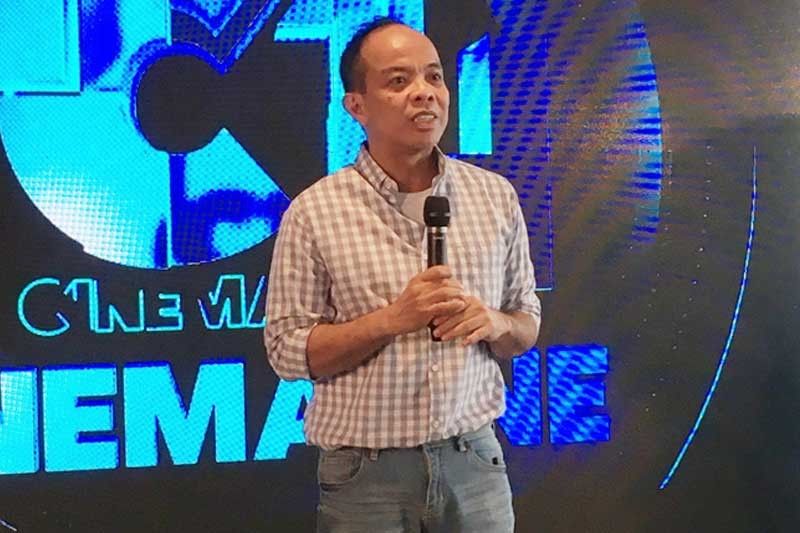 Channel head Ronald Arguelles expresses delight at how Cinema One is able to showcase quality Filipino films for 25 years now.
Photo by Bot Glorioso
Cinema One keeping up with the times
Bot Glorioso
(The Philippine Star) - June 28, 2019 - 12:00am
MANILA, Philippines — Now on its silver year, Cinema One continues to feature the finest Filipino movies for viewers to enjoy any time of the day.
Under ABS-CBN's subsidiary Creative Programs, Inc., the cable channel has already showcased and delivered a bounty of blockbusters to television since it commenced operations in 1994 under the name Sky One. It then later changed to Pinoy Blockbuster Channel before it was called Cinema One in 2001.
In a press release, channel head Ronald Arguelles stated that the Kapamilya cable arm was born to provide a 24-hour channel showcasing Tagalog blockbusters from A-list filmmakers.
"Aside from doing our core programming made up of classic and contemporary Pinoy films, we also began producing local magazine shows like Cinemanews, Persona, Cover Story and Review Night," he said, referring to the channel's initial local production ventures.
Fast-forward to the present, Cinema One is taking all the necessary steps to keep up with the times, proving that it continues to find new ways to entertain, excite and enlighten the audience, including the millennials. This year, Cinema One started to make films more accessible to cinephiles through the use of different digital and social media platforms.
In an interview with The STAR and other select members of the press, Ronald said, "We hope to collaborate with ABS-CBN's various platforms like iWant, and then we're also going digital. This year, we've become active on streaming films on YouTube with That Thing Called Tadhana as our initial presentation to launch the channel."
In fact, it already gained over 120,000 subscribers in just three months. "Now, you can watch a lot (of ABS-CBN releases) but, of course, not all because most of the films should still be watched through the cable channel. What's good is that by (going) digital, it means there's improvement (in quality); they are all in high definition."
He added that this year, Cinema One became part of the umbrella organization ABS-CBN Films "so meron kaming malaking tulungan or synergy." Its tie-up with film outfits under the ABS-CBN banner like Star Cinema and Blacksheep Productions also allows Cinema One to regularly host outdoor screenings via OpenAir Cinema One that film enthusiasts can enjoy even while they are having an outing with family and friends. The public film screenings in Boracay were among the most successful events in the past.
Ronald assured that the films to be showcased on Cinema One this year are top-grossers in past Metro Manila film festivals. "Starting July until August, expect to watch those films produced by Regal. Also, in July, ipapalabas din ang Exes Baggage and Fantastica."
The cable channel will also be featuring restored classic films under the Restored Cinema program section in celebration of the 100 Years of Philippine Cinema. The award-winning war drama Tatlong Taong Walang Diyos was shown last June 23 while Ibong Adarna, the oldest film in its archive, is set to air on Sunday, June 30.
"I believe it's a must for everyone, especially today's youth, to watch the 1939 film Ibong Adarna…kung paano nagawa yung pelikula."
Apart from Ibong Adarna, Ronald shared there are other restored popular classic films to be showcased at the Cinema One Originals Festival.
"We will also feature films that won awards abroad in the festival aside from the eight local competition films that are all original like we have this LGBT film, a comedy film and at this point we are still in the casting stage. Hopefully, shooting will start in July."
(Cinema One is available on SKYCable Ch. 56, SKYdirect Ch.19, Destiny Cable Analog 37 and Digital 56.)