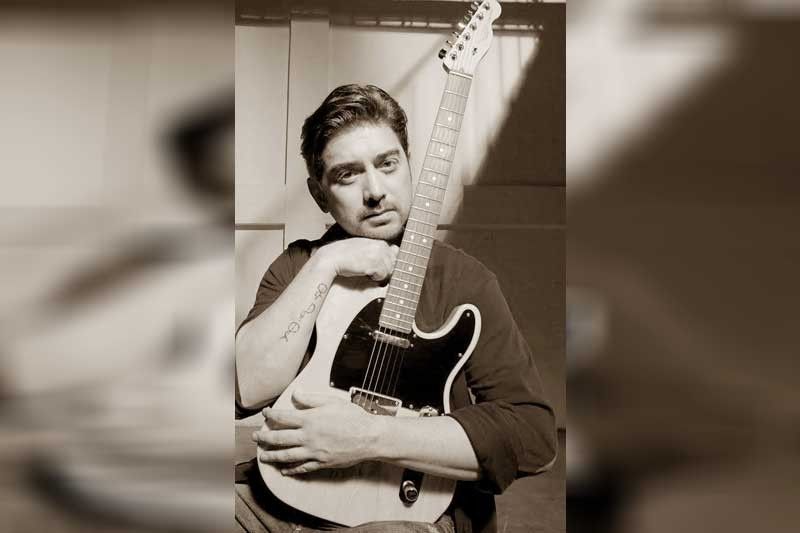 Ian Veneracion performs his own brand of music in Ian: In Color on July 11 and 12, 8 p.m. at the Music Museum.
Ian admits being 'late bloomer' in music
MANILA, Philippines — Although his love for music goes way back, Ian Veneracion never denies he's a late bloomer in terms of his singing career, believing — sans any regret — that there's a right time for everything.
"I take it as stages," the 44-year-old multi-hyphenate actor told The STAR during the presscon held at New Order Urban Lounge Bar in Ortigas to drumbeat his upcoming concert Ian: In Color. "I'm proud to say I'm in stage 44 (referring to his age) and I'm a better person than the way I was when I was 20 or when I was 25. I'm really comfortable just being my age. I don't wanna be stuck in a certain age tapos magiging in-denial ka. It's the same with the roles that I do in movies and on TV. I don't have hidden restrictions (when it comes to career and life decisions). Wala akong hindi nagagawa na nagagawa ng ibang tao. You know, wala naman age 'yung music."
He added that he's excited about music because he has been doing movies and TV shows for a long time now. "(I'm) still excited to do (movie) projects because I feel very comfortable; I feel at home when I'm on the set or in front of the cameras doing scenes and creating something out of those certain caricatures from the script, I really enjoy that. But now, na-e-enjoy ko talaga 'yung music. I don't know where it's leading to because I just follow my heart. I just follow my passion in that moment and then I just trust that feeling somehow."
Music has always been a huge part of his private life but it's only recently that he has come to realize the possibility of other people enjoying his taste in music and the way he approaches it. It's because back then, he lacked the confidence in facing the crowd and performing his own brand of music. That changed after starring in the Kapamilya romantic comedy series, A Love to Last in 2017, which fueled his desire for singing after he was cast as the musician Anton.
"I had to do it because it's a role. As an actor, I had to be comfortable with it but then sumobra naman yata 'yung pagka kumportable ko, ngayon nag-ko-concert-concert pa. I think there is a right time for everything. I used to ask myself then why didn't I start earlier pero hindi rin, e. I just enjoy it now and maybe if I started earlier, my musical tastes would be different as well as my decisions in life musically. So, I think that the right time is now," recalled Ian, whose own compositions We're All Alone and I'll Miss You The Most are available for streaming on Spotify. He debuted as a concert performer in Ian in 3 Acts last year at Resorts World Manila.
In his Music Museum concert slated for July 11 and 12, 8 p.m., Ian will showcase his "colorful life" thus the concert title Ian: In Color. The concert, as stated in the media release, is a tell-all journey of his life, his moods and his thoughts through music. It will paint a picture of what Ian is in real life, baring his dressed-down persona.
"Because, of course, I love painting. I associate it to the TV's color bars, so the concept (of the show) is like that — different moods — kasi iba-iba yung mood ng music na ipi-play and (these are) the music that I love listening to, I grew up listening to and the music that I enjoy playing," noted Ian, adding that his musical influences include what he described as old school such as Sting, U2, Eric Clapton, The Eagles, Peter Frampton and Fra Lippo Lippi.
The two-night show, he added, will be "more intimate, more interactive and the arrangement of the songs will be musically playful." Jamming with him during the concert are Ogie Alcasid and Regine Velasquez, plus other surprise guests.
(Ian: In Color is presented by A-Team, PLDT Home, Conzace, HMR, New Order Urban Lounge Bar, Fernando's Bakery, BeaIan Infinity with The Philippine STAR. Tickets are priced at P4,000, VIP; P2,800, Orchestra Center; P1,800, Orchestra Side; and P1,000, Balcony. Tickets are available via Ticketworld [891-999], Music Museum [721-0635/721-6726] or A-Team [0906-2878049].)