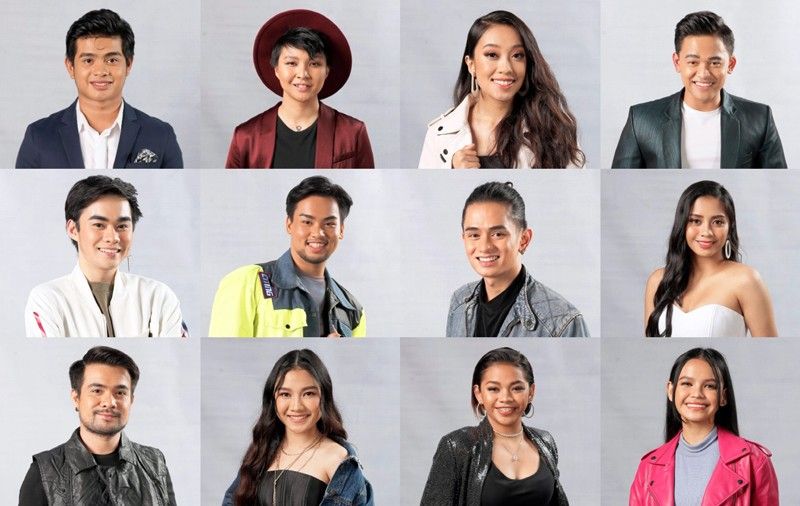 Top row, from left: Dan Ombao, Elle Ocampo, Fatima Louise and Lance Busa; (center, also from left) Lucas Garcia, Matty Juniosa, Miguel Odron and Rachel May Libres; (bottom row) Renweick Benito, Sheland Faelnar, Trish Bonilla and Zephanie Dimaranan.
Looks like the jury panel, composed of Vice Ganda, Regine Velasquez, James Reid and Moira dela Torre, will have a hard time determining who among the Top 12 Idol contestants is most deserving of the title Idol Philippines when the next succeeding levels of competition take place beginning June 29.
You see, the well-chosen dozen hopefuls, namely, Renwick Benito, Matty Juniosa, Lucas Garcia, Miguel Odron, Dan Ombao, Lance Busa, Fatima Louise, Elle Ocampo, Rachel May Libres, Sheland Faelnar, Trish Bonilla and Zephanie Dimaranan, totally gave their best shot in the first round of competition. All of them displayed vocal power regardless of music genre.
None of them apparently won't let the chance of making a mark in the music scene to pass. Dan is fighting for his second chance of becoming a singer. Lucas and Matty both dedicate their fight for their doting moms. Lance is armed with singing experience abroad. Miguel, on the other hand, decided to fly back home from the US to pursue his dreams. Renwick is sure to get an easy recall for his rocker image.
Equally determined are the female aspirants. Fatima Louise is out to prove that she is worthy of the coveted title. In fact, it was she whom Lea Salonga sent a congratulatory message through Twitter. Rachel shows flair for belting high notes. Trish, who just like her mom Mau Marcelo, is a vocal powerhouse. Elle's unique style of singing and artistic expression make her a standout. Sheland is noted for her showstopping vocals while Zephanie works tirelessly for her dream to become the next singing star like her idol Sarah Geronimo.
After that gripping Solo Round held during the first few weeks of airing of Search for Idol Philippines, the Live Round is expected to be more intense for contestants and their supporters given that the ranking will be based 50 percent from the judges and 50 percent from text votes. The Idol hopeful who gets the lowest votes will automatically be eliminated. However, that sad reality of being booted out from the contest does not seem to bother them at all.
Dan said, "I understand this is a competition but we feel like family already. Our bond has become tight so whoever wins, I will be happy for him or her. We will be there to support each other."
Lucas, for his part, said that being in the Top 12 is already a big accomplishment. "I do hope to get until the last (round) but at this point, I think we are all winners already."
At only 16, Zephanie is ready to give pieces of advice to her competitors. She said, "Everyone here supports each other. I'm thankful because as the youngest here, I look up to all of my co-contestants."
But that is not to say that the 12 finalists are not eager to win.
"I worked hard to get to this point and I'm not going to waste the opportunity given me," said Miguel, who has a close resemblance to James Reid.
The openly gay Matty agreed by telling, "We all joined the competition wanting to prove ourselves. I've a lot to prove particularly that I'm more than just about gender preference because I believe I have the talent."
In the coming weeks, notable musical directors and composers will serve as mentors of the finalists. Expect the maestro Ryan Cayabyab to share his music know-how to the finalists.
It is not surprising that the finalists have their dream mentors. Fatima hopes for KZ Tandingan to be one of the surprised guest mentors "because I really like her style and for me, she's super unique."
Sheland is wishing for Yeng Constantino to visit the show. "She serves as my inspiration. She has been an influence for me to sing. I like her style, especially when she starts performing on stage."
Elle has nothing in mind but Bamboo. "He's my dream mentor ever since for the kind of energy he gives when he performs. The way he writes song, super idol ko talaga s'ya. I really hope he becomes a mentor because I see him as the example in where I want to be."