Toy Story 4: More surprises coming up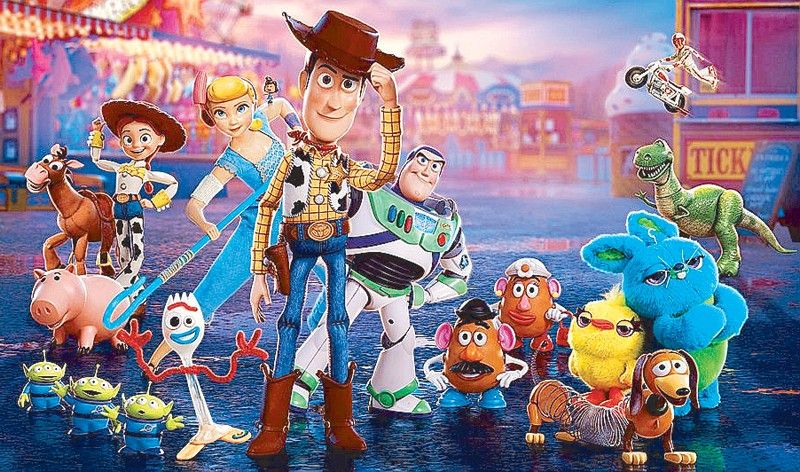 MANILA, Philippines — Toy Story 4 takes the franchise to surprisingly middling territory after its predecessors went to infinity and beyond for a quarter of a century as the gold standard in animation. While this entry still succeeds as an entertaining, heartfelt journey, it can't help but feel significantly short of Pixar perfection.
One aspect where Toy Story 4 bests its predecessors is animation, which has come a long way since Toy Story (1995) became the first fully computer-animated feature film. Toy Story 4 excels in capturing textures, such as its use of photo-realistic rain to create an appropriately gloomy opening sequence.
Director Josh Cooley backs up this glossy animation with a compelling story that handles main character Woody (Tom Hanks) impressively, leaning on the flagship character more than previous films. Woody's journey jabs at the tentpole theme of growing up from a different angle, and unravels into a touching message of contagious optimism for those lost in life.
Cooley takes admirable risks to prevent Toy Story 4 from retreading past ideas, but these don't all pay off. Old staples such as Jessie (Joan Cusack) are reduced to afterthoughts to make room for new characters. Buzz (Tim Allen) is the only character aside from Woody to keep his former role, but his arc feels more like a prop for Woody's development than its own cornerstone in the plot. Unfortunately, the new characters don't quite live up to the forerunners they're replacing. A talented voice cast breathes life into these likable additions, which include Forky (Tony Hale), Ducky and Bunny (Key and Peele), and Duke Caboom (Keanu Reeves). However, their introductions feel forced or unnecessary, creating an oft disjointed and repetitive opening act that stumbles into cheesy humor. The best supporting character change under Cooley's new direction is Bo Peep (Annie Potts), who shone in her largest role yet as a trailblazing "lost" toy, far removed from her timid roots.
Another surprise was the mild horror elements: The film's antagonist, Gabby Gabby (Christina Hendricks), is an antique doll with ventriloquist-puppet henchmen. Her character is well-fleshed out, but her tail-end development feels more contrived than earned, and other characters change their stance towards her in ways best described as "convenient."
Perhaps, it's too much to ask for the fourth entry of a beloved franchise to duplicate the impossible highs of its predecessors, but despite its flaws, Toy Story 4 pushes through with strong character moments, resonant emotional beats and a good balance of comedy. It's a slightly disappointing entry but by its heartwarming conclusion, it ultimately justifies its existence as a Toy Story film.