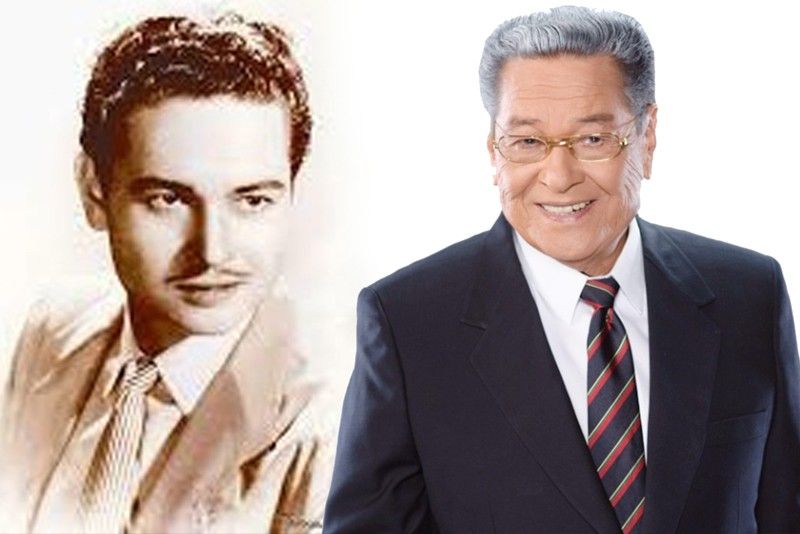 Looking back at the colorful life and multi-awarded career of one of Philippine Cinema's great actors
Eddie Garcia, Manoy Forever
CONVERSATIONS
-
Ricky Lo
(The Philippine Star) - June 23, 2019 - 12:00am
There could only be one Eddie Garcia, a tough act to follow
There was no premonition at all.
When Eddie Garcia bade Lilibeth Romero, his partner of 33 years, goodbye that morning of June 8, a Saturday, Lilibeth noticed nothing unusual.
"He told the maid to wake him up at 4 a.m., then he had a breakfast of cereals and bananas, and he was off to the set," recalled Lilibeth to The STAR, the only paper she agreed to talk to a few days after the accident that left Eddie in Glasgow Coma scale 3 (the lowest rating, highest is 15) at the Makati Medical Center (MCC) where he was transferred from the Mary Johnston Hospital in Tondo where he was rushed DOA (Dead On Arrival) but was revived posthaste.
"I even teased him," continued Lilibeth, "uy, you are the first to arrive on the set again, ha. He was such a professional. He didn't want to make his co-stars and co-workers wait."
Before noon that same day, Lilibeth got a call that Eddie "was hurt" when he tripped on a cable wire during the third "take" from another angle of a scene in which Eddie's character was chasing goons. Everybody knew what happened next.
"It happened so fast," recalled Lilibeth who was desperately trying to make sense of it. "The night before, just as we always did, he would lie in bed as I worked on some papers. Then, we would listen to Dr. Love's (DZMM) program before we went to sleep."
Last Thursday, June 20, Eddie died while attached to a ventilator and on DNR (Do Not Resuscitate) status. He was 90, born in Juban, Sorsogon, on May 2, 1929. Fondly called Manoy (Bicol/Visayan term of endearment for an older brother), Eddie loved to make himself appear older perhaps to "mislead" people and prompt them to say, "Why, you look much younger!"
In an interview with The STAR last year, Eddie cleared the non-issue.
"In 1979 when I was 50, Ike Lozada interviewed me at ang nilagay niyang edad ko ay 60. When Ramon (Revilla, now 92) read it in the tabloid, he told me, 'Bakit sinabi mong 60 ka na? Mas matanda ako sa'yo ng dalawang taon, baka sabihin nila 62 na ako. I-correct mo 'yan.' Ayan, corrected na."
A well-decorated, multi-awarded director and actor, Eddie won Best Actor in the recent Gawad Urian for his performance in ML as a retired METROCOM colonel "whose Alzheimer's puts him forever in a Martial Law realm") and, just two weeks before that, he was honored with other film icons as Natatanging Bituin ng Siglo by the Star Awards for Movies of the PMPC (Philippine Movies Press Club), as a nod to the Philippine Cinema's centennial celebration.
Eddie had lost count of the 600-plus movies he had done, playing every role conceivable, from a priest to an NBI agent to a cross-dressing gay to a Quiapo beggar…well, to every character in the movie book, including as the closet-homosexual husband of Lolita Rodriguez in the Lino Brocka classic Tubog Sa Ginto which Eddie considered "my all-time favorite." In Rainbow's Sunset, one of the three indie movies he did last year, Eddie played the partner of Tony Mabesa in a bromance.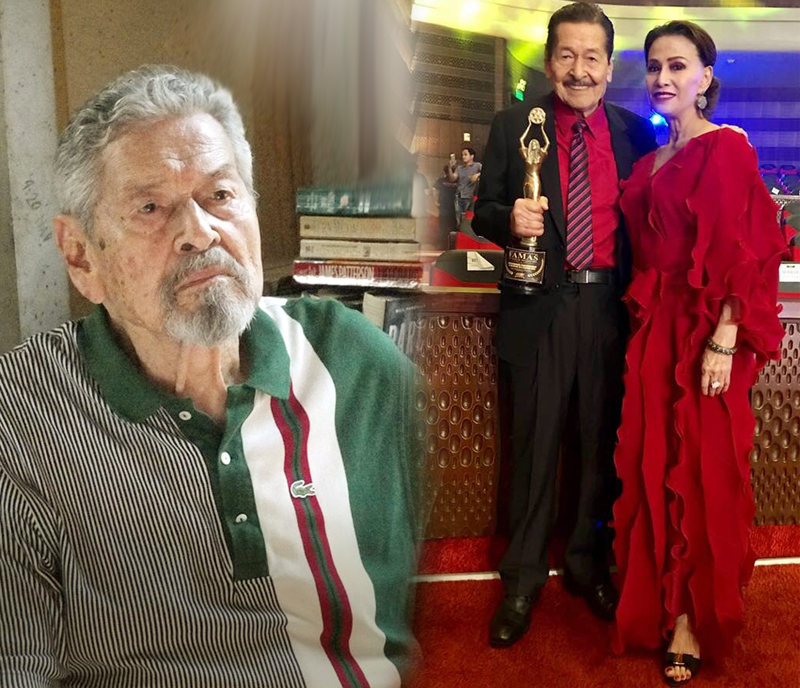 Eddie in Rainbow's Sunset and with Lilibeth Romero, his partner of 33 years: He was a gentleman with a generous heart
In another indie, Hintayan Ng Langit (euphemism for purgatory), he plays Manolo, a dead man waiting for his turn to heaven with his ex-lover (Gina Pareno). In a hospital scene, Manolo is shown comatose on a ventilator, a scene that would be repeated in real life only several months later.
As a nod to the Great Manoy, allow me to reprint portions of a 1984 interview with Eddie, as relevant today as it was back when it was published in Weekend, the Sunday magazine of Daily Express, in italics (including in-put from other interviews in The STAR and one with Lilibeth).
His waistline measures 31 inches, give or take one or two centimeters. One hundred and sixty-four pounds are evenly distributed in his well-proportioned 5'10" frame. His gait has rhythm. His body is so light he seems to glide.
As Eddie Garcia jogs from that end of the seawall behind the Folk Arts Theater and then from this end while the photographer positions himself midway to take pictures of Local Cinema's Most Durable Actor "in motion," you wonder what makes him run, what keeps him fit and trim.
There's hardly any wrinkle on his face and you don't suspect that he has any facelift since Eddie is not the vain type of actor who would resort to that. When he breaks into his familiar wide grin, he reveals a perfect set of teeth (look, Ma, no dentures!) You look a little more closely and you can count the strands of gray hair on his head.
Back and forth, Eddie runs along the strip, not showing any sign of tiredness after the 30-minute pictorial, cheered on by onlookers who call him "atsay killer," the comic role Eddie played in one of his last pictures. His suntanned body glistens under the 10 a.m. sun.
When the ramrod straight figure (he once was a military man) enters Gloriamaris, the three elderly security guards swoon, "Makisig pa rin siya hanggang ngayon!" Eddie frequents the place (he jogs around the area every now and then) and well-heeled matrons self-consciously try ­— in vain! — to look the other way when Eddie walks by. (Lilibeth: "He was very accommodating. Even when he was in a formal suit, he would gladly have a selfie with anybody who approached him, while I stepped aside.")
He orders a glass of fresh orange juice and an early lunch of corn soup with crab meat, beef and lapu-lapu. Eddie doesn't usually eat that much and he indulges himself this morning, just this once, perhaps as a gesture of hospitability to this interviewer. You don't see the once ubiquitous pack of imported cigarettes within reach.
"I stopped smoking in 1971," says Eddie. "I wanted to find out if I could do it and I did it, after chain-smoking for 21 years! At first, especially during the first three months, the 'withdrawal' period, it was hard. I had to chew gums and eat candies as substitute. You should watch your weight when you stop smoking because you tend to eat more. Food seems to taste better, you know."
How old is he now?
"Sixty-four," Eddie gives it to you straight, belying rumors that he is age-conscious. "I was born in Juban, Sorsogon, on May 2, 1920."
You look at the youthful face, unbelieving like most people, and you swear he doesn't look older than 45.
How does he do it, "arrest" the aging process, that is? Has he stumbled upon the Fountain of Youth?
"Moderation," says Eddie, "Moderation in everything. I don't abuse myself."
He avoids fatty foods, he rarely eats eggs, he eats mostly fruits and vegetables and fish (and lean meat every once in a rare while), he downs no less than 19 kinds of vitamins and minerals every day (doing so for the past 20 or so years).
He also exercises a lot and gets at least six hours of sleep every night. No nightlife, please, and no hard drinks, either. When he's not busy with shootings, Eddie is usually at the Mandarin Hotel gym lifting weights, doing sit-ups and push-ups, or right at home devoting as much as six hours to workouts. No matter how busy he is, he spends at least one hour and a half every day limbering up.
When Eddie has shooting schedules early the next day, he doesn't stay up late.
Regular check-up (once a year) is a must, too. During his last check-up six months ago, his doctor gave Eddie a clean bill of health: no palpitation, no hypertension, no aches and pains, no nothing. Eddie was, as usual, declared as healthy as a bull.
"Ang ibang tao ayaw magpatingin sa duktor, natatakot malaman na may sakit sila," says Eddie. "Ako iba. The sooner I discover an ailment, the better, para magamot kaagad."
(Lilibeth: "We had regular executive check-up every three months. He was healthy. His blood pressure and blood sugar were normal. During the May 13 mid-term elections campaign, we did sorties under the sun for a party-list he was supporting.")
Hmmm, what about women?
"What about women?" Eddie snaps back, feigning innocence. Then, he confesses, "I'm actually a one-woman man. I don't play around." (Lilibeth: "Sometimes, I would accompany him to his shoot. When he had a kissing scene with his leading lady, I would tell him, 'Go ahead, bagay kayo; you look good together.' I am not a competitive partner. I am supportive.")
He adds, in reply to a question how he "wards off" over-aggressive matrons (and younger admirers), "I'm tame. I'm very passive."
The truth, according to somebody who knows Eddie very well, is that Eddie may kiss — and kiss and kiss? — but he will never, never tell. It's below his dignity as a gentleman. "Besides," Eddie says, "why flaunt it?" (Lilibeth: "He's a gentleman with a generous heart.")
Pressed on, Eddie begs off. He isn't the kiss-and-tell type, remember?
What Eddie finds irresistible in women is a beautiful face. He is also intrigued by the way a woman walks, the way a woman carries herself. When he meets a woman, Eddie first concentrates on the face before going to the "lower essentials."
Come to think of it, is his reputation as a lady-killer all a myth?
Eddie is evasive again.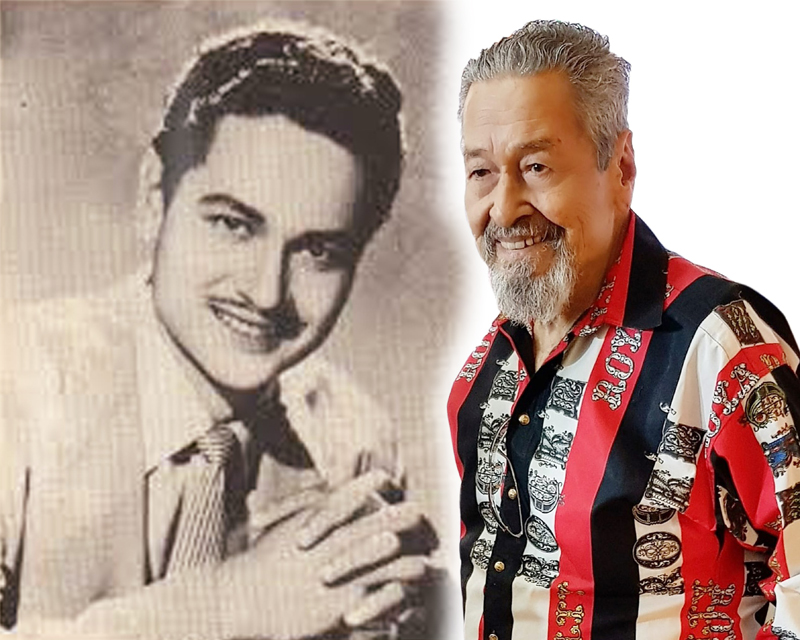 "Akala lang nila 'yun," he downgrades himself.
His "lady-killer" image is enhanced these days by a spate of sex-comedy roles, triggered no doubt by the Danny L. Zialcita "adult" comedy titled May Lamok Sa Loob Ng Kulambo which DLZ is following up May Daga Sa Labas ng Lungga, which also traces the rise and fall of an itchy husband's libido. In-between May Lamok and May Daga, Eddie chalked up Atsay Killer (a surprise hit shown recently), Kriminal (an action film with Rudy Fernandez) and Bigats, the first venture of Libran Films which pits Eddie with another "lady-killer" named Eddie (Rodriguez) and Rod Navarro, casting the trio as middle-aged men trying hard to act like bagets in pursuit of true-blue bagets played by Janice de Belen, Lani Mercado and Angela Perez.
In all his years in showbiz, Eddie has never stood up a shooting and has never gotten himself enmeshed in any controversies (he simply disregards them, refusing to add fire to them by making any comment at all). Even when he is doing four or five movies at the same time, he doesn't get his schedules mixed up. No, he doesn't have a coterie of secretaries minding his business and not a single alalay has ever been seen hovering around him.
Eddie embarked on a movie career quite late (at 30), by accident.
In 1949, while on furlough after serving for three years as a Philippine Scout, Eddie stayed with an aunt whose house was right across Sampaguita Studios in Quezon City. He would watch a shooting from the window of his aunt's house. Eddie Romero, who was then doing a movie starring Mario Montenegro, saw Eddie and encouraged him to try the movies. So Eddie applied as one of the stars in Manuel Conde's Siete Infantes de Lara (among the cast, Eddie is the only one still active in the movies).
"I was then already with the US Army, ready to go to Okinawa to enlist as a CID agent. I had a good record as a Philippine Scout and the provost marshal in Okinawa was going to recommend me for a scholarship at an officer's school in the US. Who knows, I might have come back an officer after that?"
But he got stuck in the movies — without regrets.
"Had I remained in the US Army," says Eddie, "any of three things could have happened to me: six feet under the ground because I might have fought in the Korean War; at kung saka-sakaling nakaligtas ako sa Korean War, I might have fought in the Vietnam War and got killed just the same or I would be a retired colonel today."
After Siete Infantes de Lara, Eddie made four movies with LVN before he signed a 14-year exclusive contract with Sampaguita. In 1964, he turned freelancer, but the late Doc Perez called him back to Sampaguita to direct Pinagbuklod Ng Langit in 1969, the second movie about the Marcoses. Out of the more than 400 movies he has done to date (more than a dozen of them won for Eddie several awards for Best Director, Best Actor and Best Supporting Actor of the FAMAS, which has elected him to its Hall of Fame), Eddie singles out Lino Brocka's 1970 drama Tubog Sa Ginto as among his most memorable. "My role in that movie was different from all the roles that I have played."
The secret of his durability, according to Eddie, is not a secret at all. "Kung ano ang trend, sinusundan ko." When the bomba was in vogue, Eddie dropped his pants and hammed it up nude under the shower (remember his sizzling scenes with Rosanna Marquez in Erotica and Querida Mia). The point is that Eddie is so "adjustable" that he is always in demand, in step with the times.
"To me," says Eddie, "directing or acting in a movie is just a job. Nothing more, nothing less."
Told that his life story would make a smash-hit film, Eddie smiled. "My life is boring, bagay for Holy Week." An understatement.
In a December 1998 Conversation, I asked Eddie what was the worst thing that ever happened to him. His eyes turned sad as he thought deeply.
He answered, his voice choking a bit, "The worst, I guess, was when my son died in a motorcycle accident. The motorcycle burst into flame. It happened in 1973 and my son was 22. It was a shattering experience. It was a sudden death; he was very healthy. The next thing I knew, he was dead. Iba kung nagkasakit ka. At least, parang expected mo na."
How ominous. Forty-six years later, Eddie would get involved in an accident that led to his death.
Then and now, Eddie wasn't able to say a formal goodbye.
"It would take a long time before I'd get used to his not being beside me," said Lilibeth. "I knew that he wouldn't be coming home that fateful Saturday night, June 8, but I waited for him just the same. Imagine, we were together for 33 years!"
* * *
(E-mail reactions at rickylophilstar@gmail.com.)