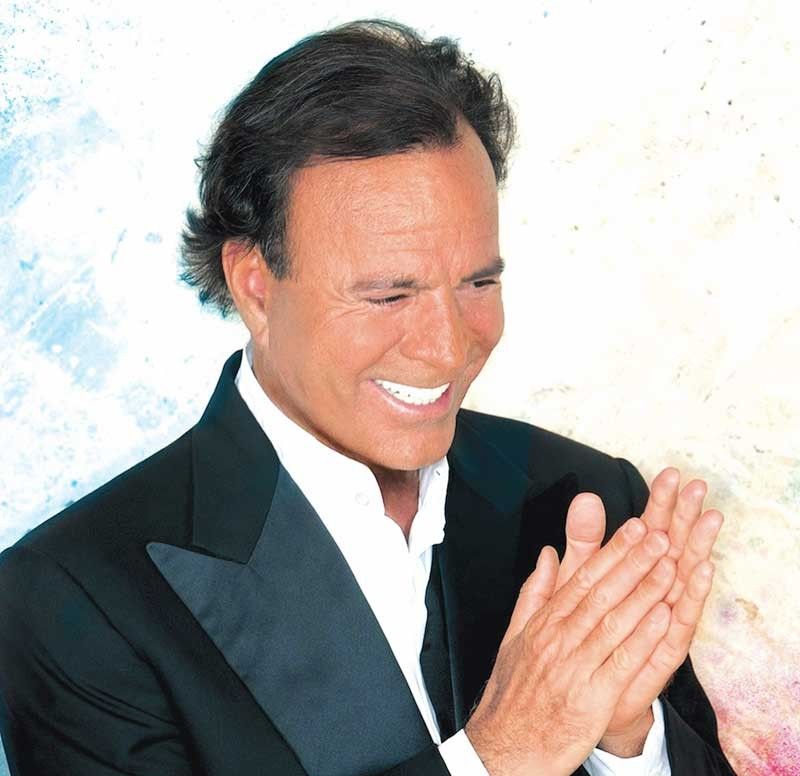 Julio is indeed a great artist. He is a superb interpreter of songs. He is the kind who can hold audiences enthralled by his delicate phrasing and who can turn any song into his own.
50 years of Julio Iglesias
A friend who has become disillusioned with Michael Jackson after all those accusations of sexual misconduct on the part of the King of Pop called my attention to this. The Jackson 5 is not the only major music act that has reached its 50th year in the business this year. In fact, the one more deserving of the space is the Spanish superstar Julio Iglesias.
I still stand by what I wrote about The Jackson 5. Talent is talent and those boys did make pop music history. But then, I also believe that Julio's 50th anniversary is one that should be celebrated in a big way. Not only because he is this romantic Latin idol of the swoony Old World charm or that he has sold over 250 million records and has performed to over 60 million people all over the world, but also because of the Filipino connection in his life.
Julio was married to the beautiful Filipino socialite Isabel Preysler, who hails from Pampanga. They had three children, Chabeli, Julio Jr. and the famous pop star Enrique. They have since divorced and raised other families. Julio and his Dutch wife Miranda are now parents of five great-looking children. But whenever Julio's name comes up anywhere around here, Pinoy fans still thrill to the fact that he once had a Filipino wife and that the gorgeous Enrique is actually half-Filipino. Well, of course, they are all of Spanish ancestry.
But Filipino connected or not, Julio is indeed a great artist. He is a superb interpreter of songs. He is the kind who can hold audiences enthralled by his delicate phrasing and who can turn any song into his own. I really mean unmistakably into his own and you will surely agree if you will listen to his versions of If by Bread, Careless Whisper by Wham!, or Fragile by Sting or Drive by Cars. He turned them all into Julio Iglesias songs.
But would you believe that despite such extraordinary talent and with good looks to boot, Julio never envisioned a career as an entertainer while growing up in Madrid. Everything concerning the music happened to him literally by accident.
Julio was studying law at the CEU Universidad de San Pablo and playing professional futball as a goalie for Real Madrid Castilla when he met an automobile accident that ruined his lower spine. He lost movement in his legs for two years and had to resign himself to the fact that he will not play futball again.
It was then, while recuperating from his injuries that a friend gifted him with a guitar. And it was while trying to exercise his fingers that Julio discovered he could write songs and that he could sing. Back on his feet in 1968, Julio made his debut at the Benidorm International Song Festival in Spain. He won the grand prize with his own composition, La Vida Sigue Igual.
It was a year later in 1969 that Julio at the age of 25 embarked on his professional singing career. It was then that he released his first album titled Yo Canto or I Sing. He was an instant success. Julio also became a major star in Europe with hit recordings in French, Italian, German and other languages. However, it was his move to the United States in 1980 and his decision to sing songs in English that made him a global phenomenon.
Julio combined old and new compositions in his English repertoire. Standards like Begin The Beguine (Volver a empezar) and Crazy were treated to his continental touch. He had originals like Moonlight Lady. He turned his Spanish songs into English like Hey. He recorded a lot of duets, To All The Girls I've Loved Before with country music great Willie Nelson, All Of You with Motown diva Diana Ross, Crazy, When You Tell Me That You Love Me with country music star Dolly Parton. These plus other hits turned him into a pop music legend all over the world.
Along the way, Julio also added some Grammys, Billboard Music Awards, his own star on the Hollywood Walk of Fame, Gold and Platinum Records and many other honors to his collection from Europe and other countries.
Julio is now 75 years old. According to recent reports, he now lives in the Dominican Republic with his family. He still records and performs in concerts occasionally.