From left: Bb. Pilipinas-Grand International Samantha Ashley Lo, Bb. Pilipinas-Supranational Resham Saeed, Miss Universe-Philippines Gazini Ganados, Bb. Pilipinas-International Bea Patricia Magtanong, Bb. Pilipinas-Intercontinental Emma Mary Tiglao and Bb. Pilipinas-Globe Leren Bautista
Photos by Ver Paulino/ Queens in white swimsuit courtesy of Bb. Pilipinas Charities, Inc. (BPCI)
What the Binibinis remember most about their dads
CONVERSATIONS
-
Ricky Lo
(The Philippine Star) - June 16, 2019 - 12:00am
First, let's find out how the newly-crowned 2019 Binibinis describe themselves in…what else?...three words.
• Miss Universe-Philippines Gazini Ganados (Talisay City, Cebu), 23: Bubbly, fierce, fearless.
• Bb. Pilipinas-International Bea Patricia Magtanong (Bataan), 24: Emphatic, driven, intelligent.
• Bb. Pilipinas-Grand International Samantha Ashley Lo (Cebu City), 26: Focused, fighter, proud.
• Bb. Pilipinas-Globe Leren Mae Bautista (Laguna), 26: Lagunense, empowered, determined.
• Bb. Pilipinas-Supranational Resham Saeed (Maguindanao), 25: Muslim, empowered, compassionate.
• Bb. Pilipinas-Intercontinental Emma Mary Tiglao (Pampanga), 24: Amazing, unique, fighter.
This is the Q&A off-stage and you, dear readers, be the judge.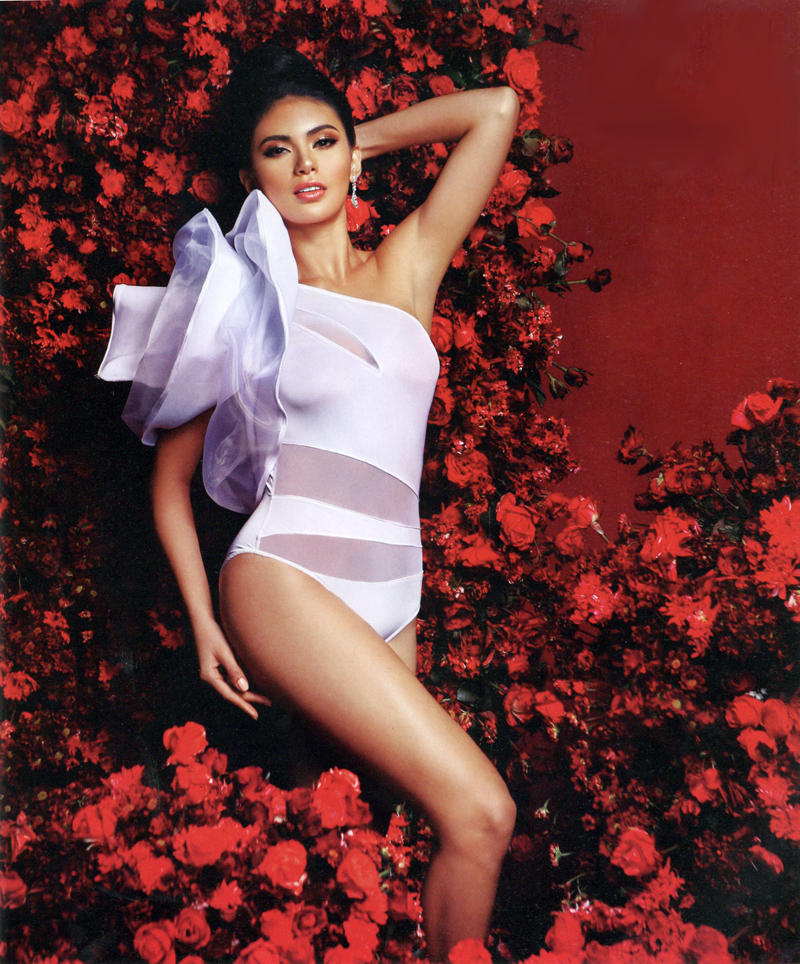 Gazini
It's Father's Day. Describe your dad and your fondest memory with him.
• Gazini (half-Filipino/half Palestinian): I hardly know my father. Father's Day is not only for fathers but also for single mothers who raise their children both as a mother and as a father. My mom is like that. Today, I would like to pay tribute to her for also being a father figure to me. She built our house in Dapitan and proved that a woman can do what a man can.
Perhaps my only memory about my dad is captured by an old photo displayed in our sala. As a kid, I always played an angel during the Flores de Mayo. That picture of me, my mom and my father was taken during a Flores de Mayo. I look cute in it as an angel. I am an only child.
• Patricia (a new lawyer who passed the latest bar exams): My dad is a lawyer and he is supportive in everything that I do, starting when I was in law school. He would quiz me every single day, "O, Pat, what's article this and that?" We enjoy bonding because we have the same interest. He's a professor and he kind of prepared me for what I am today. He would bring me to school every day. Taking up law brought me closer to him.
I told my dad that I wasn't good in pasarela and I hinted that maybe we should buy a big mirror. The next day, he came home with a huge mirror and set it up in the dining room. During the pageant, he and my mom were kept posted on pageant stories, cuddled up over one phone. They would share my photos at nang-aaway ng bashers, hahaha!!!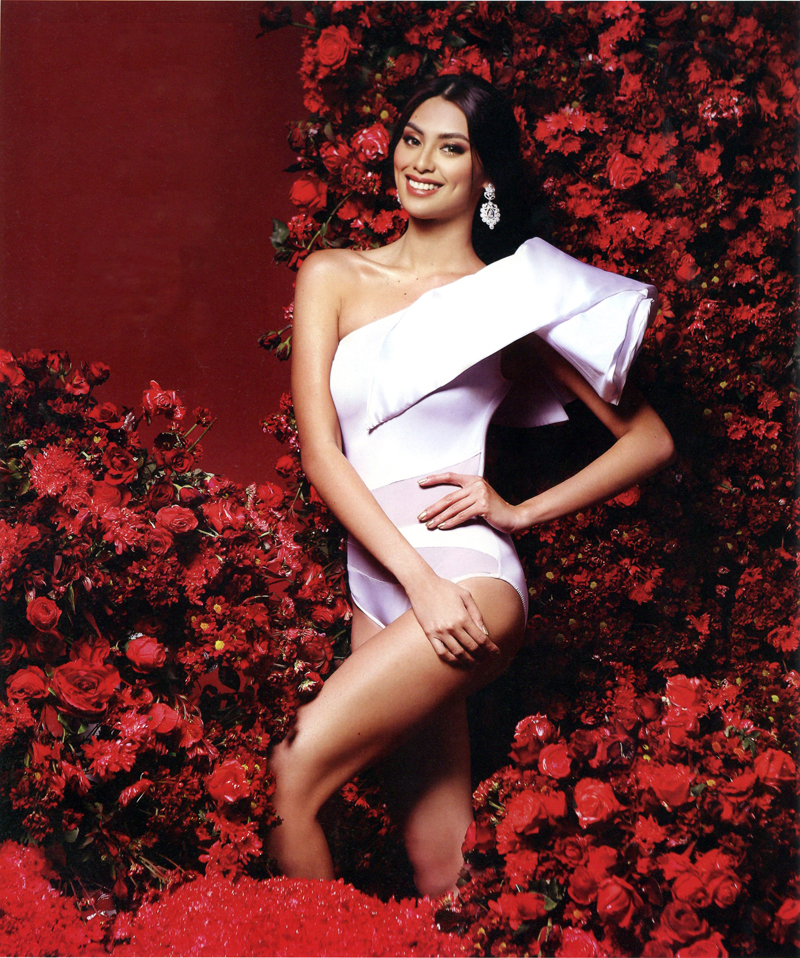 Patricia
• Samantha (born and raised in Florida, USA, daughter of a Chinese father and Cuban-Nicaraguan mother, working as an English as a Second Language [ESL] teacher and finished her nursing studies at the University of Cebu): My father has told me everything that I know. He made me who I am today, though he could be critical at time. I know that he's doing it because he loves his children. If not for him, I wouldn't be the independent person that I am. He's my No. 1 fan.
We have a factory and he taught me how to use power tools, teaching me basically how to put a house together.
• Leren (2015 Mutya Ng Pilipinas/Miss Tourism Queen of the Year International, Marketing Management graduate from Colegio de San Juan de Letran in Calamba, Laguna): My dad is very funny, he's a comedian who makes me laugh with his lame jokes. I would laugh until I cry. He's also a great cook and I love the dishes that he would cook for our family.
I remember how he taught me to make a tipaklong (grasshopper) out of a coconut leaf. I wanted to use it as my talent for the Talent Competition but there was not enough time and I lacked the material.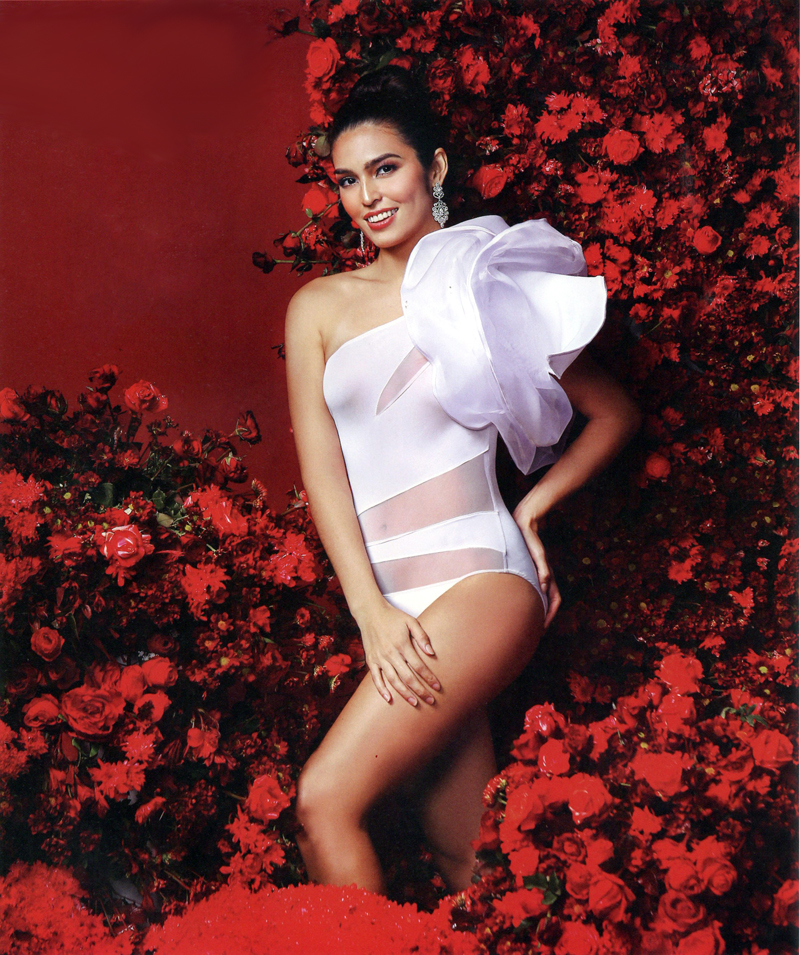 Samantha
• Resham (born in the Philippines and raised in Toronto, Canada; awarded Metro Toronto's Prettiest Filipina in 2012 and Miss Philippines Canada in 2017): My dad is essentially the sole reason why I'm empowered and confident. He has always treated me as his other son. I am the eldest of four and my siblings are all boys. My dad didn't let the fact that I am a woman hold me back from accomplishing anything what I set my heart to. He told me that I could conquer the universe if I wanted to.
When I was 10, he bought me a make-up kit. My mom was strict and she didn't allow me to wear make-up and heels and she believed that I should act my age, that I shouldn't dress up too much. But my dad was something else. I was so excited with my make-up kit that I applied the lipstick on my eyes. I looked funny! I guess that was how I found my feminine side. And look at me now, I can apply my own make-up.
• Emma Mary (an animal lover and a Tourism graduate): My dad is an OFW in Saudi. We consider him a hero of our family. He's a good provider. He left before the pageant; it would have been his first time to watch me compete for a title.
When I was a kid, my dad used to tickle my back.
How would you sell the Philippines abroad by describing the region that you represented in the pageant?
• Gazini: Talisay is a fast-growing metropolis. We hold a Lechon Festival every June. Beaches and mountains are an hour away so you are actually having the best of both worlds. Like the rest of Cebu, Talisay is noted for its hospitality.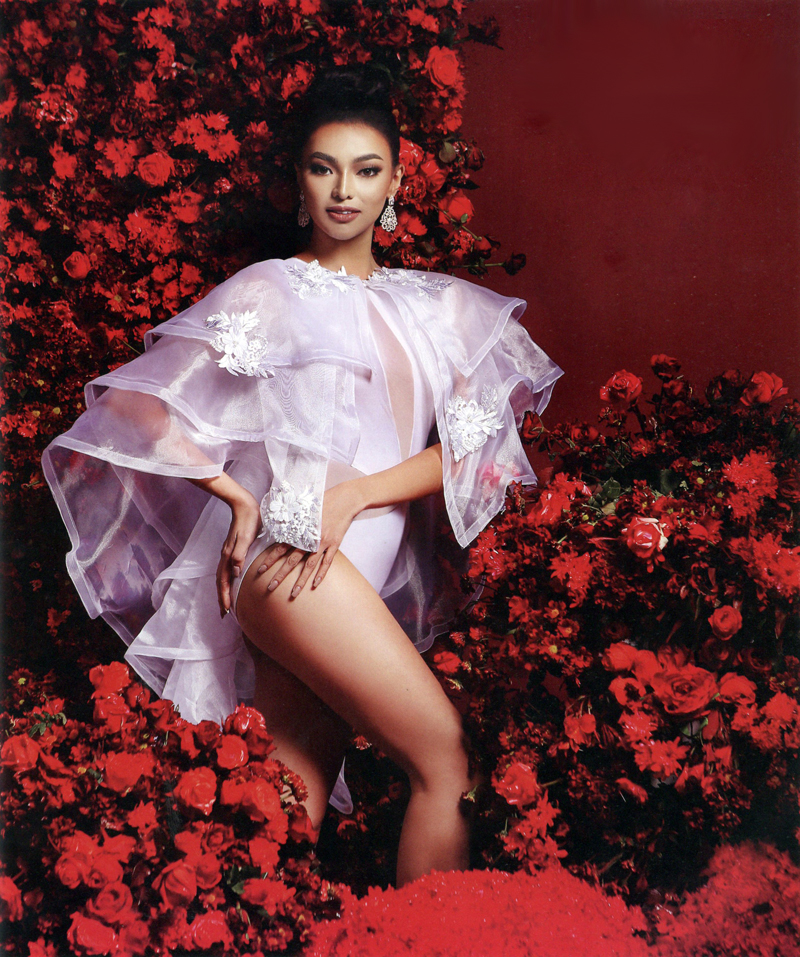 Emma
• Patricia: Bataan is known as The Cradle of Valor. It was the last province to surrender to the Japanese Occupation during World War II. We are proud to show visitors the shrine on top of a mountain. Bataan is rich in history and visitors have a lot to learn about it.
• Samantha: Ever since I moved to Manila from Cebu, people have been telling me, "Oh, you're from Cebu? The Cebuanos are the warmest and friendliest people that I've ever met." I don't want to brag about my province in a way that would make other people say, "Oh, we are warm and friendly, too!" I'm very, very proud that we are known for that, and I want the whole world to know that there's a place in the Philippines where people love and support one another the whole way.
• Leren: Aside from being the birthplace of Dr. Jose Rizal, Laguna is famous for its hot springs. If you want to relax with family and friends, Laguna is the place to go. We also have several churches which are perfect for Visita Iglesia during Holy Week, And yes, we produce the best buko pie.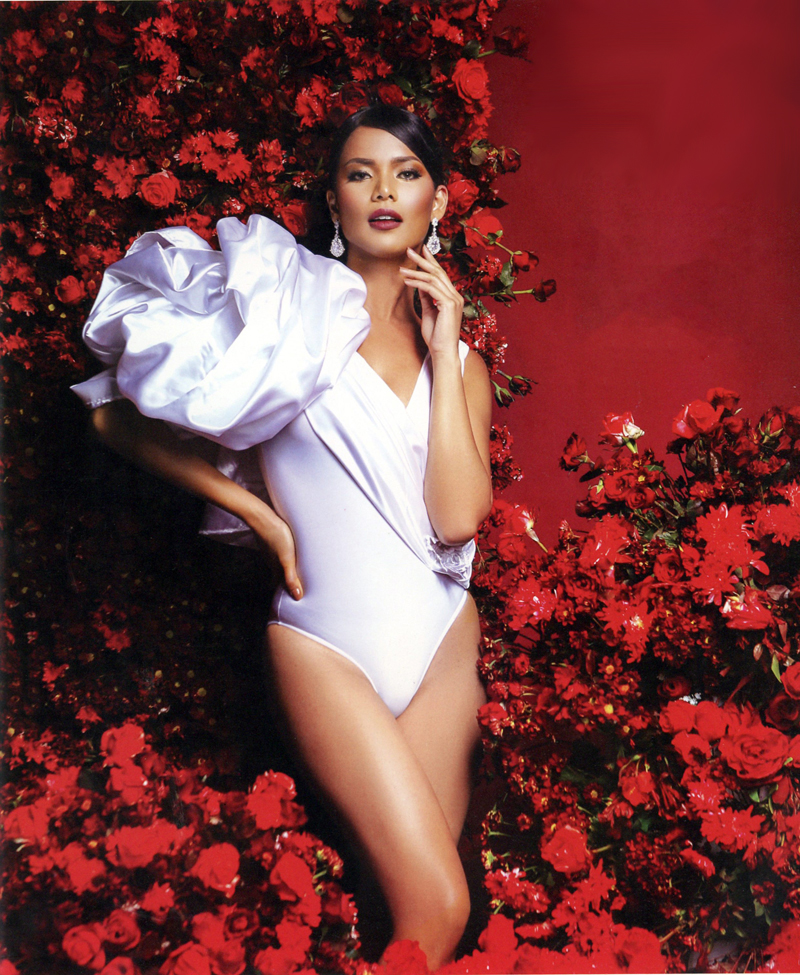 Leren
• Resham: Majority of the people living in Maguindanao are Muslim-Filipinos. I feel that we are very underrated. I know that all Filipinos are brave, loving and welcoming but there is this core value among Muslims that we take a lot of pride in inviting people to our homes and feeding them. In our religion, we get a special blessing from God when you feed another person. The Muslim culture is very rich and very strong?you can see that in the fabrics and in the house décor. I would very gladly invite everyone to visit Maguindanao.
• Emma Mary: Well, we don't have scenic beaches; what we have is great food that's why Pampanga is called the Culinary Capital of the Philippines. We have the best sisig. We have the so-called charcoal churches. Remember the movie Santino? It was filmed in San Guillermo Church (Bacolor) which was covered by lahar. What used to be the window is now the door.
If you were to be somebody else, who would you rather be and why?
• Gazini: I would be Kumander Liwayway Gomez, a Kapampangan. She fought so hard during the Japanese Occupation even as she was wearing lipstick.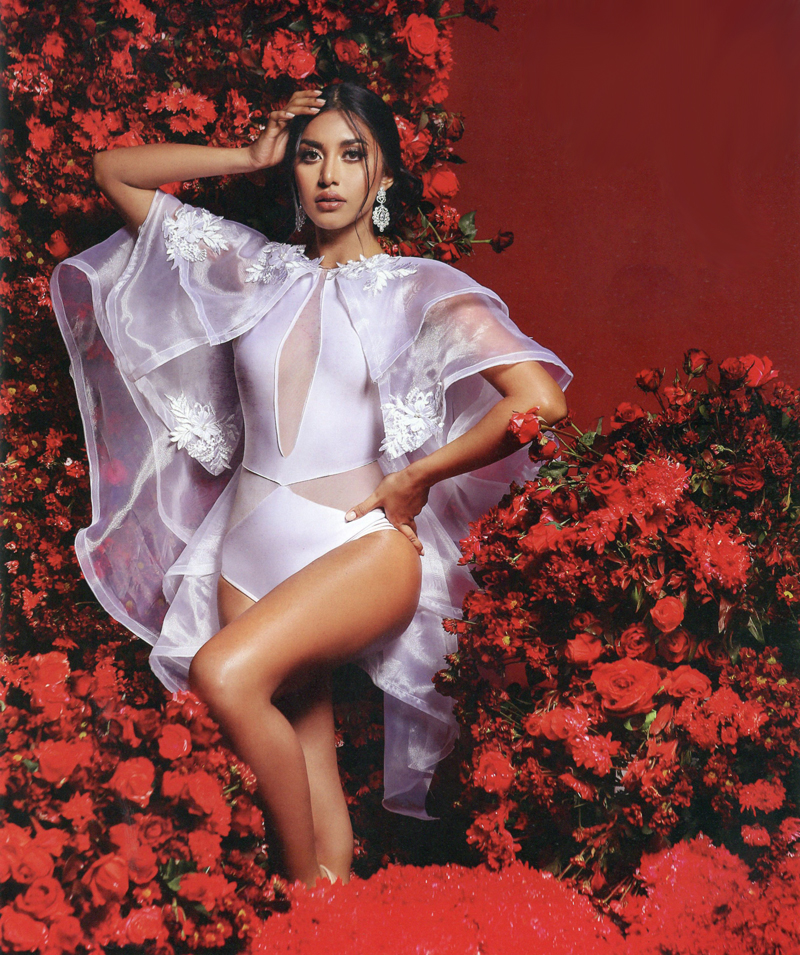 Resham
• Patricia: As I mentioned during the pageant, I really admire Angelina Jolie. I look up to people who use their fame to speak out. For example, Audrey Hepburn…such an icon who became a philanthropist. And Leonardo DiCaprio who uses his platform to speak about climate change. When you are given a title or a "voice," it's your moral responsibility to use that to influence people.
• Samantha: I'm happy with the person that I have become. I have a great life, I've faced several challenges that other people wouldn't wish on anybody, so I'm so proud of myself. I'm 26. I would say that I did it with the help of great friends and a great family. I'm happy with who and what I am.
• Leren: My grandmother Crisanta. I call her Lola Antang. She raised 13 children, including my mom, very well despite the lack of resources. I admire her for being such a strong mother. She's an inspiration to me to never give up your dream.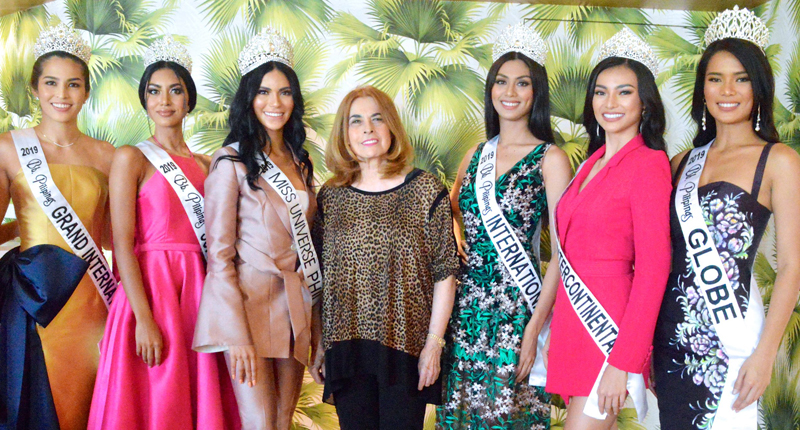 In the company of Madame Stella Marquez-Araneta, head of the Bb. Pilipinas Charities, Inc. (BPCI), the foremost Queen Maker
• Resham: I would like to be my role model, Amina Rasul, the head of PCID (Philippine Center for Islam and Democracy). She works with Muslim communities to bring genuine democracy to those places. If I could accomplish a quarter of what she had, that would be great. Anyway, I've noticed a lot of similar qualities between me and my mom. I don't want to change who I am. I just want to continue being a better version of myself. Although my dad wasn't around much, he did work so hard to provide for our family. We are a large family. Technically, my mother did a lot in raising us children. I hope to be an outstanding woman like her.
• Emma Mary: It may sound like a cliché but I don't want to be anybody else. But if ever, I would like to be my mom. My mom was adopted, she never grew up with her biological parents. I want to experience what she did…the hardships, the challenges and the struggles that made her a good mom. There are four of us children and I'm the youngest. She raised us well. My mom is my role model.
* * *
(For more updates, photos and videos, visit www.philstar.com/funfare or follow me on Instagram @therealrickylo.)