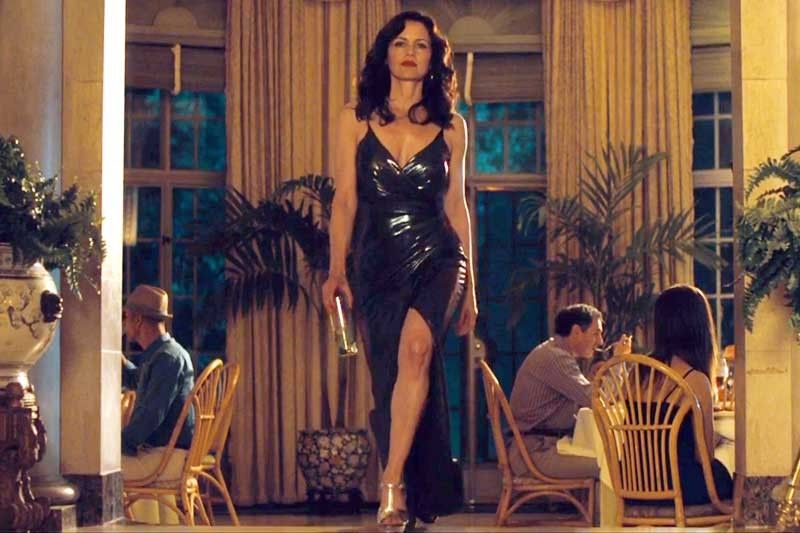 'As actresses, we're asked to bring humanity, complexity, a level of emotion and the male character gets to, kind of, just exist and walk through it and live his day. And, in this case, Jett gets to do that,' said Carla Gugino of her titular role. 'It's a very rare opportunity. I don't think I've ever had the opportunity in anything I've done.'
A role that Carla truly embraces
MANILA, Philippines — "She's all woman. There are the kind of movies where women take on male qualities — I am not knocking those movies — and they play like an ice-cold queen, terminator-type things, Jett is nothing like that," director Sebastian Gutierrez explained during our roundtable interview held at The Whitby Hotel in New York City this week. "Jett is not a martial arts expert and she's not the greatest shooter, she's just a really smart woman who can assess a room and navigate the situation if she needs to get out the door without getting into a fight with a guy."
The acclaimed Venezuelan writer-director (Gothika and Snakes on a Plane) is known for his visually arresting aesthetic and complex characters that frequently break stereotypes. In Jett, he has created a strong female character that is part-femme fatale and part-antihero — a criminal, so to speak.
The idea for Jett came from the director's fondness of reading crime novels and from his observation of the current TV landscape. "There are great roles for women on television now but the antihero is still an area in which, it seems like, the men can do whatever they want and the women are put in these categories where they have to be manipulated or they have to be socially awkward."
"A woman is going to be criminal, she doesn't have to be Robin Hood, she doesn't have to be a victim, why couldn't she sleep with somebody if she wants to? And, if she has to kill somebody, she would have to do that. In essence, basically grabbing the kind of roles that Lee Marvin or Clint Eastwood would usually do and have it be played by a woman. The fact that it's even breaking the stereotype or subversive in 2019 is the scary part," he added.
Jett tells the story of Daisy "Jett" Kowalski, a retired professional master thief who was just recently released from prison. She finds herself pulled back into a series of assignments masterminded by ruthless criminals who are determined to exploit her skills for their own needs, after narrowly completing that one proverbial "final job."
The CINEMAX drama series began its nine-episode season last June 14. The series is also available to stream on MAX GO, CINEMAX On Demand and various streaming platforms in some parts of the world.
The acclaimed screen and stage beauty Carla Gugino stars as the titular Jett, a role that she welcomed and embraced.
"As actresses, we're asked to bring humanity, complexity, a level of emotion and the male character gets to, kind of, just exist and walk through it and live his day. And, in this case, Jett gets to do that," she declared. "It's a very rare opportunity. I don't think I've ever had the opportunity in anything I've done. "
According to Carla, what she found interesting about her character was how to pare back the characterization of Jett. "It was actually about showing less. It was actually less about trying to communicate, trying to allow an audience to understand her and more about having an audience be compelled by her, intrigued by her, even if they're not sure if they like her at the start."
The beautiful actress, who credits her genes and her gluten-free diet for her age-defying look, lamented the double standard that existed between male and female parts until recently.
"It really is a double standard. It's an interesting thing because there are so many great roles for women on television, in particular, right now, but we have these great male characters, who are antiheroes (she cited "Ray Donovan"), and we don't have to explain why. They just are that."
As Jett, she found herself "intrigued by the balance between trying to figure out how to be a mother, which is the hardest job in the planet, and being an expert thief."
"In life, there are many women, many people that don't fit the usual. None of us really fit the usual, but I think that with her, the key was she's not the phoenix rising out of the ashes and now being wronged by someone and now she's out for revenge. No, she's just living her life! She's just there, she's going to deal with what she has to deal with — in certain cases, that might mean killing someone — but she's not venomous in any way," she added.
In a strange way, Carla, admits to having been inspired by Jett.
"Any character I play, I usually can go, 'Oh, I don't want to be like that. Oh, but I do want to learn from that.' With Jett, I don't plan on going in and breaking into places but I do love that she sees the world from the inside out. She's much less concerned about what anybody thinks about her and probably because I started acting very young and being examined from the outside at a very young age."
"It took me a number of years to go, 'Oh, right, I have to just keep my own counsel and do what I believe in because that's all I have control over anyway."
Carla has been in the business for close to 30 years and she has seen how the industry has evolved for the better.
"All I wanted when I was in my 20s was to get to my 30s to be able to be taken seriously," she recalled. "At that time, I felt like I looked like an ingénue, I, theoretically, was one but I did not feel like one inside, I didn't sound like one. I had a very deep voice and I felt like I would find my calling much later, like, the inside and outside of me would come together."
"I can say that, after 30 years, things have changed hugely in a great way and, then, of course, you come up with certain issues (referring to the issues that gave rise to the 'Time's Up' and 'Me Too' movements) that we are seeing in the world right now, this country in particular, that you can't believe we're going backwards in time so there's a strange, kind of, culmination of elements."