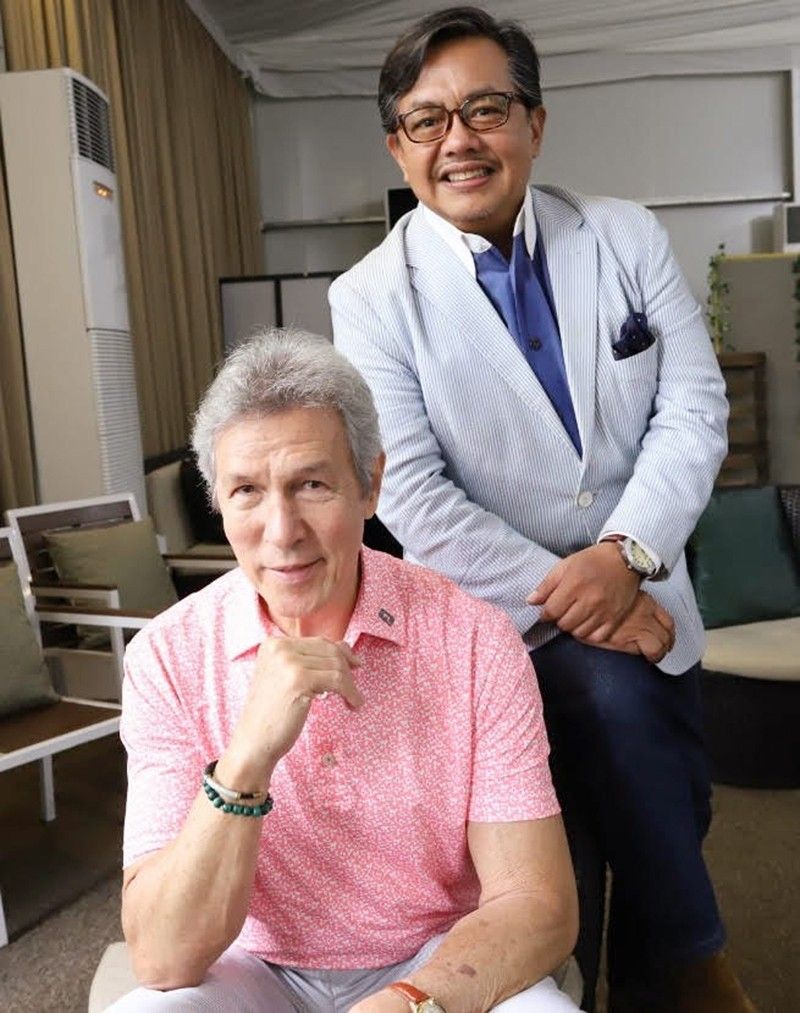 Freddie Webb (left) and Boyet Sison work hard to fulfill the requests and wish lists of sports fans who are tuned into their program Fastbreak on DZMM Radyo Patrol 630 and DZMM TeleRadyo every Saturday, 3 p.m.
Why Freddie says no to biopic
"No, thank you."
That was Freddie Webb's quick response when asked if he would agree to turn his life story into cinematic work. It would be a big gamble on the part of the producers, he quipped.
But why not when Freddie is among the few who successfully made a career in three equally interesting fields — sports, acting and politics?
"I'm still alive so I wouldn't allow my life story to be made into a movie. It's not that life stories are only for the dead, ayoko talaga because I don't think it's gonna be exciting; I'm not a superstar," reasoned Freddie who is a living legend in Philippine basketball before becoming a politician.
For those not familiar, Freddie was one of the popular basketball players in his younger years. In fact, he is one of the last surviving basketball Olympians that this country has produced. It was Freddie's team who last represented the Philippines in Olympic basketball in 1972. After retiring in 1978, he coached for YCO-Tanduay in 1981 for two years and then handled the Shell team in 1985.
Apart from coaching, Freddie held government positions — councilor, congressman and senator — and moonlighted as an actor. His comedic team-up with Nova Villa in Chicks to Chicks was remarkable, especially their funny line to each other, "Sweetheart, ligo na tayo."
And here's a trivia: Did you know that he also became a recording artist?
"I had a record 45 rpm, the actual 45 na plaka. The song was Rubber Ball (and he proceeded to sing), 'Rubber ball, I can bounce and back to you…' Well, that was a long time ago, I even forgot the song on the flipside. That was also the time when I found out that singing is not for me because nothing came out of it for the recording company. I was their first and last recording artist (laughs)."
Acting, Freddie admitted, has been giving him a good pay. "I have been blessed kasi kung kailan ako tumanda dun dumami ang proyekto; nakakagulat talaga."
He either portrays as a father or grandfather character on the big and small screens. But Freddie is not complaining knowing that he is fortunate enough to be enjoying his senior years.
"A lot of people don't grow old. Well, I have to admit that at first, I was ashamed to say my real age, especially when I became a 'senior' citizen," he confessed and went on to share an anecdote about using his senior citizen card for the first time.
"Me and my wife (Beth) went out and ate at a Chinese resto. I had just gotten my senior citizen ID. Right after we finished eating, I gave my senior citizen card to the old Chinese woman who came to our table. You know what, from where she was standing, all the way to the cashier, sumigaw s'ya na ang sabi, 'O, Freddie Webb, ha, senior citizen.' I was so embarrassed that I wanted to get out of the resto. So mula nun, iniiwan ko na lang 'yung card ko."
At 76, Freddie is able to maintain his good looks and healthy physique. His interest in sports remains evident by the way he talks in Fastbreak, the DZMM Radyo Patrol 630 sports talk program that he is co-hosting with Boyet Sison. It can also be seen on DZMM TeleRadyo every Saturday at 3 p.m.
"I never really thought we will reach 15 years. I remember it was by accident that I met Sir Peter Musngi at the Subic Yacht Club and I told him that there's no sports talk in DZMM. And then he asked if I can do it and I agreed. That was the start at ang pagkakamali ko lang, I didn't get any salary during the first year kasi sabi ko libre (laughs)," narrated Freddie.
He, too, recalled that his co-host kept changing until Boyet went onboard. "It's important to work with somebody who knows the trade. And I'm fine working with him."
Boyet, for his part, recognized Freddie's contribution to the world of sports by saying, "The Philippines has not had an Olympics men's basketball team since 1972. For me, that's already a big thing. I am talking to a legend. I am doing a program with a legend."