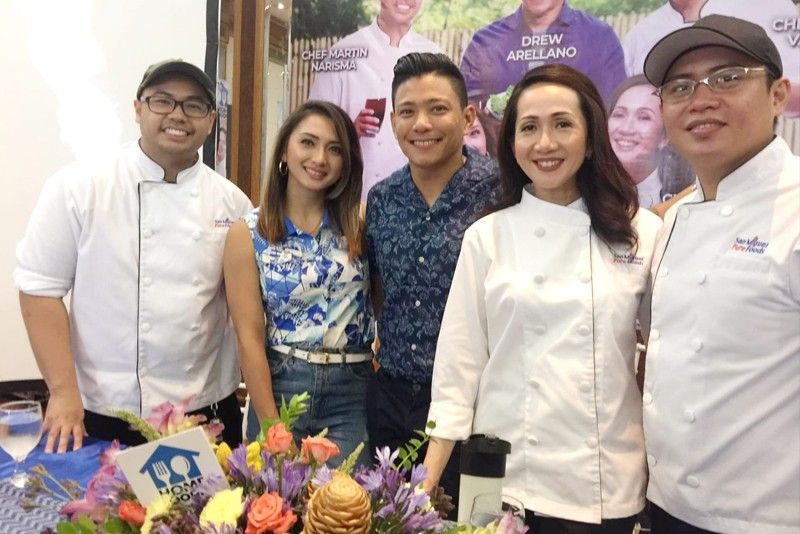 Hosts Drew Arellano and wife Iya Villania with San Miguel Culinary Center celebrity chefs (from left) Martin Narisma, Llena Tan-Arcenas and John Valley
Photo by Honey Orio-Escullar
'Affordalicious' recipes in Home Foodie 5
MANILA, Philippines — Kapuso real-life couple Drew Arellano and Iya Villania are back with San Miguel Culinary Center celebrity chefs Llena Tan-Arcenas, Martin Narisma and John Valley for a fresher fifth season of Home Foodie which airs weekdays after Unang Hirit.
Unlike the past seasons, the show now brings televiewers to different locations with "madalicious" and "affordalicious" recipes done and served on location like the refreshing view of the Sierra Madre Mountain Ranges as the kitchen backdrop.
Chef Llena said, "We have to think of something different for Season 5. Yung ambience sa ibang lugar like the Tanay area is so refreshing not just for the viewers but for us also in Home Foodie. Iba yung dating niya, sobrang mas ganado rin kami mag-cooking demo (when we were taping that time)."
Lucky home foodies are also invited to the remote kitchen to watch the cooking demos and try the featured dishes.
Iya said that the new season also comes with resto-inspired and classics but with new twists and level-up ideas and cooking tips. Home Foodie further engages the ka-home foodie community on recipe ideas, questions and needs that can be addressed as Drew roams around the metro to talk to viewers.
He said, "I'm going to be sharing my adventures with you when I talk to fellow home foodies, mga netizens… so that's gonna be an exciting element."
The show's followers are assured of dishes that are not only easy-to-prepare and budget-friendly but are also healthy.
"Yes," confirmed Chef Llena. "I'm also a nutritionist and a nurse by background so I do practice nutrition in what I do at work so despite us being known for meat products, I always incorporate fruits and vegetables into the dishes that we prepare."
She added, "We do a study every two years on Home Foodie, on how the show has been and it's a focus-group discussion and we're able to get insights on what are the cooking issues or concerns of our ka-Home Foodies.
"And for this season, ang dami naming learnings. One is budget-constraints. They follow a fixed budget so we tried to address that also with the recipes for sharing. Second are issues on how to do a dish makeover? Yung breakfast mo to lunch, lunch to dinner, so what we did here is that with one or two ingredients we can transform a specific viand into something else so reinvented siya. Another very common concern is (how to be a) wais nanay, like how do you hide the fruit or vegetable in a dish so that your kids will eat more? So we've done that."
As for mommy Iya, the show has helped her become more conscious with what healthy dishes she prepares for their eldest Primo, who enjoys cooking/baking time with his parents.
"Yes, it has helped a lot, especially because we know what Primo looks for. Kung ano yung mga nagiging favorites niya, he loves crunchy food. Actually, sobrang dali kasi minsan si Primo na mismo yung naghahatak sa'kin papunta sa kusina. He enjoys cooking kahit kunwari may brownies na kaming kaka-bake lang kahapon, he would say this morning, 'Let's bake brownies.' He really enjoys cooking. So, it's actually very easy because he loves to be in the kitchen."
Drew agreed, "For him kasi it's the process of (it). Kahit when the mama and the papa come home from the gym, sabihin natin in the morning when we come home around 9 o'clock, automatic yan si Primo wants to help the mama make her protein shake. So it's the process of being with or doing activities with the mama and the papa."
(Home Foodie episodes is also available online via www.homefoodie.com, YouTube, Facebook, Instagram and Twitter accounts.)