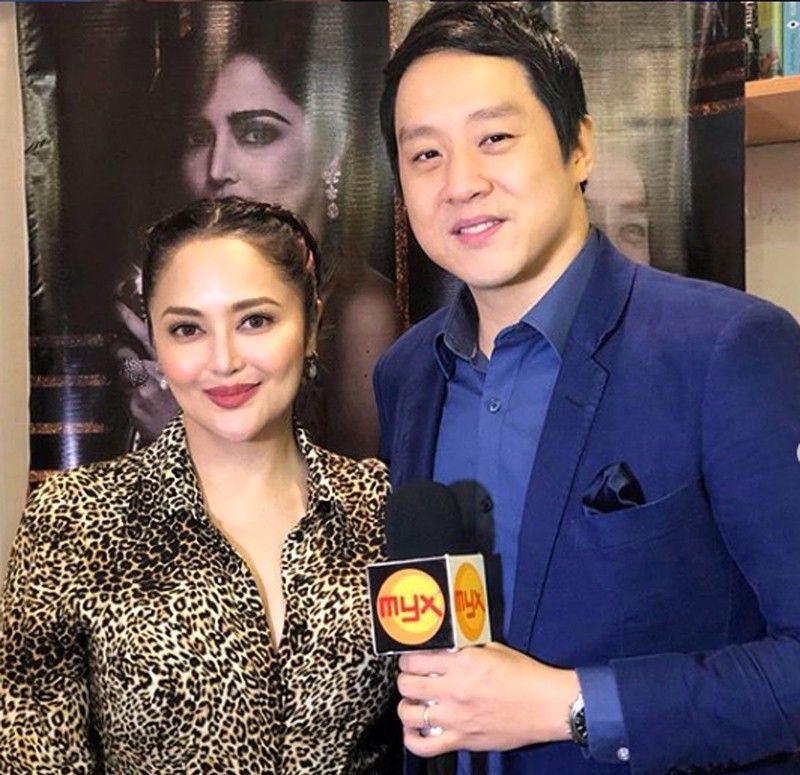 Jessa Zaragoza and Richard Poon will perform together on stage for the first time in Just Right: The Diva and The Crooner Live in Concert on June 8, 8 p.m. at the Newport Performing Arts Theater of Resorts World Manila
Photo from Jessa Zaragoza's Instagram
Richard and Jessa: Just the right combination
MANILA, Philippines — Having two artists of different styles and genres collaborate for the first time makes it a lot more interesting to see Jessa Zaragoza and Richard Poon perform on the same stage via Just Right: The Diva and The Crooner Live in Concert. It is slated on June 8 at the Newport Performing Arts Theater of Resorts World Manila.
Jessa is known as the Jukebox Diva for such popular hits as Bakit Pa, Paano Kaya and Ikakasal Ka Na, while Richard is dubbed as the Big Band Crooner for his renditions of I'll Take Care of You, Kahit Maputi Na Ang Buhok Ko and many more.
According to Jessa, working with Richard is a fresh concept and she herself is curious about the outcome knowing that they are not of the same music genre. "I really look forward to what is going to happen in this collaboration and just learning the (song) line-up adds excitement."
"We all know that Jessa has a lot of hits mostly jukebox while mine falls (under) the big band (category) na medyo jazzy," began Richard about their collaboration. "And to combine the two styles is quite interesting that led the producers to come up with something that can be likened to lounge performance in a hotel — 'yung tipong may kumakantang sexy (singer) with piano accompaniment but in our concert, big band 'yung nasa likod. Ang banda namin dito parang dose yata. We'll have full horns, mga six pieces so parang sound ko na nilagyan mo ng sexy lounge singer.
"Personally, my favorite part of the show is when her hits will be made into a big band medley so it's very interesting to hear how her songs na nakakanta mo ay gagawing big band."
Richard also shared that even though he and Jessa would see each other during parties hosted by their management agency Cornerstone Entertainment, not once did they get to talk to each other. "I know her, of course, but it's her husband Dingdong (Avanzado) whom I conversed with most of the time. I have to admit that I do adjust every time I have a partner on stage for us to blend well and I see that Pinay (singers) usually are belters. But I do not see Jessa in a belter mold because I see her as a lounge singer."
In fact, Richard was saying that Jessa can be compared to Jessica Rabbit, the fictional character from the animated film Who Framed Roger Rabbit. "That's exactly what's in my mind (for this collaboration)."
For her part, Jessa quipped she all the more felt the need to go on a diet as part of her preparations for the concert.
"But kidding aside, there are really lots of preparations before a concert not just to rehearse the songs or to be fit physically. I also believe that I should be prepared mentally para naman lumevel ako sa galing n'ya," she added.
Richard, on the other hand, is focused on his music because he knows that Resorts World has been doing concerts for sometime now and catering to a captive market that appreciates different kinds of music. That's why he is confident that there are people who will troop to the venue. "That makes it easier for us to prepare because we do not have to worry about the ticket sales. We just have to focus on our music and also on (building) our chemistry."
Richard and Jessa will render classic hits. They, too, will do a duet of Jessa's new original song. Performing with them in special numbers are guests Jeremy and Jayda Avanzado.
(Just Right: The Diva and The Crooner Live in Concert is produced by Cornerstone Concerts and Resorts World with Dido Camara as director and Ria Osorio as musical director. For tickets, call Ticketworld at 891-9999 or log on to www.ticketworld.com.ph.)