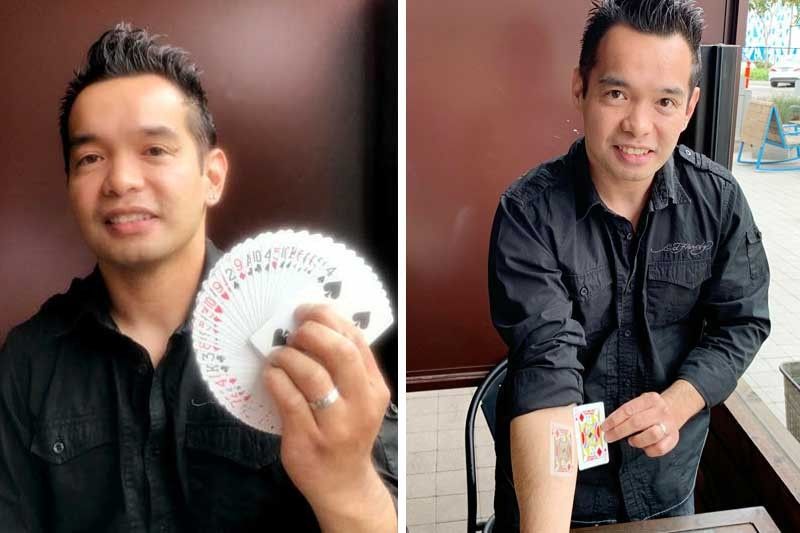 Jethro Alcuaz prefers to be called 'an illusionist.' During The STAR interview in L.A., he regaled us by doing a trick with playing cards by producing an image (on his arm) of the card that we secretly chose.
FUNFARE
-
Ricky Lo
(The Philippine Star) - May 24, 2019 - 12:00am
How would you feel being face-to-face with a magician on an early Sunday morning before you had your first cup of green tea?
Blown over, how else!
We were at the Urban Plates buffet restaurant inside the Whole Foods Market in Runway Playa Vista somewhere in L.A., waiting for our breakfast to be served. The oft-postponed, long-delayed meeting was arranged by my friend Jun Alcuaz who wanted me to talk to his son Jethro, a magician newly married to Boholana Rosaida Bon. Before migrating to the States 16 years ago, Jun worked with San Miguel and Kooler Industries.
I'd been curious about Jethro's magic tricks so I asked him to give a "sample." Game! He handed me a deck of cards and told me to shuffle them once, twice, thrice.
"Pick a card but don't show it to me," he ordered.
I did (Jack of Diamonds) and, as ordered, kept it close to my chest face down. Jethro rolled up his sleeve and, lo and behold, Jack of Diamonds was "printed" on his arm! He told me to give him my hidden card and put it beside the image on his arm. How did he do it?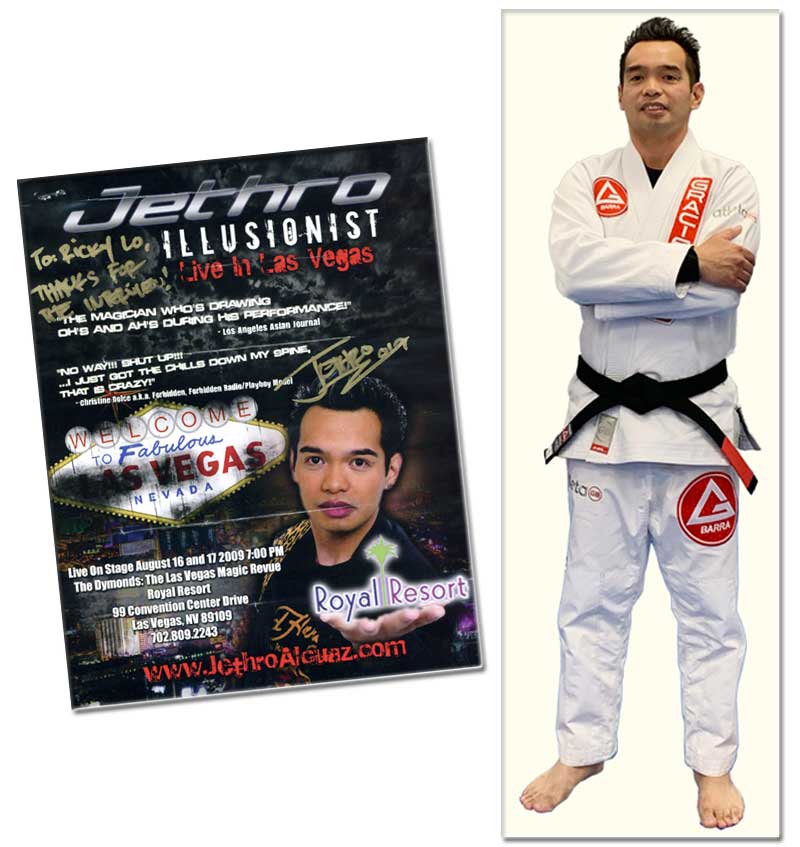 (Left) A flyer for Jethro's performance in Las Vegas several years ago. (Right )He's also into martial arts.
"Sorry," Jethro begged off, "but we observe a code of conduct (some kind of a 'vow of silence'). We are not supposed to reveal the tricks, otherwise the thrill will be gone."
Well, it's magic and we've got to believe in it.
That trick with playing cards and more have been keeping audiences in puzzlement for several years. Jethro can do more, such as making a woman (maybe Rosaida whom he married in June last year) levitate, producing bowling balls from sketches on a pad or producing snow out of nowhere and letting it over the Whole Foods Market…but there wasn't enough time. Jehtro did all those years ago when he performed with The Dymonds: The Las Vegas Magic Revue at Royal Resort where he was billed as "Jethro, Illusionist Live in Las Vegas" and praised by the Los Angeles Asian Journal as "The magician who's drawing oh's and ah's during his performance!"
Clarified Jethro (who is also into martial arts), "I am actually an illusionist, not much of a magician."
An only child, Jethro recalled that he was five years old when his dad Jun showed him magic with playing cards by changing four Kings to Four Aces. How did he do it? Up to now, Dad Jun hasn't told Jethro.
"I was tricked! Nagulat ako and I kept asking myself, how did he do it? My dad never told me and just let me find out for myself. I fell in love with magic then and there."
He did…in due time.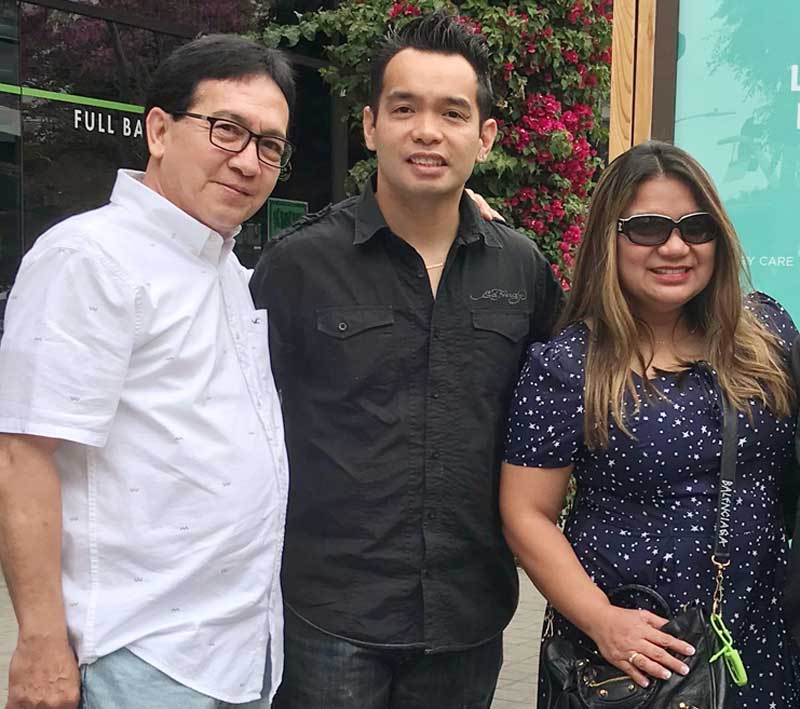 Jethro with his wife, Boholana Rosaida Bon, and his father Jun Alcuaz (who used to work at San Miguel and Kooler Industries before he migrated to the US 16 years ago).
Growing up on mind-blowing TV shows starring David Copperfield and Harry Houdini, Jethro honed his "magical" talent by first performing in kiddie parties for family friends at Eagle Rock and graduated to what he called "bigger shows," especially after he tucked up a degree from the Chavez Studio of Magic where he trained for more than two years.
"Up to now," Jethro admitted, "I continue to be amazed by how Copperfield can make the Statue of Liberty disappear or Houdini's escape acts. I have watched Copperfield in Las Vegas where he performs up to now. If ever I meet him, I will just have a photo with him but, as a sign of respect, I won't ask him how he does it. Code of conduct, you know."
Jethro has performed in the Spanish channel Telemundo, in Janelle So's show Kababayan L.A., Playboy Radio and Kiss FM.
"What I do in radio shows are tricks with playing cards," said Jethro. "I usually do dating tricks and the listeners enjoy it as much as I do."
Sometimes, he performs out of the blue.
"One time," revealed Rosaida, "while waiting for our luggage, he jumped onto the carousel and performed with his playing cards. Our fellow passengers gave him a warm applause."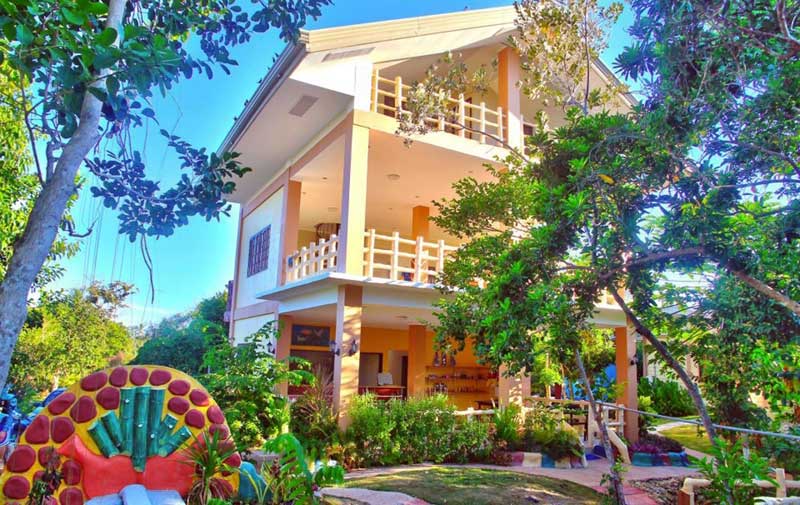 The Alexis Cliff Dive Resort owned by the Bon family in Panglao, Bohol, where Jethro might do a Houdini one of these days.
Rosaida's family owns the Alexis Cliff Dive Resort in Panglao, Bohol. I asked Jethro if he could go there and imitate Houdini by diving in a straitjacket and emerging smiling triumphant from the clear waters below. He simply smiled as if to say, "Just wait and see."
Time was up. The waiter came with the bill.
I asked Jethro if he could make the bill disappear or reduce the amount on it.
So sorry but that's not included in his bag of tricks.
(E-mail reactions at rickylophilstar@gmail.com. For more updates, photos and videos, visit www.philstar.com/funfare or follow me on Instagram @therealrickylo.)