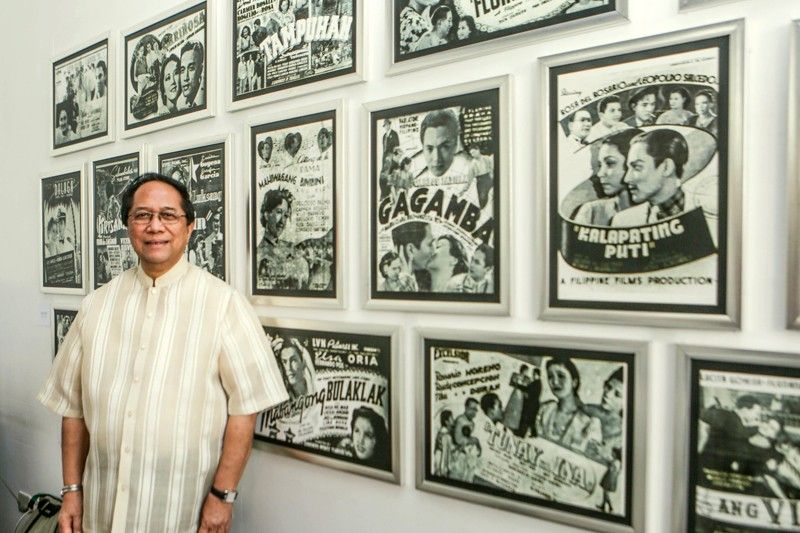 STAR columnist Danny Dolor at the opening (last May 8) of the exhibit of his collection of vintage movies ads at the First United Building in Escolta, with his guests…
FUNFARE
-
Ricky Lo
(The Philippine Star) - May 21, 2019 - 12:00am
The Alitaptap Kikilapkilap exhibit brings back beautiful memories of 'The First Golden Years of Philippine Movies (1936-1941)' and the stars that shone in that era
Escolta is in the heart, especially of those who hold fond memories about the street that used to be the "most social" in Manila. Progress has overtaken the iconic street which is today a sad shadow of its glorious past. Gone are such landmarks as Lyric and Capitol Theaters, Botica Boie, Heacocks, Syvel's, Oceanic, Berg's, (the original) Savory and Dolor's Pharmacy owned by the family of STAR (Remember When?) columnist Danny Dolor.
Still there, although some of them are practically unoccupied, are buildings where movie companies held offices, such as D'Wonder Films in Regina Building, FPJ Productions and Tagalog Ilang-Ilang Productions in Burke Building (where my friends Ethel Ramos and Ronald Constantino and I took over a room where Elizabeth Oropeza's El Oro Productions used to be, and turned it into a favorite hangout of showbiz people), and Dolphy's RVQ Productions and Nora Aunor's NV Productions in Perez Samanillo Building (the architecture and design were done by Andres Luna de San Pedro, son of Juan Luna).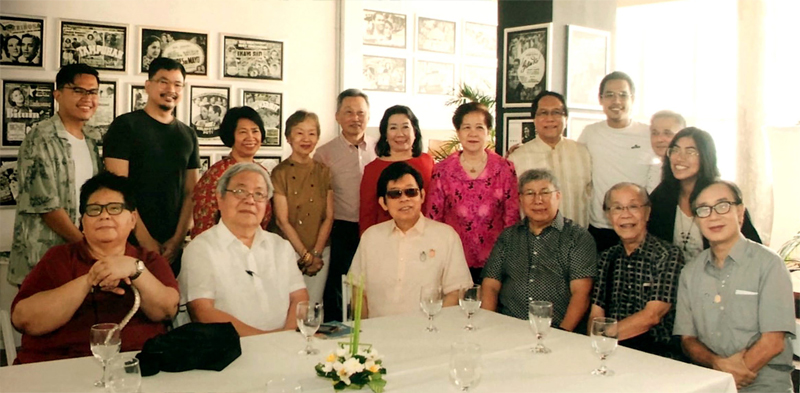 Seated, from left: Ronald Constantino, Maurice Lim, Mars Lambino, Boysie Villavicencio, Lody Tan and Ariel Tan; and (standing, also from left) Dereck Tumala, Gab Villegas, Chit dela Torre, Jullie Yap-Daza, Robert Sylianteng and wife Lorraine, UNESCO Commissioner Carmen 'Menchu' Padilla, Danny, Brian Gabriel Corella (owner and head brewer of The Maverick located at the building's ground floor), Your Funfarer and Bianca Holganiza
Owned and managed by Robert Sylianteng and his wife Lorraine, Samanillo has been rehabilitated and renamed First United Building where Danny opened Alitaptap kikilapkilap sa Escolta, a photo exhibit of movie ads from the First Golden Years of Philippine Cinema (1936-1941), at the fifth floor (free to the public, effective May 8).
"This collection is a modest tribute to the movie stars, producers, directors, and the men and women behind the camera of that era that we refer to as 'peace time'," said Danny in his welcome speech. "Sadly, only five full-length films are existing today…Zamboanga, Giliw Ko, Pakiusap, Tunay Na Ina and Ibong Adarna."
Twenty-six years ago, Danny organized The Golden Years Memorable Tagalog Movie Ads (1946 to 1956) at the Ayala Museum, which was featured later at the UP Film Center.
"I was awed by the glitter, the glamour and the magic of the silver screen," recalled Danny, "and I started collecting movie ads when I was in elementary grades."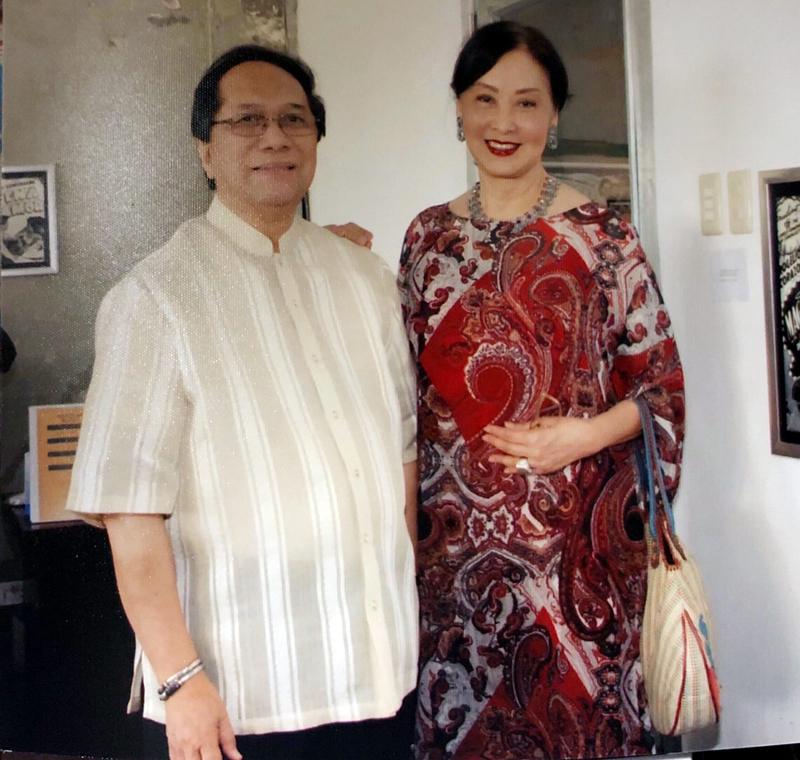 Danny and Gemma Cruz-Araneta
The exhibit was so successful that a book featuring the same movie ads was launched several months later. In May 1994, Danny started his widely read Remember When? Sunday column in this paper, which is celebrating its 25th anniversary this month and continues to delight thousands of Filipinos here and abroad. In July 2012, on the occasion of the opening of the 7th Cinemalaya Film Festival of the Cultural Center of the Philippines (CCP), Danny opened Alitaptap Kikilapkilap that was such a hit that it deserved a comeback.
With the permission of Ronald Constantino, I am reprinting his article about "The First Golden Years of Philippine Movies (1936-1941)" and the stars that made it so. Yes, Them were the days!
From 1936 to 1941.
Film historians call it the First Golden Years of Philippine Movies.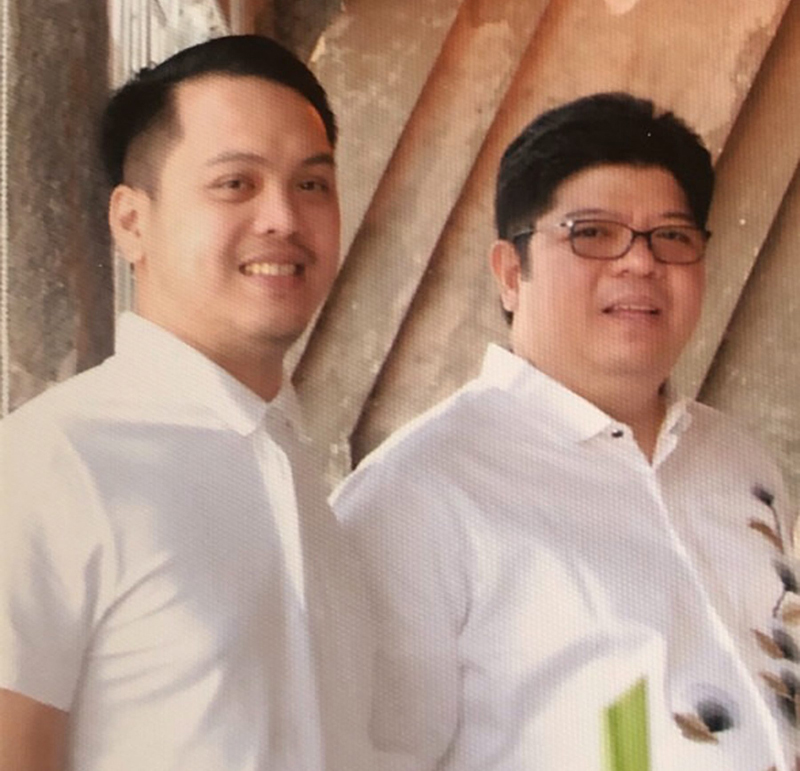 Ron Ignacio and Allan Tengco
Six glorious years of filmmaking which saw the emergence of great stars, directors, producers, writers, composers, and other cinema artists and craftsmen. They collaborated in making memorable movies, some of which were influenced by Hollywood films.
The Philippines was then an American colony and the United States had a big impact on the country's economy, lifestyle, fashion, art, culture, including cinema.
This exhibit captures that era through movie ads.
In 1937, Sampaguita Pictures was set up, with Bituing Marikit as its maiden offering, topbilled by Elsa Oria, Rogelio dela Rosa and Ely Ramos, directed by Carlos Vander Tolosa.
In 1938, Exelsior Pictures was established, with Ang Maya as opening film, starring Consuelo Salazar and directed by Jose Nepomuceno.
In 1939, LVN was founded with Giliw Ko as its first movie, starring Mila del Sol, Ely Ramos, Fernando Poe Sr. and Fleur de Lis (later renamed Mona Lisa), and directed by Carlos Vander Tolosa.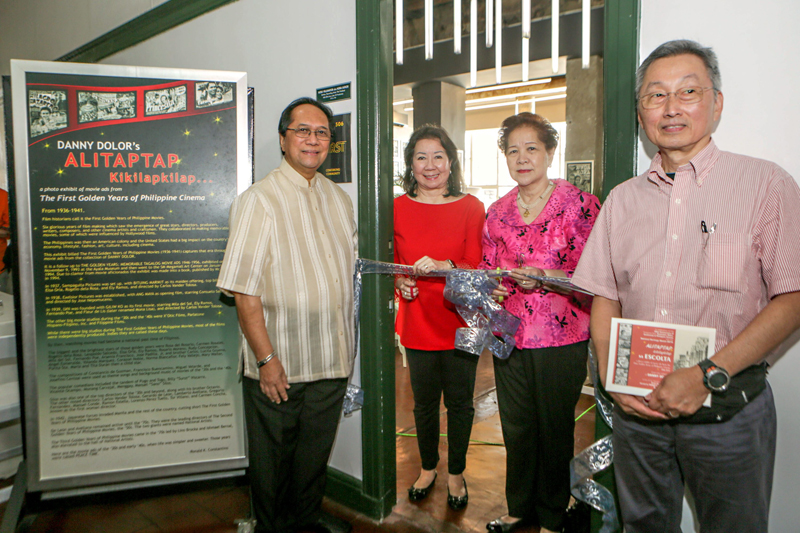 Danny with Lorraine, Menchu and Robert during the ribboncutting ceremony
The other big movie studios during the '30s and the '40s were X'Otic Films, Parlophone Hispano-Filipino, Inc. and Filippine Films.
While there were big studios during The First Golden Years of Philippine Movies, most of the films were independently produced. They are called indies today.
By then, watching movies had become a national pastime of Filipinos.
The biggest and brightest stars of those golden years were Rosa del Rosario, Carmen Rosales, Rogelio dela Rosa, Leopoldo Salcedo, Elsa Oria, Ely Ramos, Rosario Moreno, Rudy Concepcion, Mila del Sol, Fernando Poe Sr., Arsenia Francisco, Jose Padilla Jr. and brother Carlos Padilla Jr., Lucita Goyena, Angel Esmeralda, Yolanda Marquez, Corazon Noble, Norma Blancaflor, Fely Vallejo, Mary Walter, Purita Sta. Maria and Tita Duran (then a child star).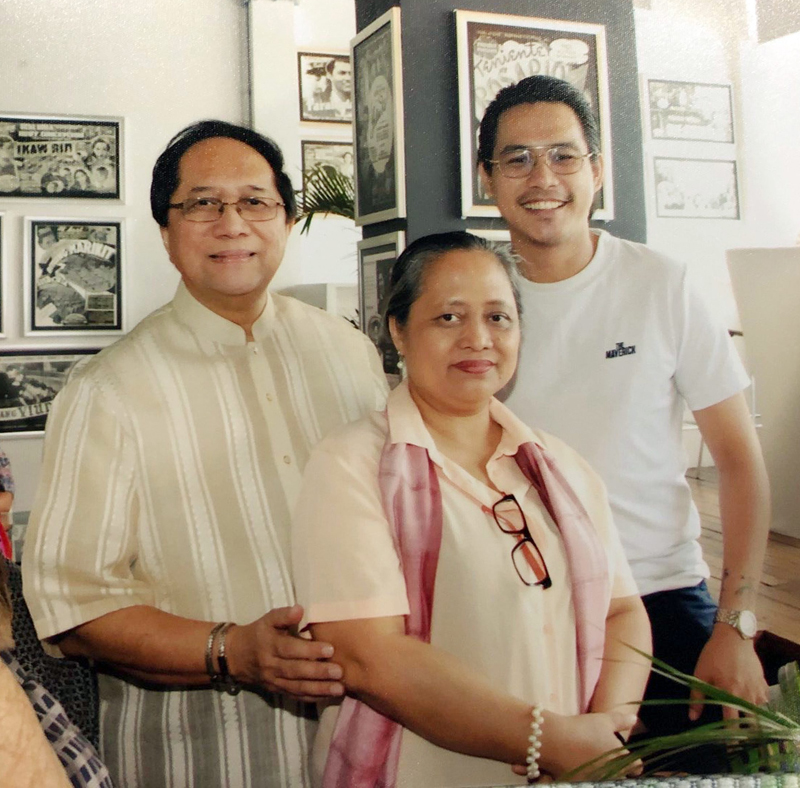 Danny with CCP's Vicky Belarmino (Cinemalaya coordinator) and Brian
The compositions of Constancio de Guzman, Francisco Buencamino, Miguel Velarde and Josefino Cenizal were used as theme songs and background music of movies of that era. The popular comedians included the tandem of Pugo and Togo, Billy "Surot" Viscarra, Vicente Liwanag, Monang Carvajal, Menggay and Manuel "Sano" Silos.
Silos was also one of the top directors of the '30s and beyond, along with brother Octavio Silos. The other noted directors were Carlos Vander Tolosa, Gerardo de Leon, Lamberto Avellana, Gregorio Fernandez, Manuel Conde, Ramon Estela, Lorenzo Perez Tuells, Tor Villano and Carmen Concha (known as the first woman director).
In 1941, Japanese forces invaded Manila and the rest of the country, cutting short The First Golden Years of Philippine Movies.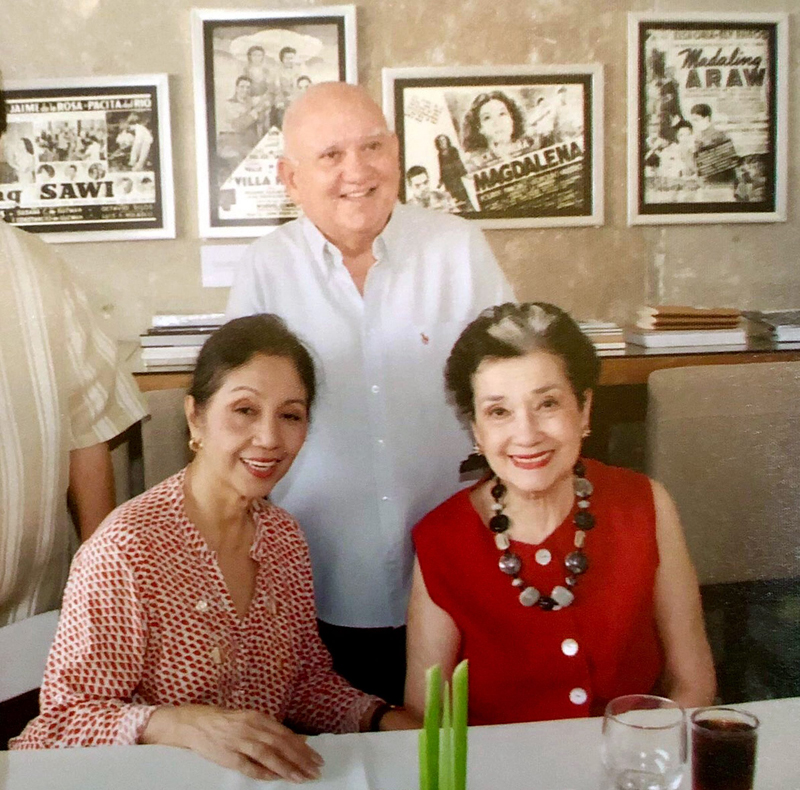 From left: Lulu Coching-Rodriguez, Edu Jarque and Bambi Harper
De Leon and Avellana remained active until the '70s. They were the leading directors of The Second Golden Years of Philippine Movies, the '50s. The two giants were named National Artists.
The Third Golden Years of Philippine Movies came in the '70s led by Lino Brocka and Ishmael Bernal who were also elevated to the halls of National Artists.
The exhibit is timely since 2019 is Philippine Movies' centennial year.
"It is my way of sharing to all the movie fans and enthusiasts the joy of collecting, but more importantly, this collection serves as a reminder to everyone involved in the movie industry, especially the superstars and the megastars of today that life is short and transitory," said Danny. "And a few decades from now, their photographs and movie ads will be part of a collection of another collector. May this exhibit remind future generations of the pioneers of Philippine Cinema that our stars may continue to be remembered with love and fondness."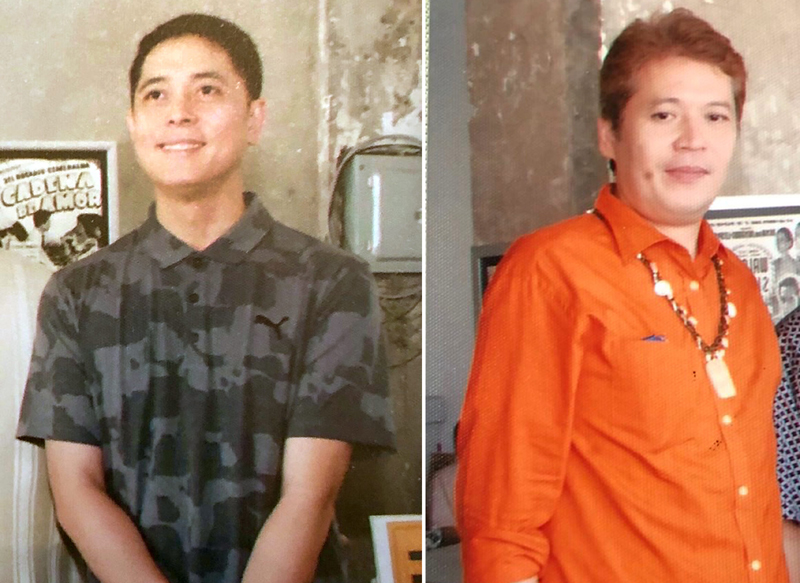 Dr. Marty Magsanoc, Michael de Leon(left)
(Thank you, Danny and Ronald for educating today's stars and their fans on the history of Philippines Movies.)
(E-mail reactions at entphilstar@yahoo.com. You may also send your questions to askrickylo@gmail.com. For more updates, photos and videos visit www.philstar.com/funfare or follow me on www.twitter/therealrickylo.)