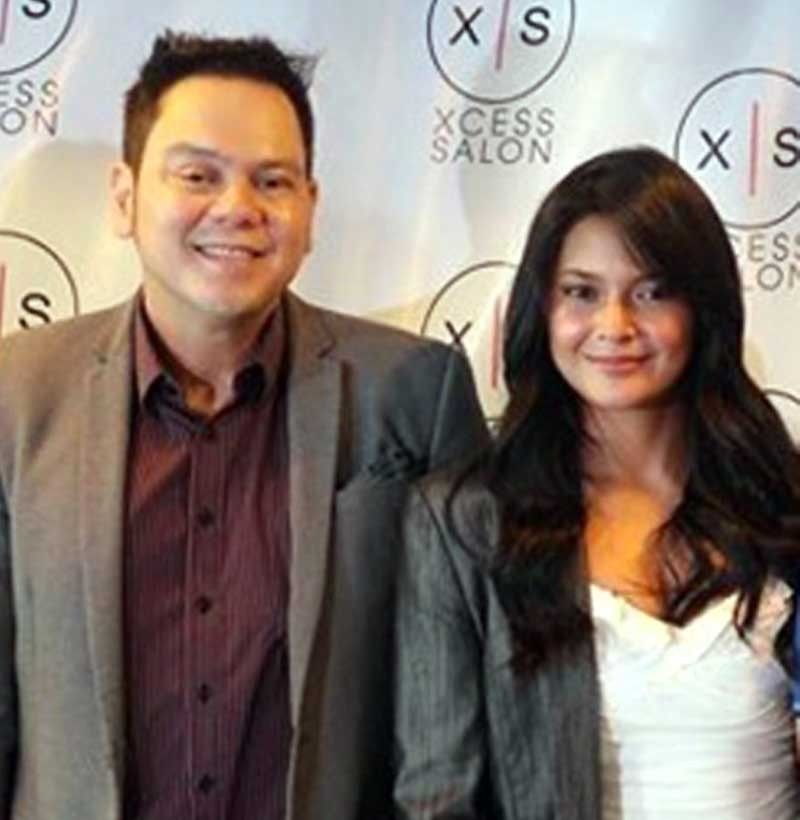 Brand ambassadress Bianca Umali with Xcess Salon president/CEO Federico Moreno
MANILA, Philippines — It was refreshing to see Bianca Umali sporting wavy locks at her recent contract signing as brand ambassadress of Xcess Salon. It's as if she came straight from the set of Sahaya where her character was given a makeover.
"That's why her look is different now… naging kulot (yung hair) because of Xcess Salon," quipped the 19-year-old Kapuso artist, noticeably beaming with excitement about her newest endorsement. "I'm very thankful and honored to be chosen as the endorser of Xcess Salon."
Existing for seven years now, Xcess Salon has as former endorsers Carla Abellana, Ivan Dorschner and Barbie Forteza.
"(Bianca) is very beautiful. She has so much potential. Napakabait na bata and very professional," said Xcess Salon president/CEO Federico Moreno, who expressed his gratitude to GMA Artist Center for the opportunity to work with one of the network's prime talents.
"It is really an honor and privilege for our company, Xcess Salon, to have Bianca Umali as our celebrity endorser. The endorsement contract is usually a little over one year and renewable. We're not just actually looking at one year with Bianca because of our marketing plan that is mapped out for the next three years. It would be nice if given the opportunity again to extend our agreement with GMA Artist Center and Bianca because it is really a massive expansion that we're trying to make with Xcess Salon."
He added, "We have about 36 outlets right now and it is timely for us to have her as our endorser because we are re-launching our brand, we are renovating our outlets, we are changing the logo and the website. We are located in different parts of Metro Manila but we are expanding to Visayas and Mindanao areas."
Meanwhile, according to Bianca, televiewers should watch out for more revelations in Sahaya which she topbills with perennial screen partner Miguel Tanfelix.
"There's a lot to look forward to, especially Sahaya's transformation. Hindi lang kasi siya physically nagbago but also emotionally," said Bianca.
Plunging into offbeat roles is something that excites Bianca because she believes that actors should be versatile and she wishes to be one.
"I always give my best in every project. And I really love my character, Sahaya. I'm very thankful also na minamahal na rin siya ng mga tao," she said whose dream roles include a person with disability, a superhero and an action star.
Besides her two GMA shows Sahaya and Sunday Pinasaya, Bianca is busy shooting her two movies — the horror film Banal (with Miguel, Andrea Brillantes and Kim Last, which is showing on May 29) and GMA Pictures' dramedy Family History, directed by Michael V.
Asked how she pampers herself, Bianca said, "I just sleep. That's it. Of course, I do go to salons once in a while when I have time but most of the time, kapag wala akong ginagawa I sleep, I read, I study and spend time with my family."
Despite juggling between work and school, Bianca was able to finish senior high school this year. She's now planning to enroll in Multimedia Arts "because I'm already in the field," said Bianca, adding that she might also take up business course, culinary arts, interior designing or fine arts.